A Kifli Walnut Roll is a soft and tender dough filled with a sweet walnut filling and shaped into a crescent. Easy Walnut Rolls are special anytime.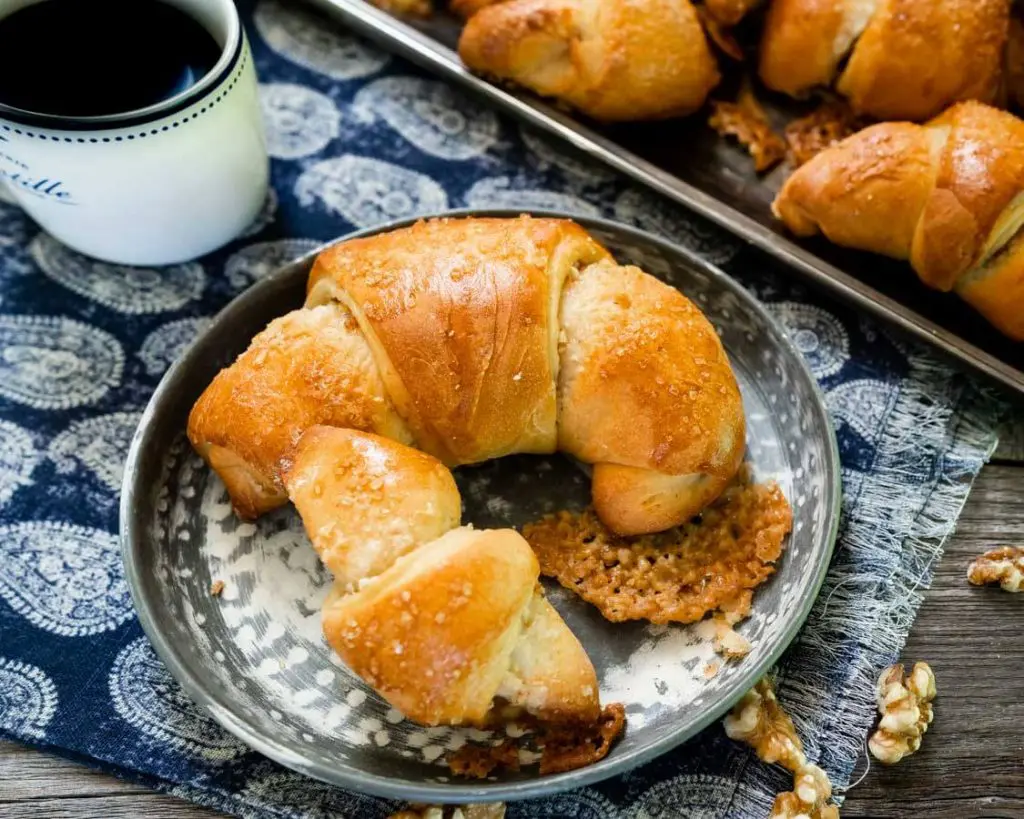 Soft and tender yeast dough is filled with a sweet nut filling that is too good to be saved for special occasions. This sweet dough recipe makes a soft and tender Kifli Walnut Roll that is easy enough to make any time.
What is a Kifli?
A Kifli is a traditional yeast bread that is rolled and formed into a crescent before baking. The term Kifli is traditionally referred to as the Hungarian version and can be made as a pastry roll such as this one or a cookie.
In other countries, a Kifli can be called Kipfel, Kifla, Kifle, or Gipfel, and the list goes on according to who and where they're made and date back as far as the 10th century.
Regardless of what you call them, they are easy enough to make in your own home.
Kifli Walnut Roll Ingredients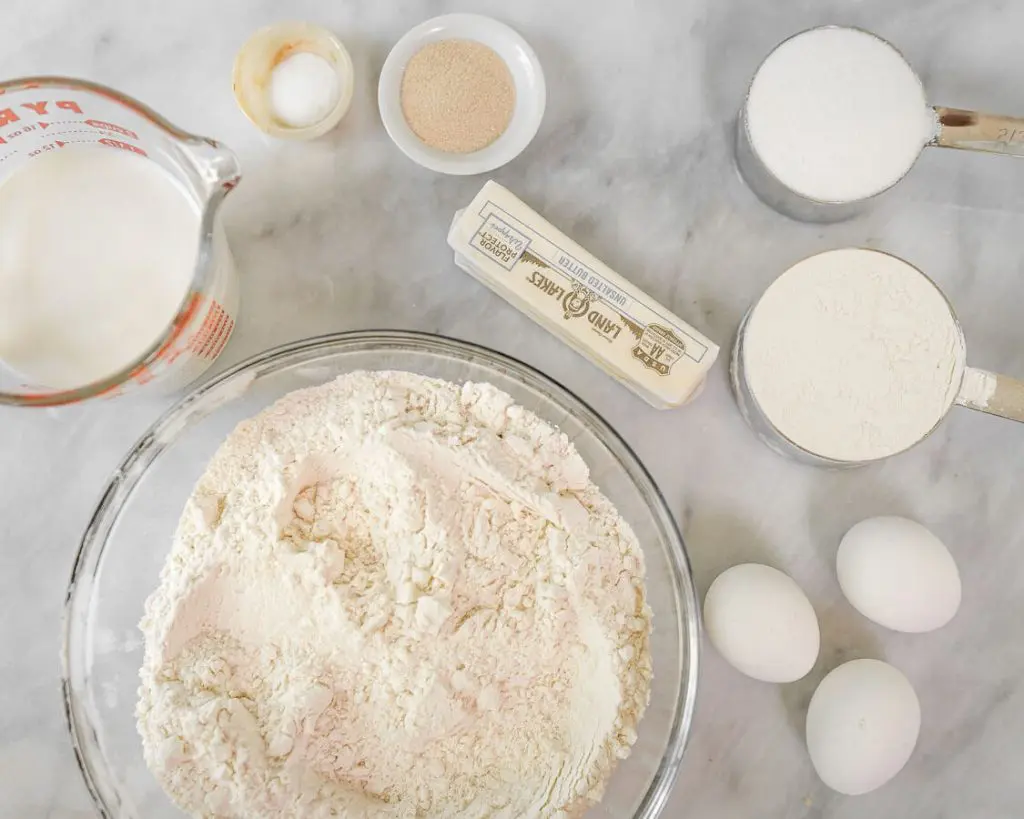 These rolls may look complicated but the ingredient list is simple.
Flour – all-purpose flour
Milk – whole milk, *scalded
Yeast – instant or active yeast
Butter – we used unsalted. If you use salted, eliminate the salt
Sugar
Salt – for baking I like using fine sea salt. I find it blends and dissolves better.
Eggs – we use large eggs
Walnuts
Vanilla Extract
What is scalded milk?
Older recipes called for scalded milk to kill bacteria and enzymes that prevented the dough from rising. However, today, most milk is pasteurized which eliminates this bacteria and enzymes so it's no longer necessary.
I still do it because the warmer temperature helps activate the yeast and blends well with the softened butter. Also, it's said to make breads light and cakes spongy.
You do not have to scald the milk for this recipe! However, I suggest that all of the ingredients be at least room temperature before they're added.
How do you scald milk?
Add the milk to a small saucepan.
Using an instant-read thermometer, heat the milk to 180°F. The milk will just start to form a skin over the top and is just under the boiling point. You'll see little bubbles just on the edge.
Remove the pan from the stove and place it in the refrigerator for 12 to 15 minutes or until the temperature of the milk lowers to at least 110°F.
Kifli Dough Recipe
Making Kifli Dough is easier than many dough recipes. It is a soft and buttery dough that is easy to handle. It's not as delicate as some sweet roll dough such as brioche.
I do recommend that you use an electric stand mixer with the paddle attachment. Here's how we made the Kifli Dough.
In the bowl of an electric stand mixer, combine the sugar and beaten egg. Blend everything together.
Add the yeast, salt, and butter. Mix slowly while drizzling in the scalded milk.
With the mixer on its lowest setting, gradually add the flour until you can handle it without it sticking to your hands. This can be 4 to 6 cups. Don't add more than you need or the dough will become tough.
Put the dough in an oiled bowl and cover it with a towel or plastic wrap at room temperature until the dough rises 30% to 50%, approximately 90 minutes.
Shape your dough and then let the rolls rise on a covered baking sheet until puffy, approximately 60 minutes.
Your dough experience is just about to change. Come meet your new BFF!
This post is sponsored by Raisenne® Dough Riser. The love of their product and my opinions are 100% my own.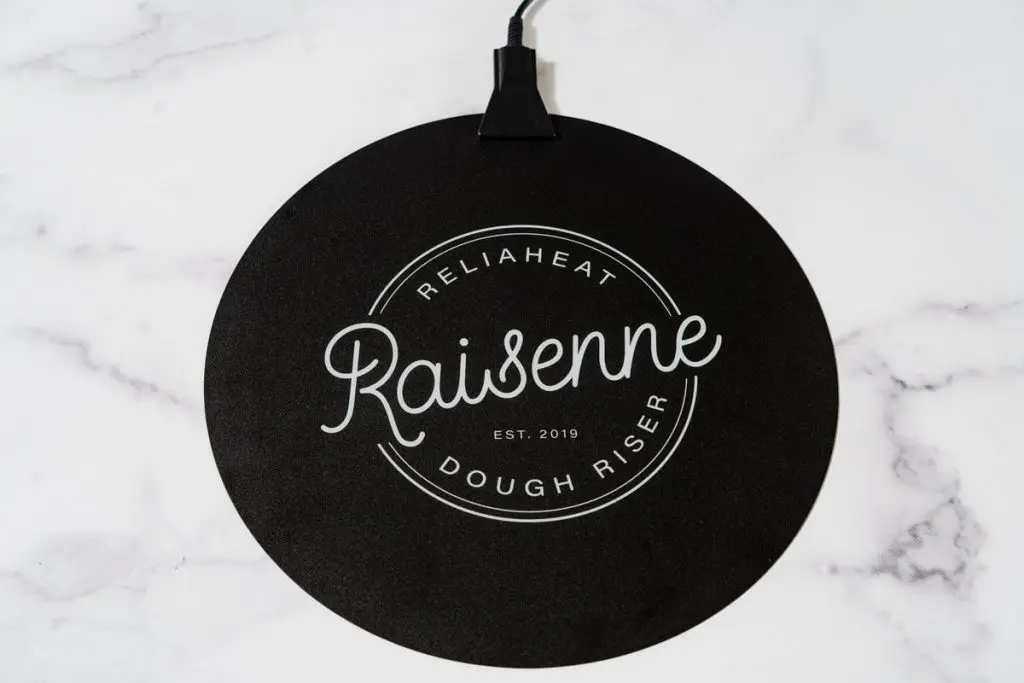 There is a new innovative product that is just being released to the public called the Raisenne Dough Riser, and the bread gods were shining down by allowing us to get our hands on one.
"The Raisenne® Dough Riser takes the guesswork out of proofing by creating the ideal temperature to raise dough for a perfect proof in less time."
As an avid bread baker, like many of you, struggled with the temperature of my dough during the colder months or when it was so hot outside that my air conditioning was blasting away.
When I first heard about the Raisenne Dough Riser, I wanted to vet it before recommending it, something I do before I ever recommend a product. The following are the questions that I had.
Is the Raisenne Dough Riser safe?
Yes, the Raisenne Dough Riser maintains a temperature of 85°F / 29.4°C so it will not burn you or the surface it's used on. It is designed to shut off rather than overheat.
Where is the Raisenne Dough Riser made?
It is made in Wisconsin, U.S.A.
How do I store my Raisenne Dough Riser?
Between two baking sheets, in a drawer, or in the original packaging.
Will the Raisenne Dough Riser be available in stores?
No, the Raisenne Dough® Riser is available exclusively online through www.raisenne.com.
My experience was nothing short of amazing. Even though the Raisenne Dough Riser is intended for active yeast bread such as pizza dough, rolls, and recipes such as this one, I've used it to help my sourdough bread dough.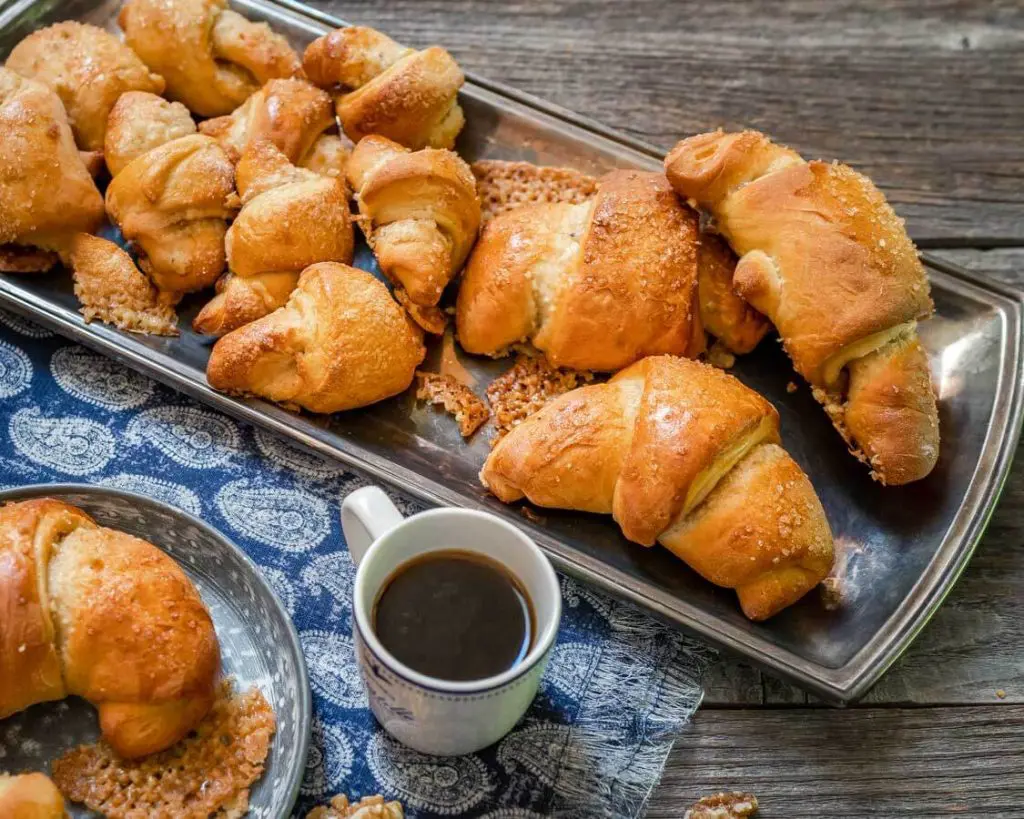 I made two batches of the same yeast roll recipe and used the Raisenne Dough Riser with one and one without. The dough using the Raisenne Dough Riser surpassed the one without by over 40 minutes in proof time and I believe made my rolls fluffier.
This product is round but I put a rectangular baking sheet on it and all of my rolls had a beautiful rise.
We'd previously looked at a dough proofer but didn't want another appliance in the kitchen or the expense of it. The Raisenne Dough Riser doesn't take up any space in my kitchen.
Back to the recipe already! I guess you can see I really love this product right?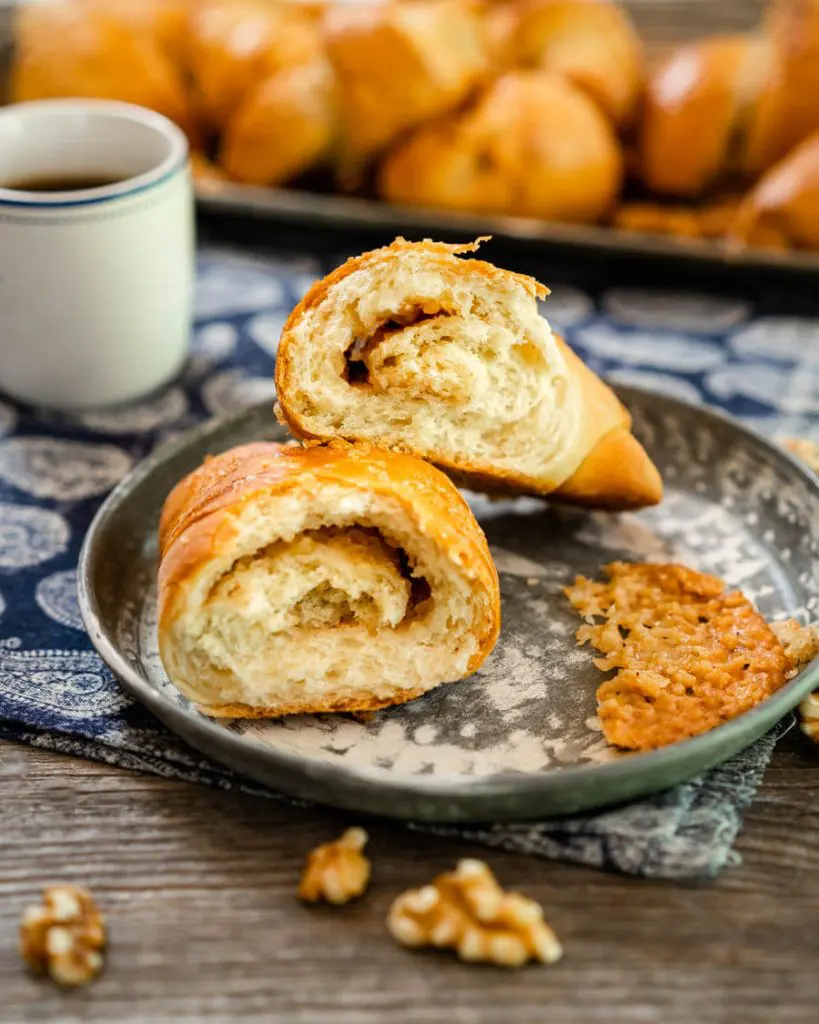 Nut Filling
The nut filling is very simple to make. I combined my ground nuts, sugar, softened butter, cinnamon and a bit of milk. You want to make it a sand consistency that holds it's shape but isn't overly wet. Think sand castles.
I used my mini food processor to finely grind my nuts.
Variations you can make
Exchange walnuts for a nut with a similar consistency such as pecans.
We finished these Kifli nut rolls with an egg wash followed by a sprinkle of turbinado sugar because we love that little crunch. Here are some other options.

dust with powdered sugar
sprinkle with additional ground nuts
drizzle with a glaze

We used cinnamon in the nut filling recipe. You could substitute nutmeg but use only half of the recommended amount.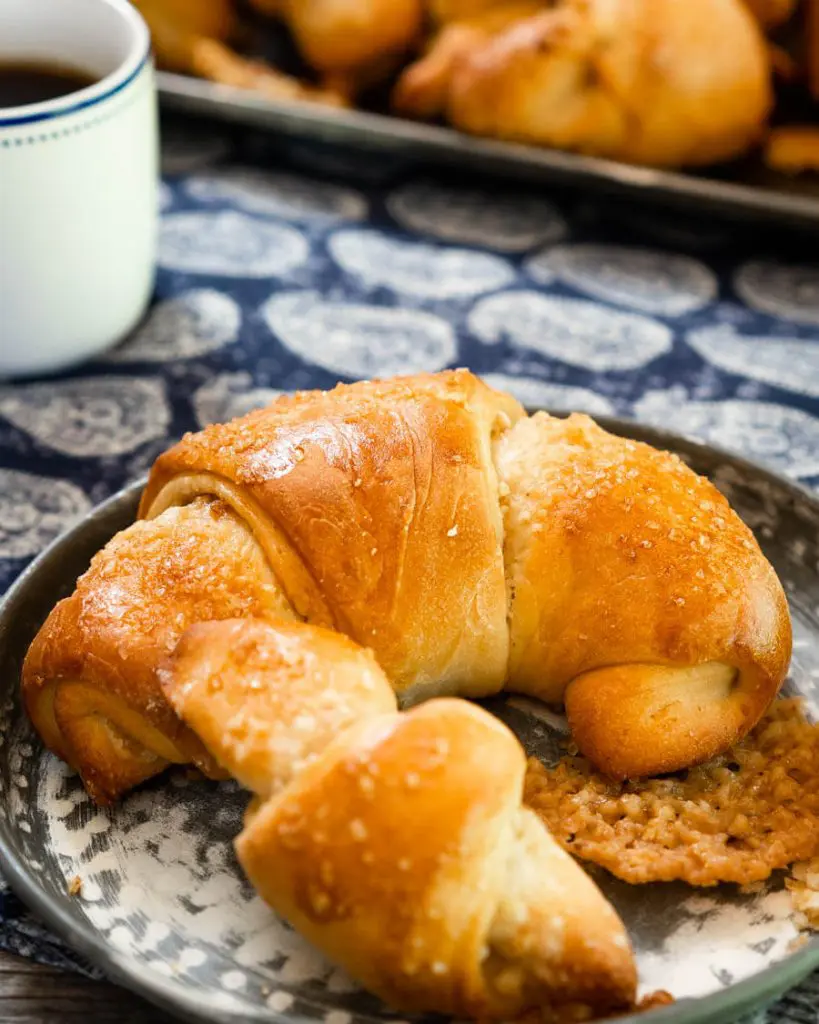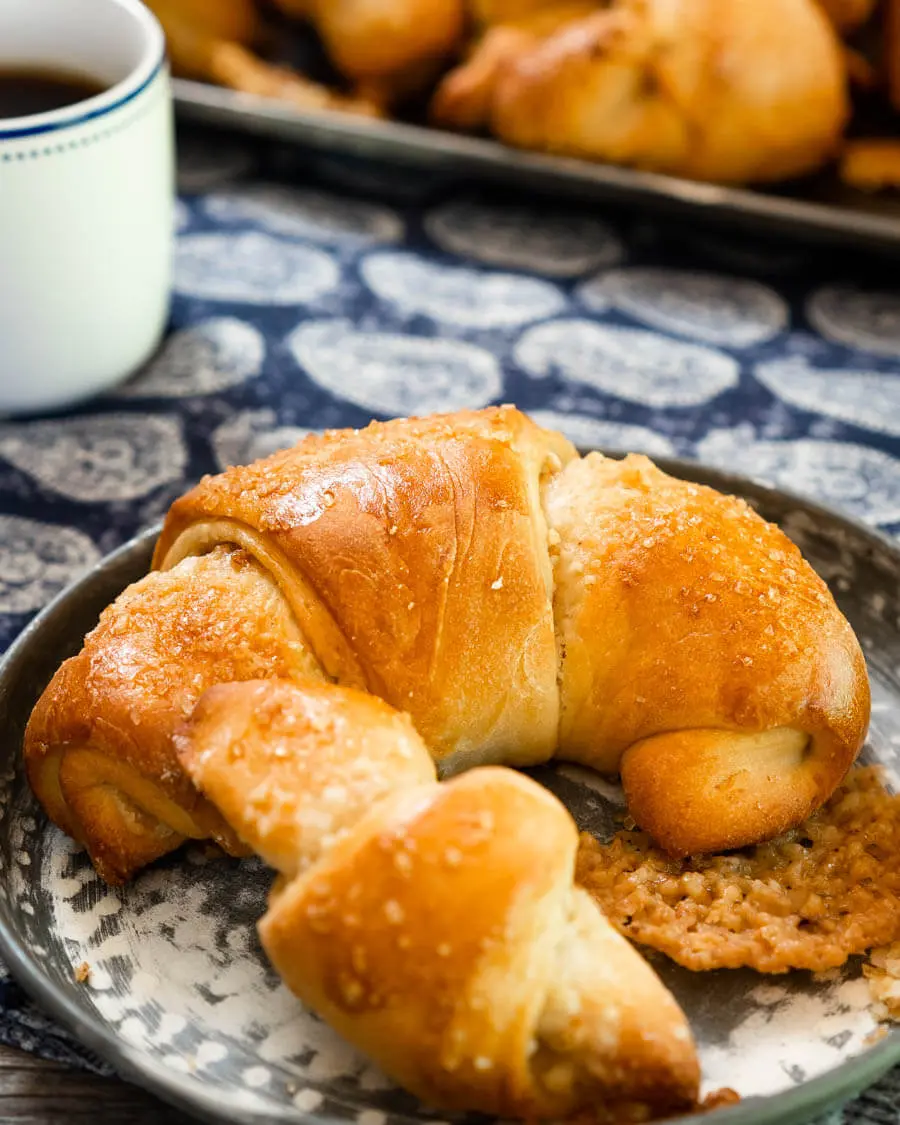 Tips for the perfect Kifli Rolls
In the video, I show you how to make large Kifli Rolls which are perfect as a breakfast pastry. We also show you how to make smaller Kifli rolls. Regardless of which one you make, use manageable sized pieces of dough.
For the larger rolls, spread the filling on each individual roll. Dough scraps can be rerolled. For the small rolls, I applied the nut filling on the rolled sheet. This saves a lot of time and makes them faster to finish.
Don't spread the filling too heavily. It will bake out. Actually those little crunches are delicious and never go to waste in our household.
The dough is easier to cut if it's cool (not cold). Once it warms up it's a little harder to cut.
The turbinado sugar will stick to the rolls if the egg wash is still wet. It's helpful to do a few at a time before the egg wash dries.
Store Walnut Rolls at room temperature in an air-tight container. These Walnut Rolls also freeze very well.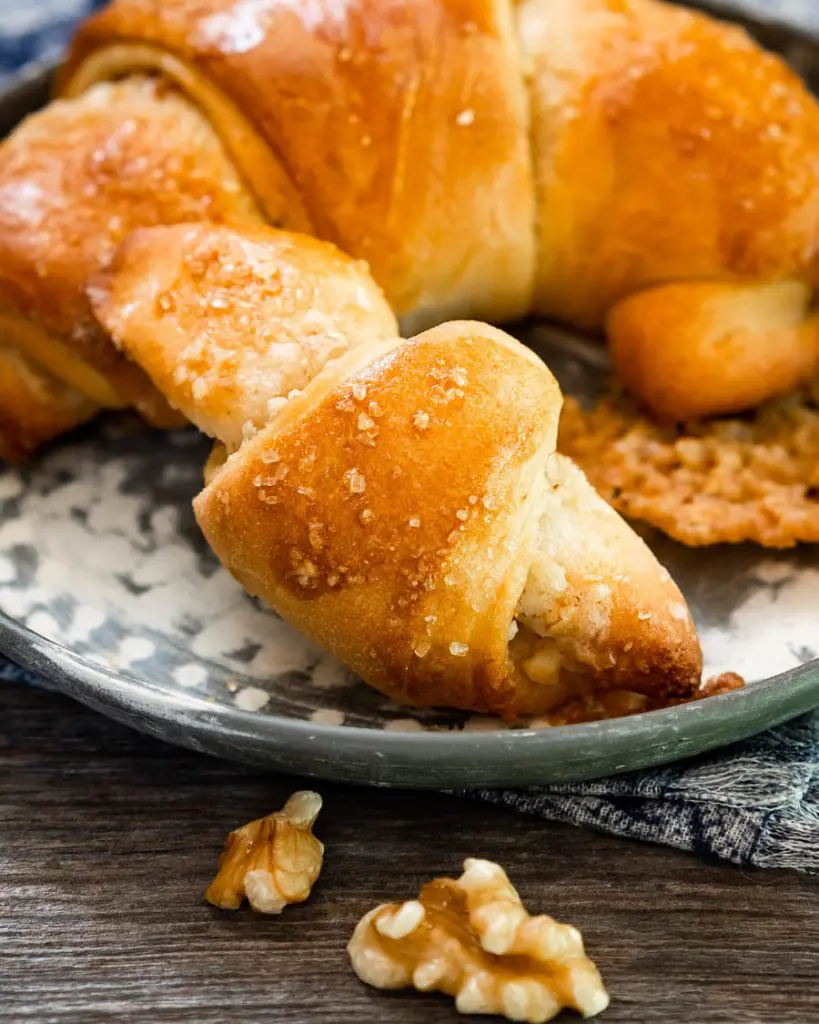 We LOVE baking bread! You can find all of our bread recipes here!
If you like this Kifli Pastry Roll, here are a few more recipes you'll enjoy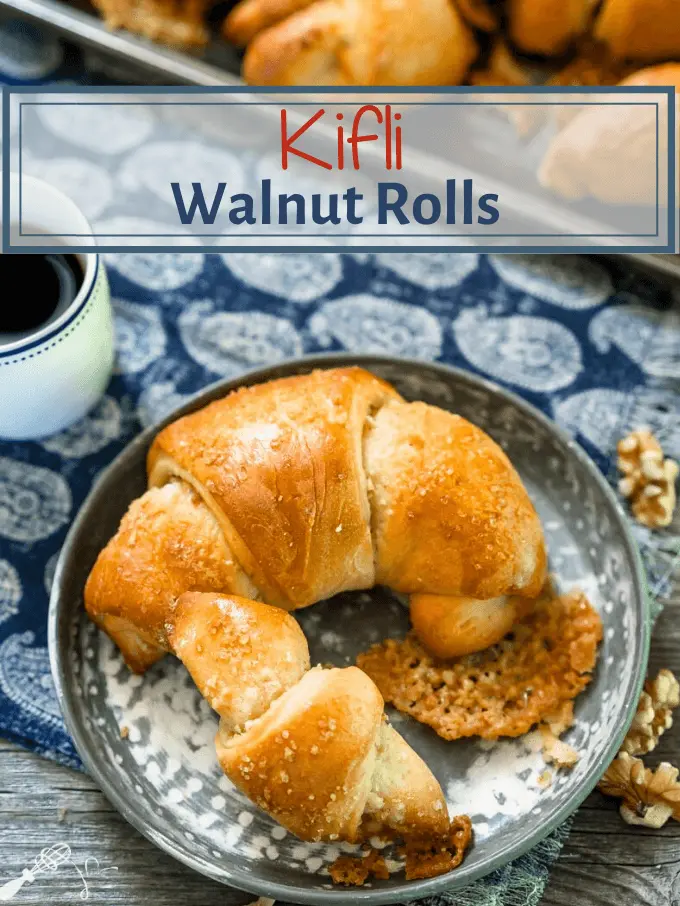 Are you ready to grab your own Raisenne® Dough Riser? Head over to their website and grab yours before they're sold out!
Our most popular recipes!