Down-Home Chili – No Beans Recipe is a thick chili that eats like a stew. It's loaded with meat, warm spices, peppers, and saucy tomatoes. Whether you think beans belong in chili or not, you're right. Chili is as personal as there are recipes. This one may be your new favorite.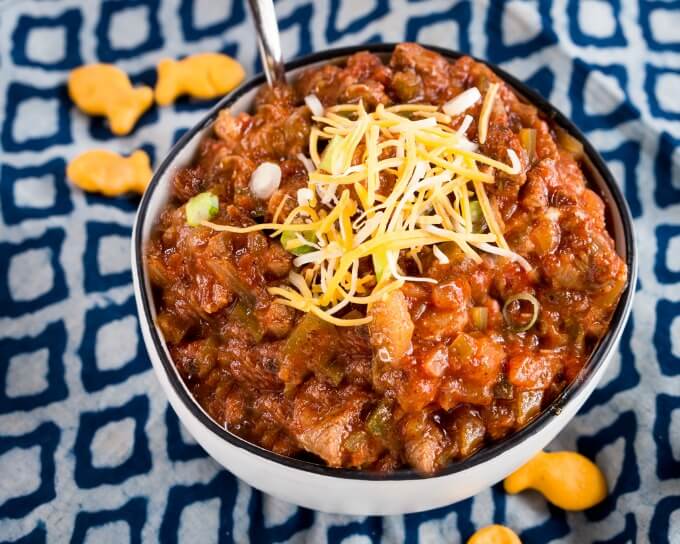 Down-Home Chili recipe came about when John and I were hosting our first neighborhood chili cook-off. We took this throw down so seriously that I made my "chili recipe" and John put together this "No Beans" version.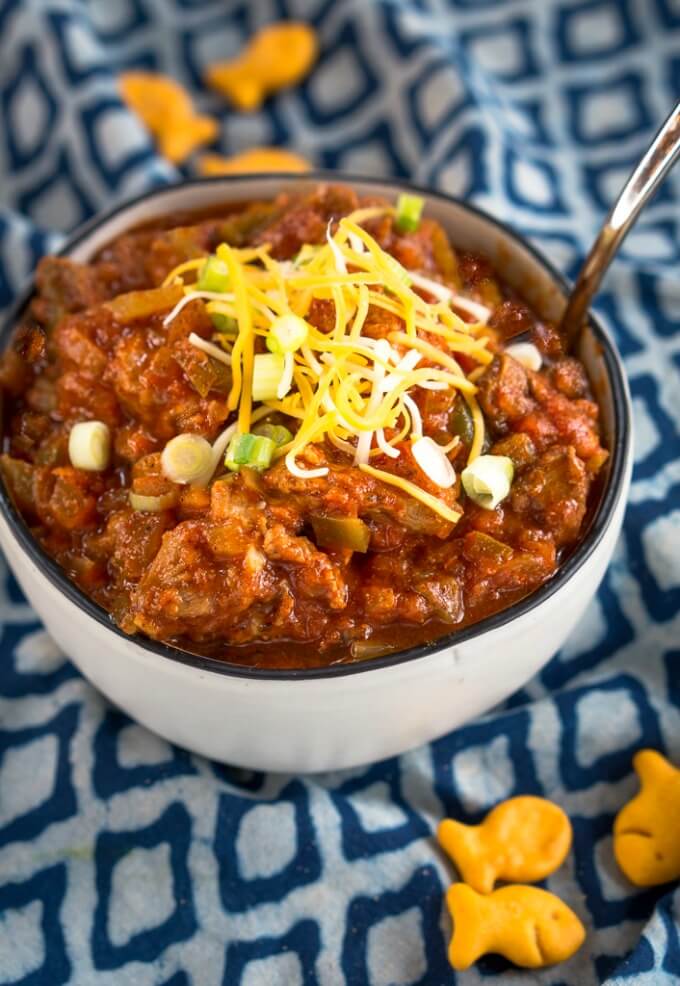 We have very different ideas on what makes the Best Chili Recipe. John likes a thick meaty spicy chili no beans version. It's more of a stew in my book. I like more of a Classic Chili recipe. I've got to admit this Pork and Beef chili recipe is hard to beat.
What makes chili Chili?
Simply, chili is a low-simmered one-pot dish that contains meat, tomatoes, and some form of heat (chiles, chili powder, hot sauce, etc.).
What is Traditional or Classic Chili?
Traditional Red Chili is defined by the International Chili Society as any kind of meat or combination of meats, cooked with red chili peppers, various spices, and other ingredients, with the exception of BEANS and PASTA which are strictly forbidden.
Beans or No Beans?
I'm not going there! I think this is one of the most controversial questions. Do what you like…I wont judge!
Tips for perfect Down-Home Chili
Let your chili simmer as long as you've got. The meat becomes tender and the flavors come together. It will even taste better the next day so feel free to make it in advance.
Don't over spice (John). Add a reasonable amount and give it a chance to blend with your other flavors before adding more.
Don't use "Chili Seasoning" which is a combination of spices and a few ingredients I can't pronounce. Use "Chili Powder" which is just ground red chilis.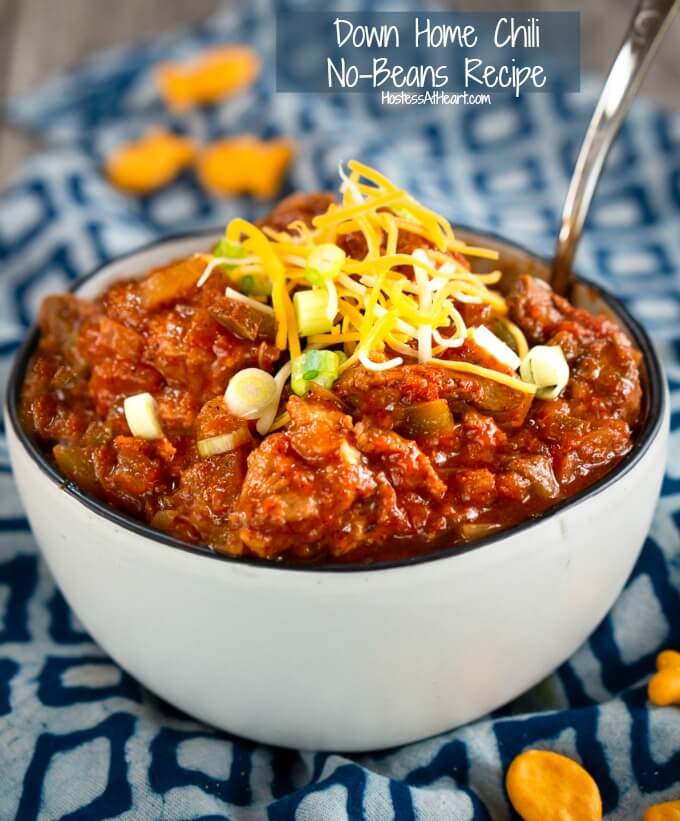 Contest aside, what is your favorite chili? This is one good chili recipe even if it isn't mine!
Variety is the spice of life and here are a few more spicy chili recipes you're going to love!
You May Need
9-quart dutch oven or stew pot – I use my 9-qt dutch oven for all of my large soups, stews, or bolognese. It is pretty enough to serve from and nothing ever sticks.
Freezer containers – This recipe makes a lot of chili. I freeze it in these containers so I can enjoy it year round.
Down Home Chili – No Beans Recipe
Down Home Chili No Beans recipe has a thick spicy tomato sauce loaded with meat, peppers, and spices. This is going to be your new favorite!
Ingredients
2

yellow onions

chopped

1

green bell pepper

1

celery stalk

4

cloves

garlic

finely minced

2.5

lbs

stewing beef

such as chuck, sirloin or round

2.5

lbs

pork butt

(same as pork shoulder)

60

oz

stewed tomatoes

(4 cans) pureed

1

12oz

beer

7

tbsp

jalapenos

seeded, ribs removed & finely diced

2

tsp

cayenne pepper

2

tbsp

Cumin

Salt and Pepper
Garnishes: Shredded cheese, crackers (gold fish), sliced green onions, sour cream
Instructions
Cover the bottom of a large dutch oven with vegetable oil and pre-heat.

Remove any extra fat from the meat and cut it into large chunks. Salt and pepper it liberally. Add meat to the hot dutch oven and brown. Cook in batches and don't crowd otherwise the meat will just steam. Remove meat from the pan after it is browned.

Saute the onions, bell pepper, and celery until al dente. Add garlic and jalapeno and cook for 2 more minutes. Deglaze the pan with the beer.

Add meat back into the pan. Add remaining ingredients and once the chili is hot reduce to a simmer. Taste and add additional chili powder or cayenne according to your tastes. Let cook for 2 hours stirring occasionally.
Notes
We make this chili when we have time to let it simmer. You can also make it one day and finish it the next day.
Nutrition
Sodium:
206
mg
|
Calcium:
46
mg
|
Vitamin C:
15.1
mg
|
Vitamin A:
245
IU
|
Sugar:
3
g
|
Fiber:
1
g
|
Potassium:
494
mg
|
Cholesterol:
55
mg
|
Calories:
149
kcal
|
Saturated Fat:
1
g
|
Fat:
5
g
|
Protein:
19
g
|
Carbohydrates:
5
g
|
Iron:
2.8
mg
This recipe was calculated using the exact brands and measurements I used to make this recipe. If you are following a strict diet please note changing anything will cause the nutritional info to change. My calculations are intended as a guide only.