Spicy Chili Con Carne recipe is a thick stew that will warm you from the inside-out. This filling dish is rich and packed with flavor! The Instant Pot makes it a 30-minute meal.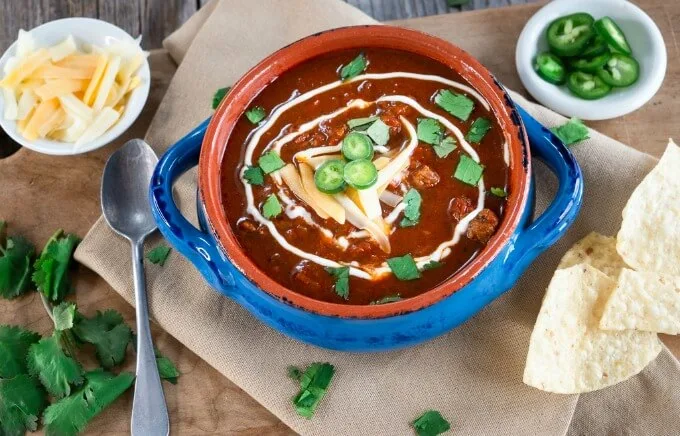 Chili Con Carne is a warm spicy dish that is stuffed with meat and warm flavors. It's filling and versatile. This dish makes a great stew but would also make an amazing enchilada filling. Being an Instant Pot recipe, it makes this simple chili recipe perfect to throw together after a long day of work or in between errands.
There are several reasons that it's the perfect time to make this Chili Con Carne recipe!
National Chili Day is February 28
Cinco de Mayo is May 5
It's Freaky Friday Winter Edition!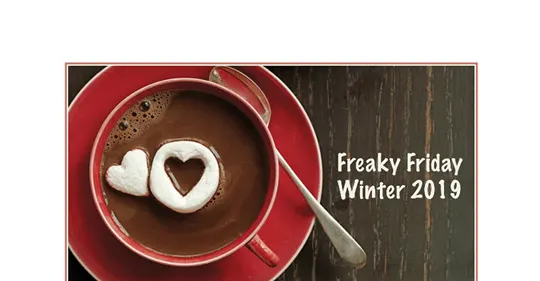 Freaky Friday Winter arrived just in time. The Freaky Friday blog hop, organized by Michaela who runs An Affair From the Heart, is a group of bloggers that are secretly assigned each others' blogs from which we choose a recipe appropriate for the theme. The blog that I was given was Aunt Bee's Recipes.
Brandi is the creator of Aunt Bee's Recipes and is certainly a busy bee with two children and a hubby. She states that when she got married she couldn't boil water but now loves pouring through cookbooks and cooking for her family.
Her blog Aunt Bee's Recipes has some amazing recipes that are perfect for the busy family. I had a heck of a time deciding which recipe to pick. I really had my eye on her Crockpot Jalapeno Popper Crack Chicken or her Butterfinger Poke cake but once I saw her Chili Con Carne recipe I knew I found the first recipe to try.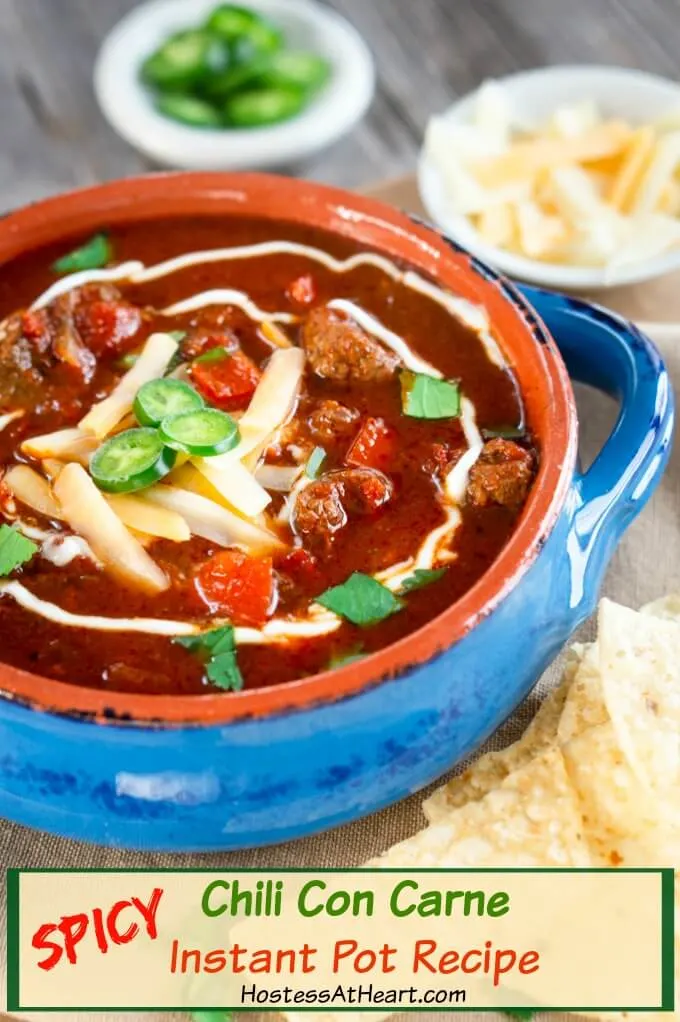 FAQ
What is Chili Con Carne?

Chili con carne or chili con carne meaning "chili with meat" is a spicy stew containing chili peppers, meat (usually beef), and often tomatoes and beans. … Geographic and personal tastes involve different types of meat and ingredients.
Is Chili Con Carne a Mexican dish?

When it comes to the story of chili, tales and myths abound. While many food historians agree that chili con carne is an American dish with Mexican roots, Mexicans are said to indignantly deny any association with the dish.
Chili Con Carne Ingredients
Sirloin steak or roast
onion – I used a yellow onion but you can use a white onion or even a sweet vadalia onion.
bell pepper – Green pepper or the bell pepper of your choice.
garlic – I used fresh garlic.
jalapeno – Fresh jalapenos. Feel free to add a mixture of green chile peppers. Poblano or Hatch would be amazing.
crushed tomatoes – I bought canned crushed tomatoes.
lime – fresh lime
sugar
chili powder – I use pure chili powder. Look at the label. A lot of chili powders include other ingredients!
beef broth – or beef stock. I use low fat, low sodium.
salt & pepper
You May Need
Hostess At Heart participates in affiliate programs. As an Amazon Associate, I earn a commission from qualifying purchases. Please refer to my disclosure page for more information about these affiliate programs.
Instant Pot – I really recommend this Instant Pot. It has been so easy getting to know. I have the 8-quart size but the 6-quart size would be adequate for most recipes.
We love Chili and Mexican-inspired flavors. This Easy Chile Con Carne recipe delivered on both. I loved how easy this recipe was and I'll be making it a regular in our house.
Here are a couple more recipes I think you'll love!
I hope you enjoyed this delicious recipe as much as we do. Drop me a comment below, and don't forget to give it a star rating. ⭐⭐⭐⭐⭐. Your comments and ratings help others decide if this recipe is for them too.
See what else is cooking from my Freaky Friday friends!
Take a look at all of our Winter Freaky Friday Recipes:
Latest posts on the blog