Banana Nut Muffin Recipe guarantees soft, fluffy, moist muffins that are slightly sweet and always delicious. This easy banana muffin guarantees a nutty crunch in every bite.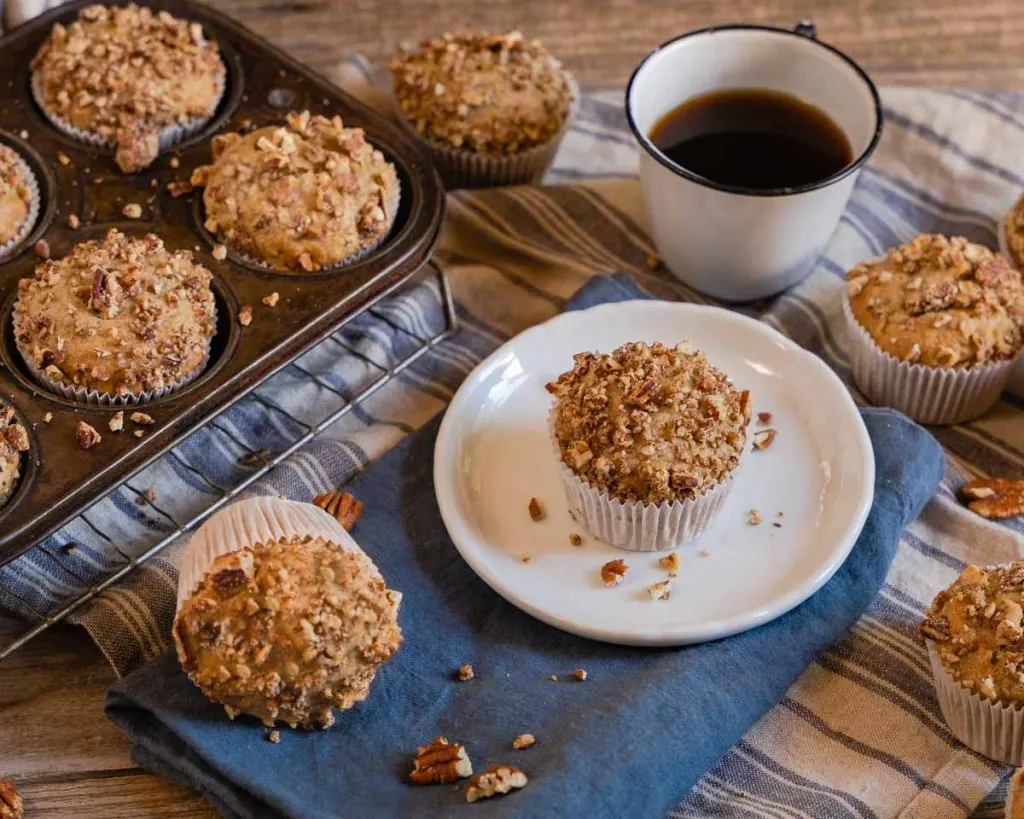 We're bananas for bananas! It doesn't break my heart when we don't get our bananas eaten before they become too ripe. This Banana Nut Muffin recipe comes together in a jiffy with the simplest ingredients.
Why You'll Love This Recipe for Banana Nut Muffins
Simple ingredients that you probably already have in your pantry.
Quick and easy to put together without any fancy equipment.
Lower in sugar and fat make these banana muffins a healthier choice than most commercially made muffins. The natural flavor of the sweet banana flavor shines through in this recipe.
Equipment Needed To Make Banana Nut Muffins
Hostess At Heart participates in affiliate programs. As an Amazon Associate, I earn a commission from qualifying purchases. Please refer to my disclosure page for more information about these affiliate programs.
Muffin Pans – This recipe makes 18 good-sized muffins so I used 2 muffin tins so I didn't have to wait for the first one to cool before filling it.
Scoop – Muffins are easily filled with the perfect amount of batter without overfilling. This scoop is what I use for large cookies too.
Mixing Bowls – I use this set of bowls for mixing, serving, storing, and transporting food. The pretty lids guarantee no spilling too!
Banana Nut Muffin Recipe Ingredients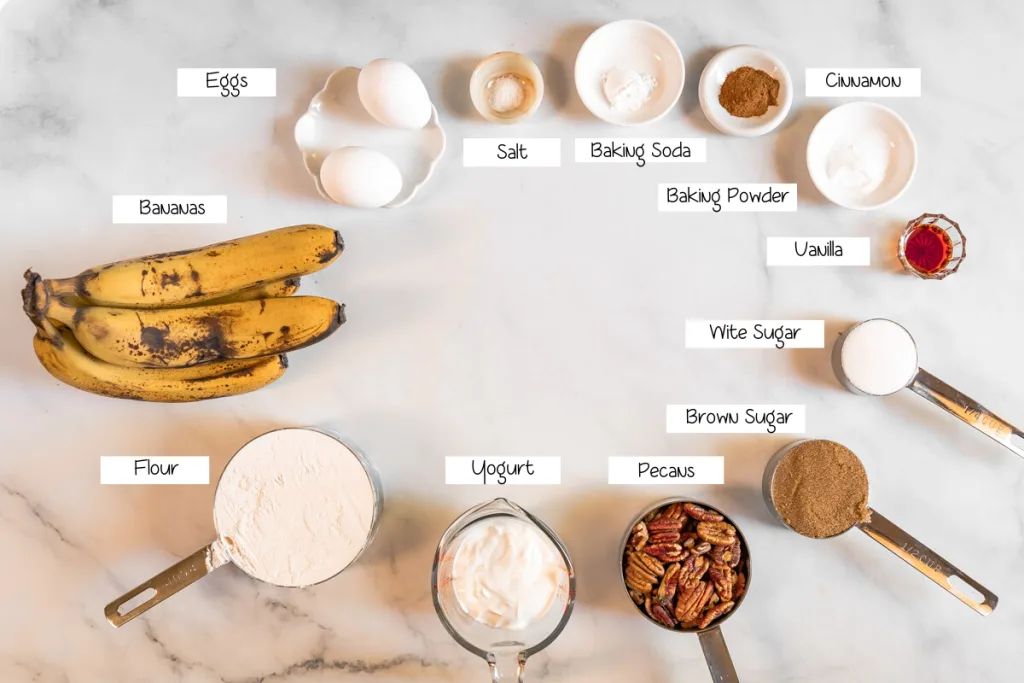 All-purpose Flour – Bleached or unbleached.
Baking Powder
Baking Soda
Cinnamon
Salt
Bananas – 3 to 4 ripe bananas.
Vanilla Extract – I prefer pure vanilla extract in my baking but if you use imitation that's fine.
Eggs – I always use Large, Grade A eggs for consistency in my baking.
Sugar – White granulated sugar.
Brown Sugar – I prefer dark brown sugar. I think it makes baked goods moist and we like the additional molasses flavor. If you prefer light, that's fine too.
Yogurt – Plain yogurt either Greek or traditional. I used full-fat. Since this recipe is already very low in fat, I felt it was needed. You could use lite but I don't recommend non-fat.
Pecans – optional or substitute the nut variety of your choice.
How To Make A Banana Nut Muffin
Please note, that the printable recipe card has ingredient quantities, complete instructions, and nutritional information. The following is a quick overview of the recipe.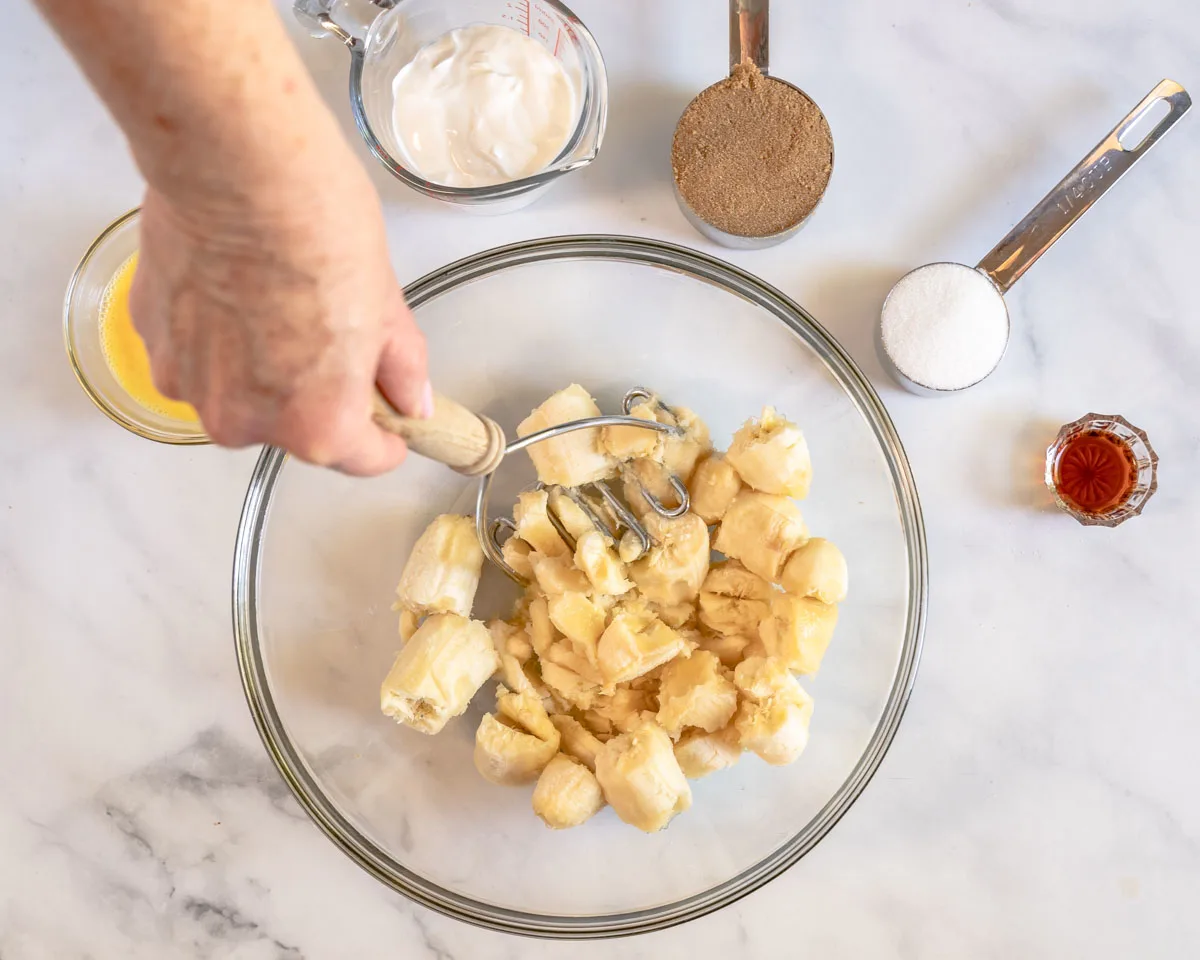 Step 1: Mix the dry ingredients
Add the flour, baking powder, baking soda, cinnamon, and salt to a medium-sized bowl. Whisk together and set aside.
Step 2: Mix the wet ingredients
Mash the bananas in a large bowl. It's o.k. if they're lumpy because they will break down when baked. Add the white sugar, brown sugar, and yogurt to the bananas and mix until combined. Add the beaten eggs and the vanilla to the banana mixture and stir until combined.
Step 3: Combine the ingredients
Add the dry ingredients to the wet ingredients and stir together with a wooden spoon or spatula only until no dry flour shows. Fold in the nuts.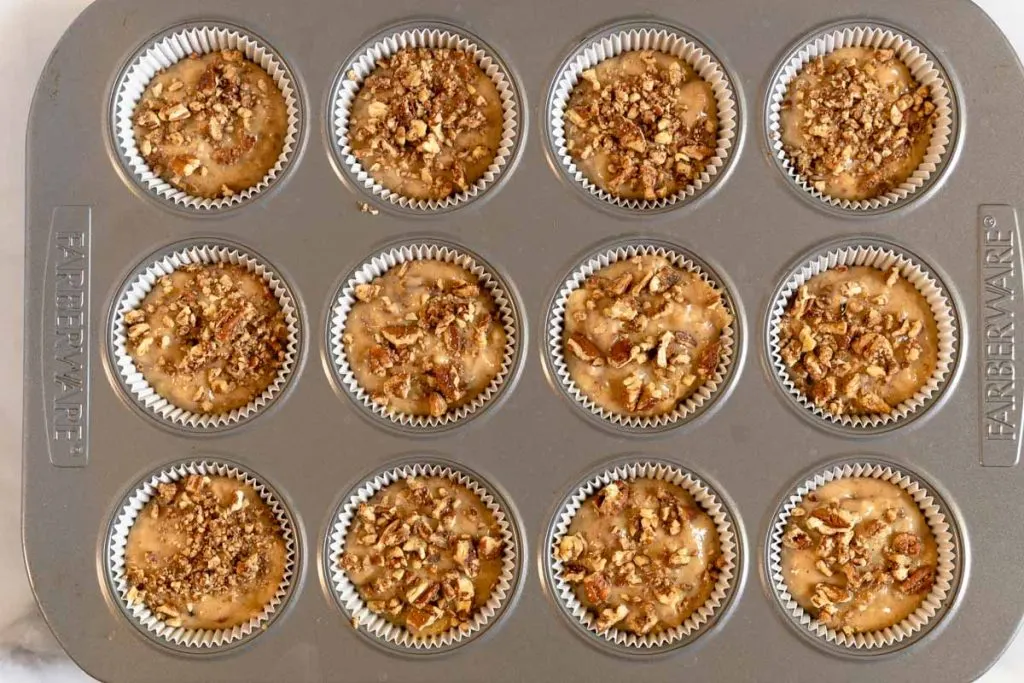 Step 4: Fill and bake
Add the muffin batter to a muffin tin, filling approximately 3/4 full. Sprinkle with additional nuts if desired. Bake for 17 to 20 minutes or until the banana nut muffins test done.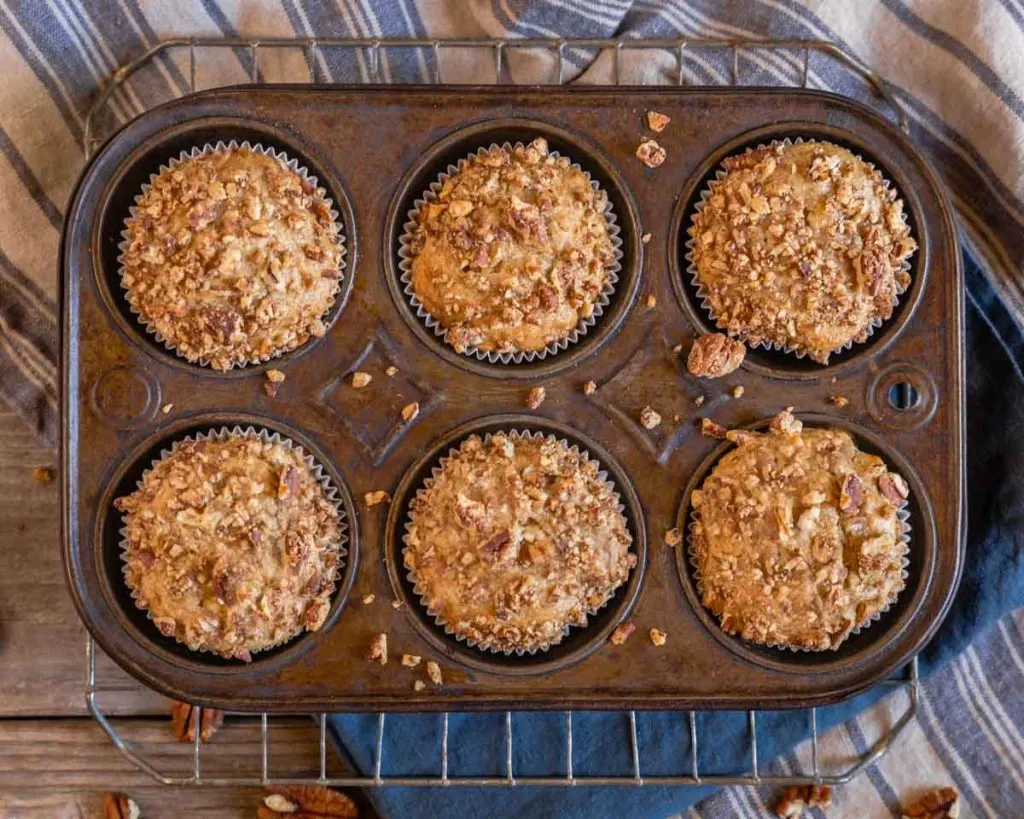 Popular Substitutions and Additions
I used pecans in this recipe but you can make banana walnut muffins by exchanging the nuts. You could also leave them out completely for more of a banana bread muffin.
Adding raisins or craisins would be delicious.
3/4 cup chocolate chips are delicious in Banana Nut Muffins. Dark chocolate or semi-sweet would be my preference.
You can replace the yogurt with sour cream or even applesauce.
Add spices such as nutmeg, cloves, or allspice.
How To Reheat and Store Banana Nut Muffins
Best Way To Store Homemade Muffins
Store completely cooled baked muffins in an airtight container at room temperature for up to 4 days. I store mine in a single layer in a reclosable zip-top bag. If you find your muffins get soggy you can put a paper towel under the muffins in the bag.
How Long Will Banana Muffins Last In the Fridge?
If it's warm in your kitchen, store banana nut muffins with sour cream in the refrigerator in a covered container for 3 to 4 days.
Can I Freeze Moist Banana Muffins?
Yes! Banana Nut Muffins freeze very well. Put them in an airtight freezer-quality resealable bag or container for up to 3 months.
This recipe makes 18 muffins so I'll freeze what we can't eat within a couple of days. I can then take out just what I need for a quick breakfast on the go or for overnight guests.
How To Reheat Easy Banana Nut Muffins
Baked Banana Nut Muffins can be warmed quickly in the microwave whether they're frozen or at room temperature.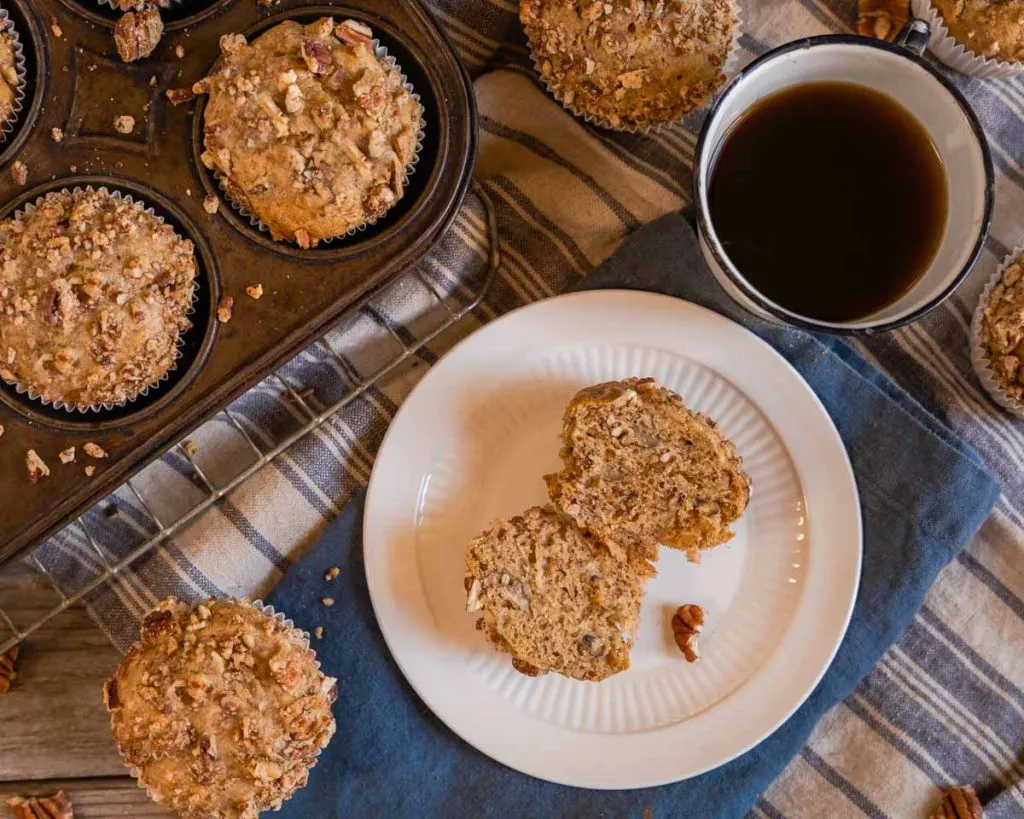 Banana Nut Muffin Recipe FAQs
Why are my muffins flat?
Muffins can come out flat for several reasons. I've listed a few of the most common reasons for flat muffins. Always follow the recipe to assure light and fluffy muffins. I've tested this muffin recipe several times to assure you have a positive outcome.
Make sure your ingredients are fresh. Especially your baking powder and baking soda. If you're unsure if they're active, you can test them. I explain how to do this in my Techniques post.
Another reason could be that you're underbaking the muffins. See my tips below for testing them.
If your muffins consistently come out flat and you've ruled out the previous suggestions, you may want to increase the temperature of your oven to 375° or 400°. The burst of heat should make them rise. Watch them because you may have to adjust the baking time.
Why do my muffins crack on top?
Cracks indicate that the muffins are rising too fast, usually as a result of too hot of a temperature. Test your oven with an oven thermometer and don't be afraid to lower the temperature.
When you consistently have your recipes bake faster than what the recipe calls for, this indicates that your oven bakes hot so you know to lower the temperature when you use it.
Should muffin batter be thick?
The batter for these banana nut muffins is on the thicker side. Muffin batter can be thick or thin with positive results. I usually make notes on a recipe about what I'd do differently the next time I make it like adding spices or how l baked them.
Why do my muffins have a hard top?
Cooking at too high a temperature. One of my attempts at creating this recipe resulted in a beautifully domed muffin that had a crusty top. They weren't what I wanted to eat.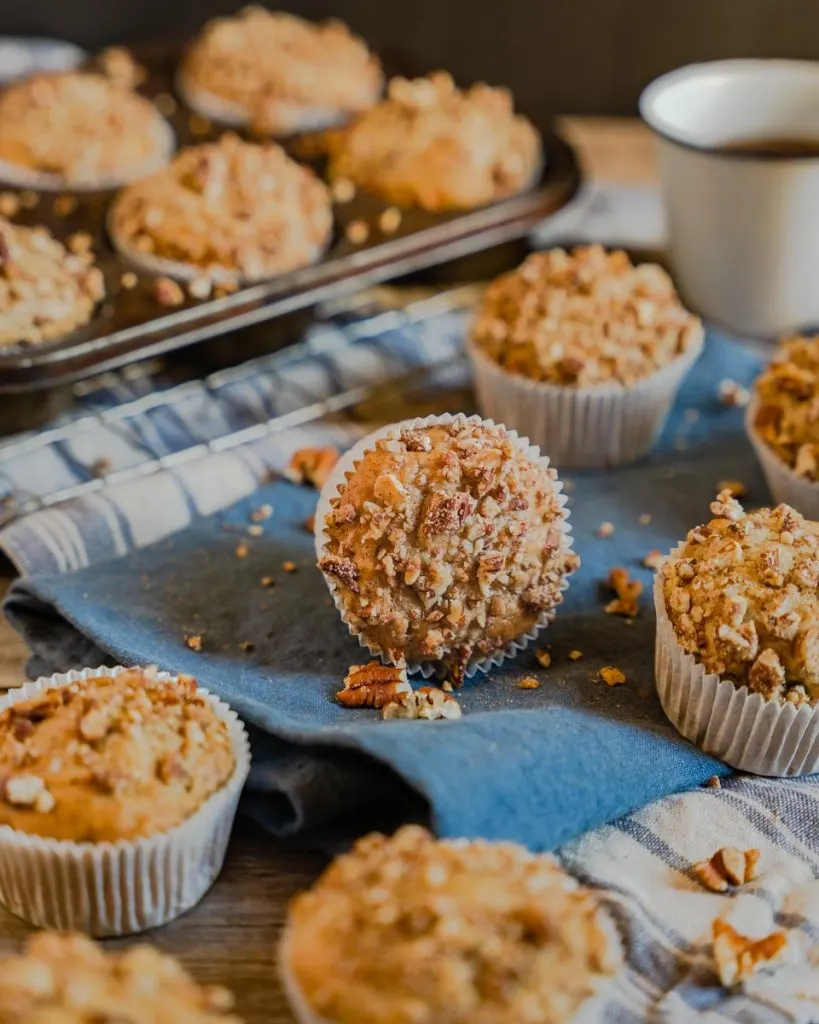 Tips For the Best Banana Nut Muffin
This muffin doesn't contain oil or butter so it's more likely to stick to cupcake liners. I recommend either greasing the muffin tin or lining it with cupcake liners and then spraying them with non-stick cooking spray.

If you forget to spray your cupcake liners, placing the muffins in a reclosable bag will create enough moisture that will allow the liners to peel right off usually by the next day. Microwaving them in a covered container for a brief time will also make them easier to peel.
I also suggest that you leave the muffins to cool in the pan for 5 minutes before removing them to a cooling rack which will add moisture to the muffin and help them set up.

Use Ripe bananas. Bananas are ripe when you see brown spots on the peel. Bananas that have turned black should be thrown out.
Finely chop the nuts but don't grind them too finely. You will lose texture. I also prefer to add nuts to the top of these muffins which I chop even a little thicker.
Don't overmix these muffins. Doing so can result in a tough and dense muffin. That is the reason we combine the wet and dry ingredients together separately before combining them and then gently folding in the nuts.
Fill the muffin pan 3/4 full which is perfect for this banana nut muffin recipe. Overfilling create
Don't overbake these banana muffins. They're done when the edge just starts to brown. I check them at the minimum baking time to see if they need another minute or two by inserting a toothpick into the center of the muffin. If it comes out clean or with just a couple of crumbs they're done.
Pin It Now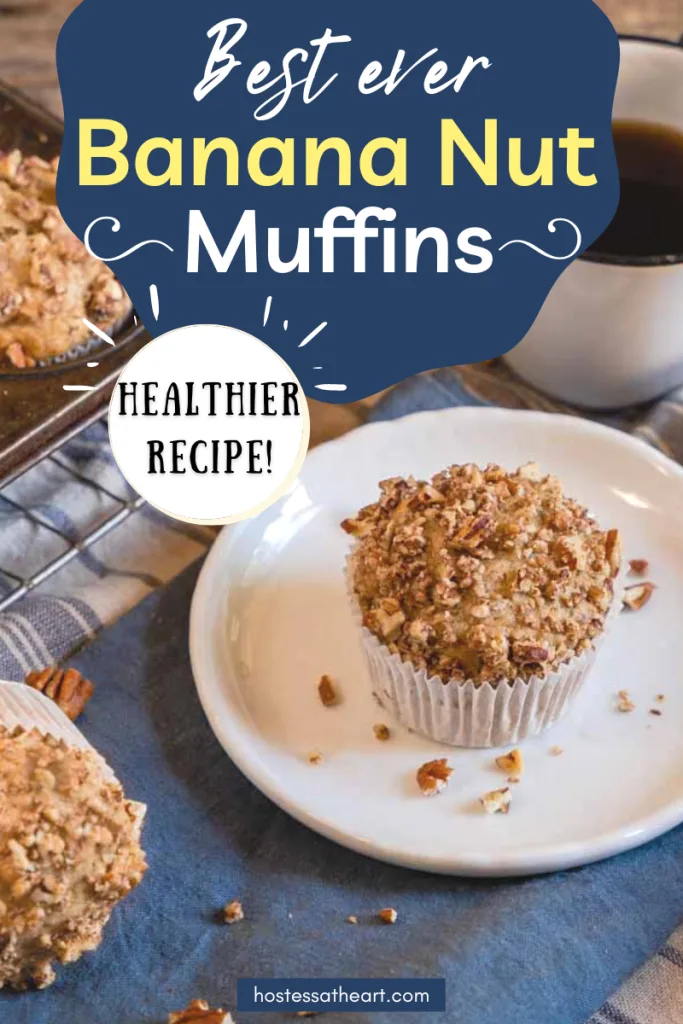 Other Recipes You May Enjoy
Don't Forget To Come Back And Let Me Know How Your Banana Nut Muffins Came Out!