Blueberry Buckle is a tender moist blueberry cake with lemon essence and topped with a sweet streusel that has a light crunch. Your morning coffee is going to beg you for this blueberry breakfast cake.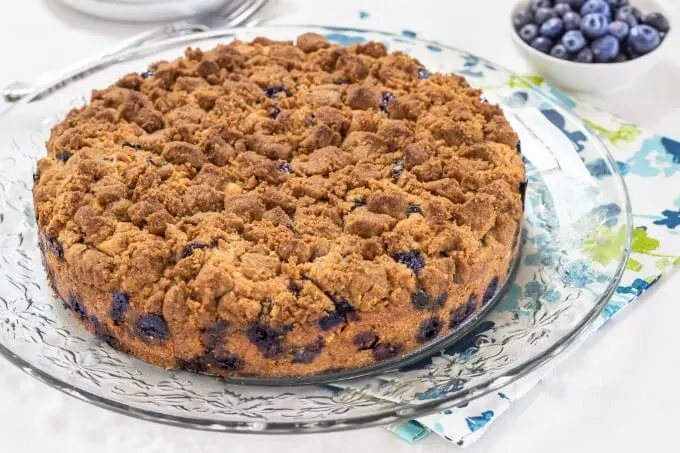 Cake for breakfast? Rise up, it's our right! Lemon Blueberry Buckle for everyone! O.k., I haven't gone quite off on the deep end but this lemon blueberry cake has me pretty excited.
If you've been with us for a while, you know how I love a moist coffee cake. As much as my mother stated she disliked cooking, she had a mean sweet tooth (mine's genetic!). She would, however, on occasion, whip up a coffee cake and it was always so good.
The rules were a little difficult to grasp for me growing up. Why can I eat this fresh Blueberry Cake for breakfast when my favorite Spice Cake with Peanut Butter Frosting was just for dessert? It's no wonder I was confused, keep reading!
What is the difference between cake and coffee cake?
The definition of a Coffee Cake is a cake that includes coffee as one of its ingredients or meant to be eaten with coffee. Whereas, a cake is a sweet food often covered in frosting. So, as long as you don't frost it and you have a cup of coffee you can eat cake for breakfast right? I still think like a 5-year-old when it suits my purpose.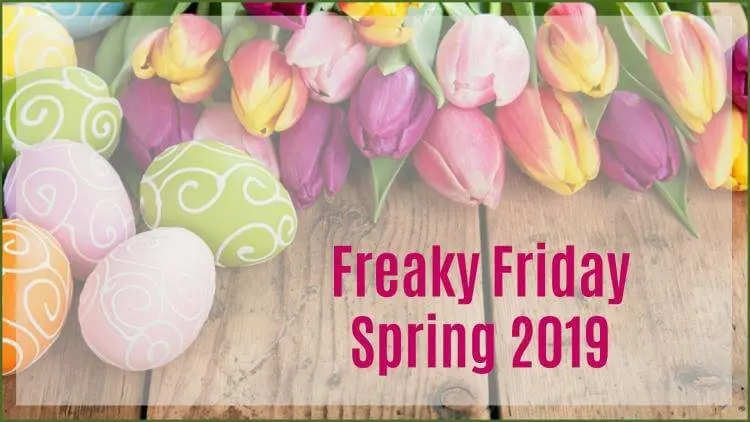 This weeks lemon blueberry coffee cake recipe is a part of the #freakyfridayrecipes series that I participate in about 4 times a year. The Freaky Friday blog hop, organized by Michaela who runs An Affair From the Heart, is a group of bloggers that are secretly assigned each others' blogs from which we choose a recipe appropriate for the theme. It's so much fun and there are so many quality recipes.
The theme of this blog hop is "Spring" and I was given Michele's blog, West Via Midwest. Michele used to have Midwest roots and live not all that far from me and boy do I wish we knew each other then! She headed west and in the meantime went to culinary school and is a Sommelier! Talk about an over-achiever!
It's no wonder we get along. We both love to entertain without the stress and we both love to share food with the people we love.
I must admit that I was a little intimidated when I was given West Via Midwest. She does some amazing main course recipes like her Easy Oven-Baked Ribs and her No-Fail Grilled Lamb Chops. There wasn't any need to worry though because once I came upon her Blueberry Buckle recipe, I knew that one was just made for me. And so was her Lemon Coconut Cake and her Cherry Pie Bars. Oh heavens, the list goes one. Just check it out for yourself!
What is a Buckle?
According to The Farmers Almanac, the cake earned the name "buckle" because while it bakes, the batter rises, but the berries and crumb topping weigh it down, causing the surface of the cake to buckle.
While I was doing my Buckle research, I looked at several recipes. This recipe has a lot more berries in it than other recipes. I learned quite a few things from Michele too.
Pro Tips:
I used fresh berries and folded them in. If you use your mixer and break some of the berries your batter will be tinted.
If you use frozen berries rinse any ice crystals from them and dab them dry with a paper towel. The juice from the berries will tint your batter as well.
Most of the streusels that I make have you cut in cold butter to get the large crumble. Michele's method is easier and just as delicious!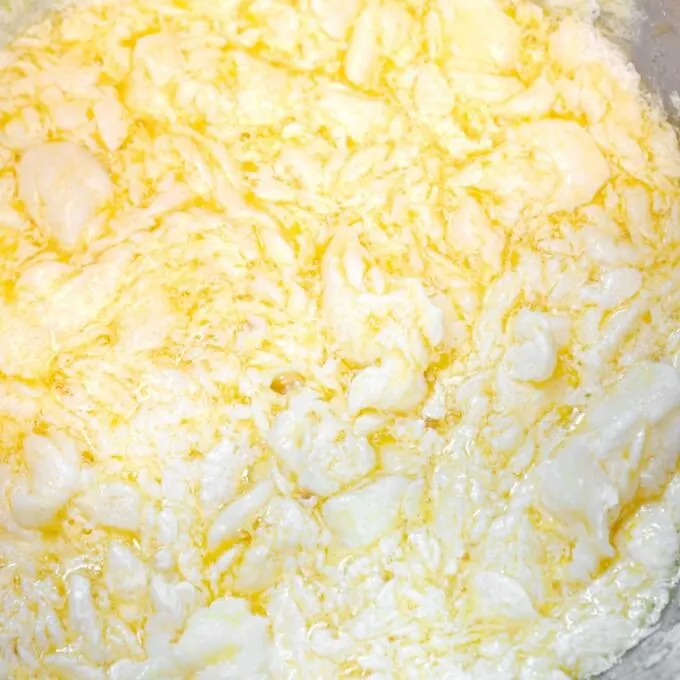 You may need:
Hostess At Heart participates in affiliate programs. As an Amazon Associate, I earn a commission from qualifying purchases. Please refer to my disclosure page for more information about these affiliate programs.
9″ Non-stick Springform Pan – You do not need to use a springform pan but I loved how easy it was and it looked so pretty on my serving plate.
Electric Stand Mixer – I used this mixer for doing everything in this recipe except folding in the berries. It is my workhorse and I even have the attachments to make pasta and grind meat and nuts with too.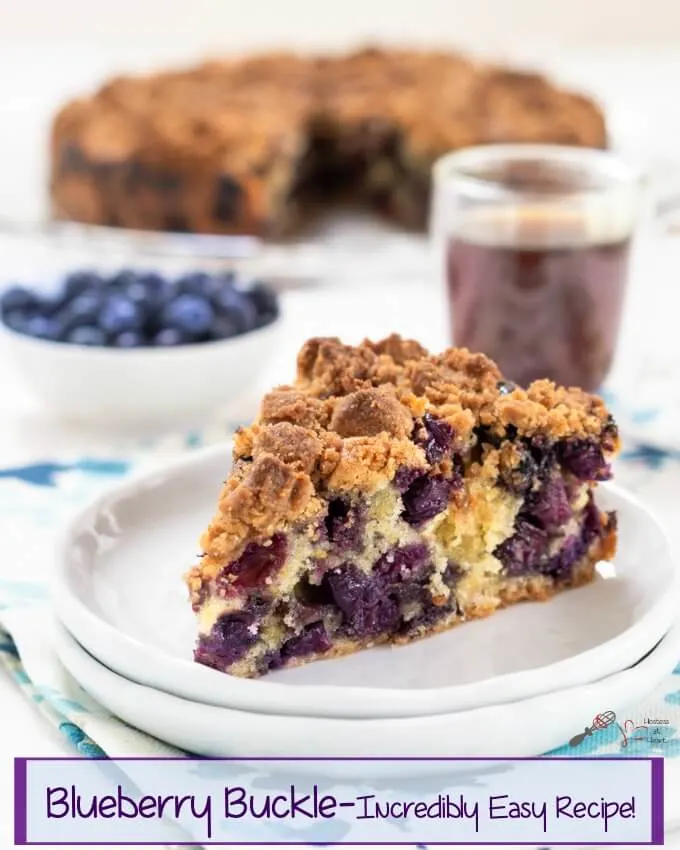 More Blueberry recipes you may enjoy!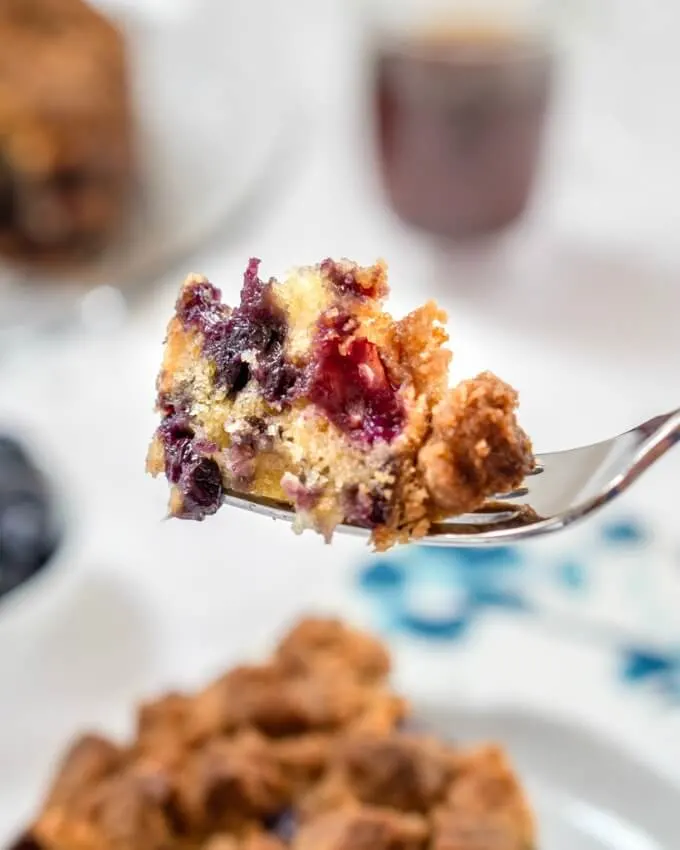 I hope you enjoyed this delicious recipe as much as we do. Drop me a comment below, and don't forget to give it a star rating. ⭐⭐⭐⭐⭐. Your comments and ratings help others decide if this recipe is for them too.
I have to fess up. The original recipe calls for 10 tablespoons of butter. I had those little 1/2 sticks of butter because they were on sale. I forgot to put one of them in so only used 6 tablespoons of butter. The texture and flavor was delicious. You have the option to use all 10 or reduce it like I mistakenly did.
We absolutely loved this Blueberry Buckle Coffeecake recipe and it's inspired me to come up with new recipes using this technique too! If you have some inspiration you'd like to see, leave me a note in the comments or drop me an email. I read and respond to all of my correspondence.
Take a look at all of our Spring 2019 Freaky Friday Recipes: