Chai-Spiced Steel Cut Oatmeal makes a warm and filling breakfast that is a healthy and flavorful way to start your day.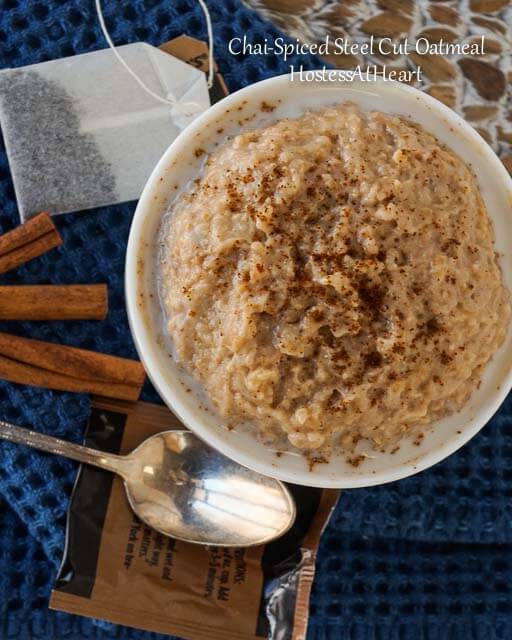 If you follow my blog very closely, you may think that this entire blog is on oatmeal. Maybe you are just thinking that I seriously need an intervention. Bear with me, I have one more for you…Chai-Spiced Steel Cut Oatmeal.
I do love the stuff, but another reason that I am such a fan of oatmeal is because it is probably the single best way for me to watch my weight. How can a food that fills you up still allow you to lose or maintain weight? In my case, it fills me up and keeps me satisfied. If I start my day with a serving size of cold cereal, in many cases that is 2/3 to 3/4 of a cup, I am hungry within 2 hours and looking for a snack. Who wouldn't be? Also, there isn't any added sugar hiding in oatmeal. Not hidden meaning you control the way you eat it.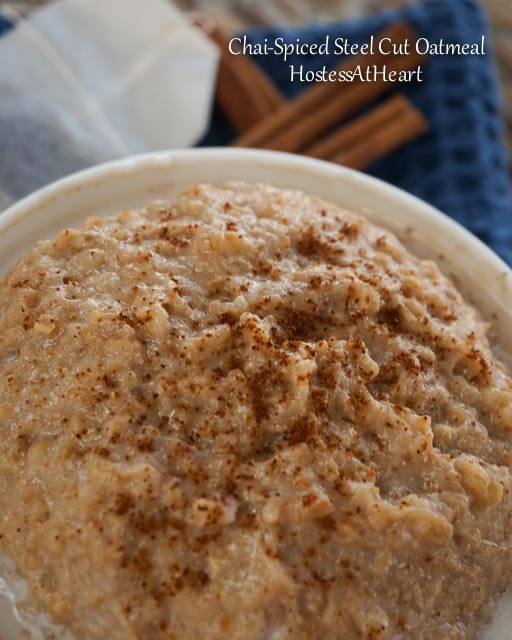 I've recently seen recipes that are flavored with tea bags. What an amazing idea! Flavor without calories. One of my favorite tea is Chai. Especially during the colder months. The spices are warm and just like a big ole hug in my book. Oatmeal is kind of like that for me too. The combination of the two is a pretty big hug! I recently came across a similar recipe in the "Cuisine at home" magazine. This recipe uses banana. I like a fresh banana or banana bread, but don't put it in my oatmeal or my smoothie. People say your can't taste it. Phooey, I can too. I used unsweetened applesauce instead and adjusted the spices a little more to my liking.
One more benefit of this recipe is that it is cooked in the crockpot. Can you imagine waking up in the morning to the smell of warm spices? It makes you want to put on those bunny slippers and head for the breakfast table! I stored the remaining oatmeal in the pyrex measuring cup used in the recipe, and just covered it with plastic wrap. Each morning I just spoon a serving into a bowl, added a bit of almond milk, and warmed it in the microwave.
I would love it if you would follow me on Pinterest, Instagram, Facebook, and Twitter!