Aussie Lamb Bolognese is a simple recipe that tastes gourmet. This recipe uses minimal ingredients and cooking time. It's perfect for a weeknight meal or special occasion.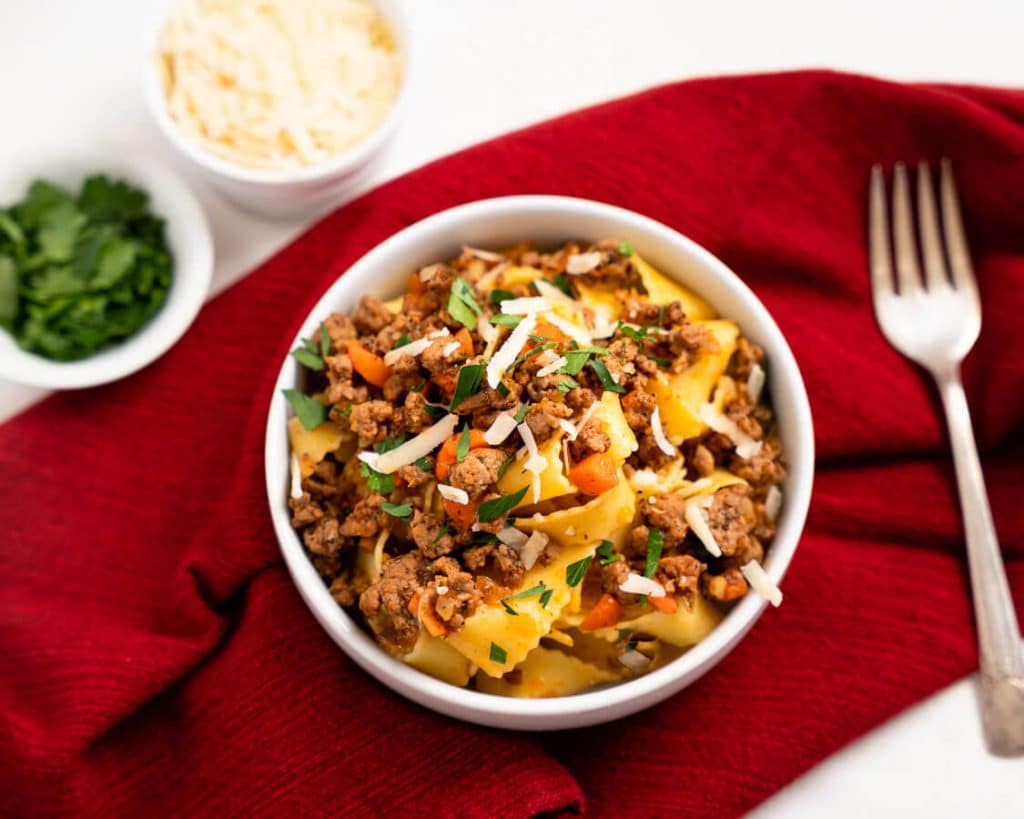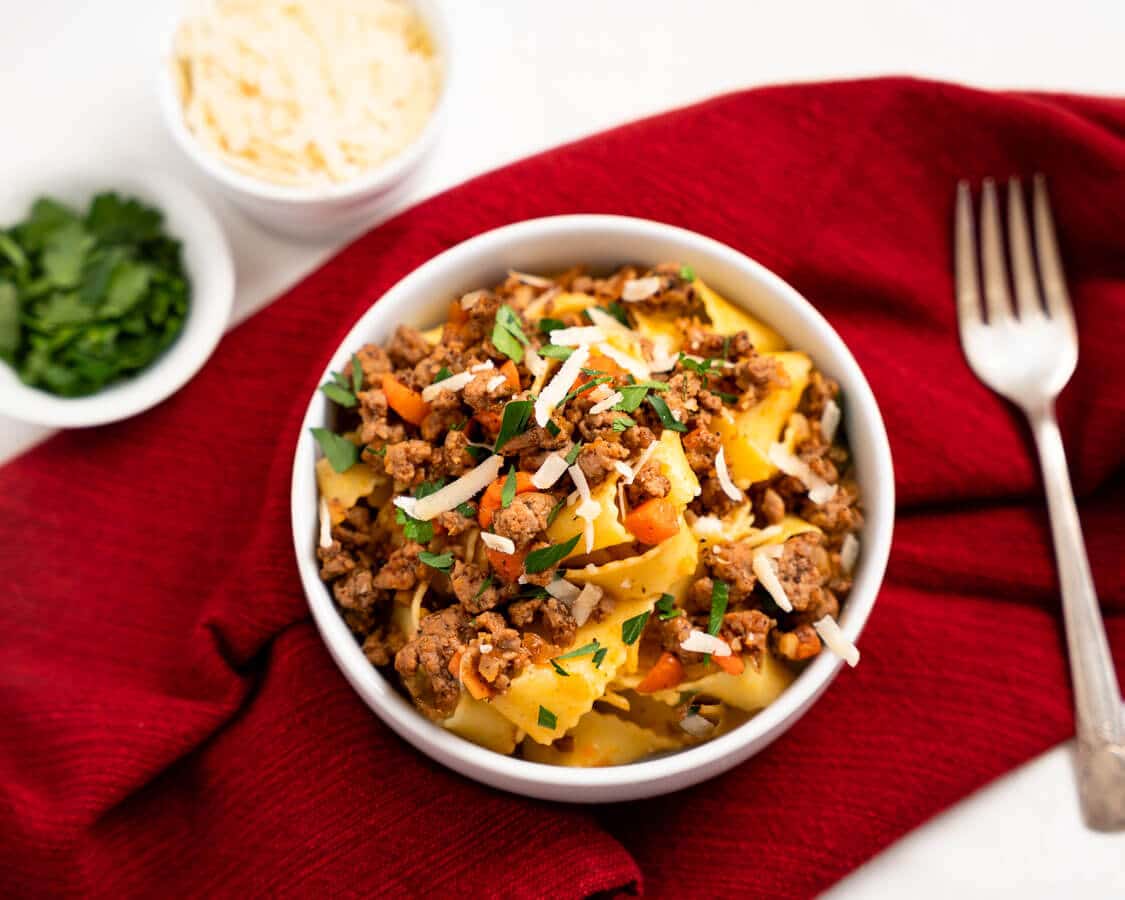 Aussie Lamb Bolognese recipe is all about simple ingredients and NO fancy techniques.
This Lamb Bolognese proves that you don't need 15 ingredients or hours of cooking time to create a dish that you'd be proud to serve anyone anytime.
Wouldn't you rather sit and enjoy a glass of wine with the people at your table instead of running around stressing whether a meal is going to finish in time?
It took me a while to figure that one out. Difficult and time consuming dishes doesn't equal better dishes!
Mild and flavorful lamb marries with fresh carrots and onions. Add a swirl of pappardelle pasta and you've got a complete meal in no time.
Go open the wine because we're going to show you how easy it is to make. It will be finished by the time you see the bottom of your glass!
This post is sponsored by True Aussie Lamb but the opinions here, and the love I have for their products, are all my own.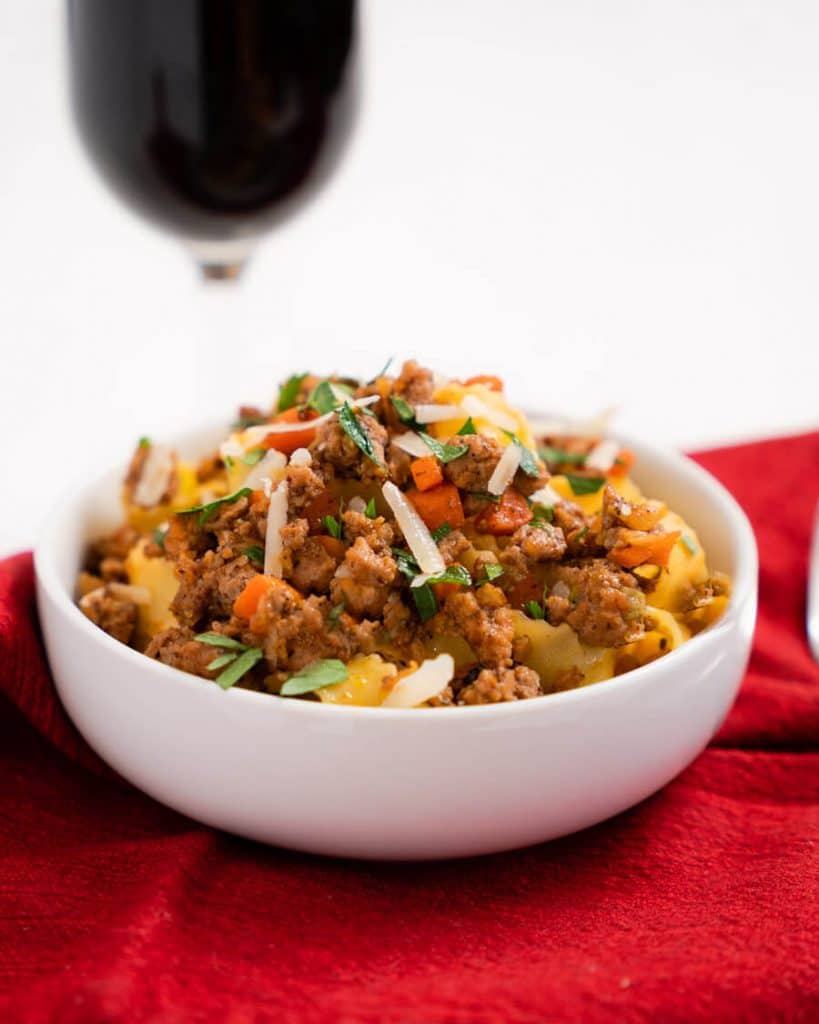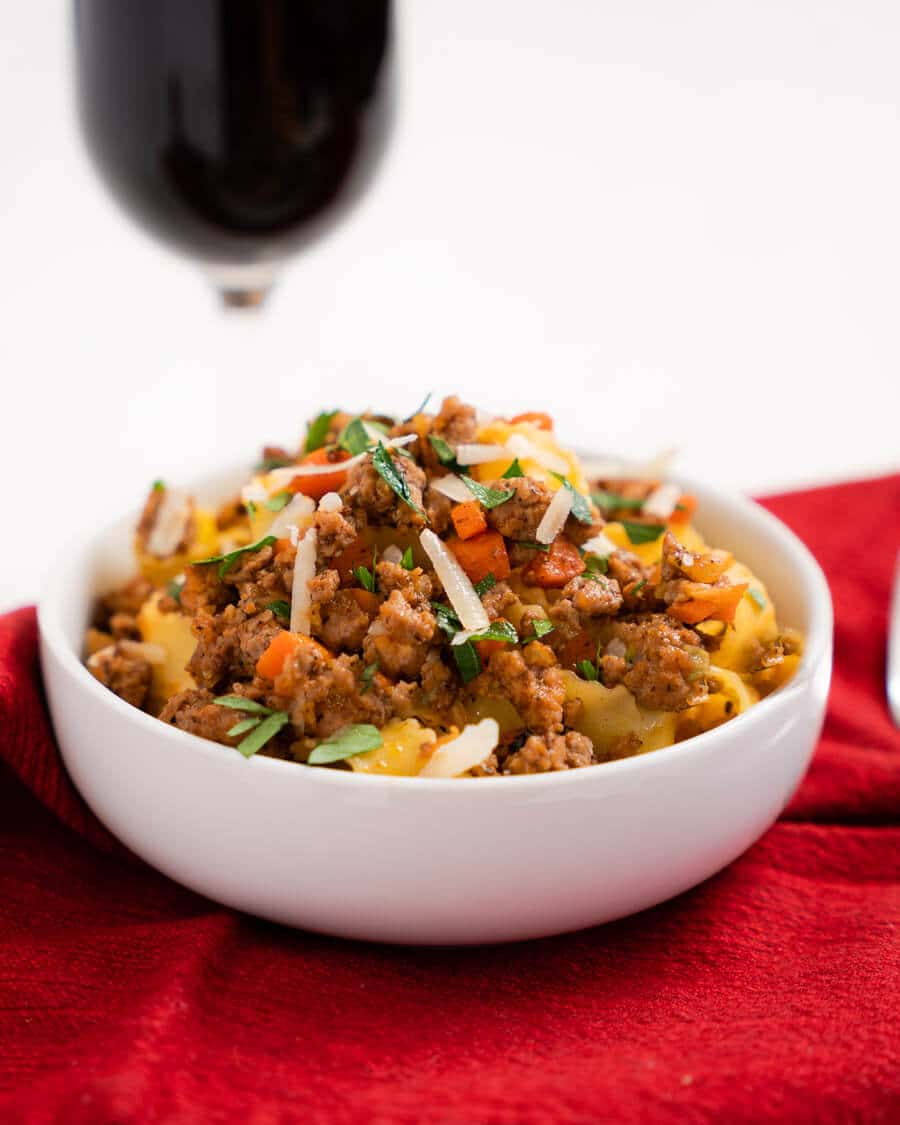 WHAT IS AUSSIE LAMB?
I used to think that True Aussie Lamb was a brand. It's not. They support all of the lamb producers in Australia.
WHY LOOK FOR AUSTRALIAN LAMB?
Australian lamb is raised on natural pastures which produces a mild and flavorful lamb.
Lamb is tender, lean, and healthy!
As you will see in our recipe, it's so easy and versatile to use.
It's readily available in the United States. Australian lamb is actually the #1 source of lamb in the US and you may have already seen it in your local supermarket.

You can go to their website to see who carries it in your area and to learn more about True Aussie Lamb.
Or, just #askforAustralian!
INGREDIENTS YOU'LL NEED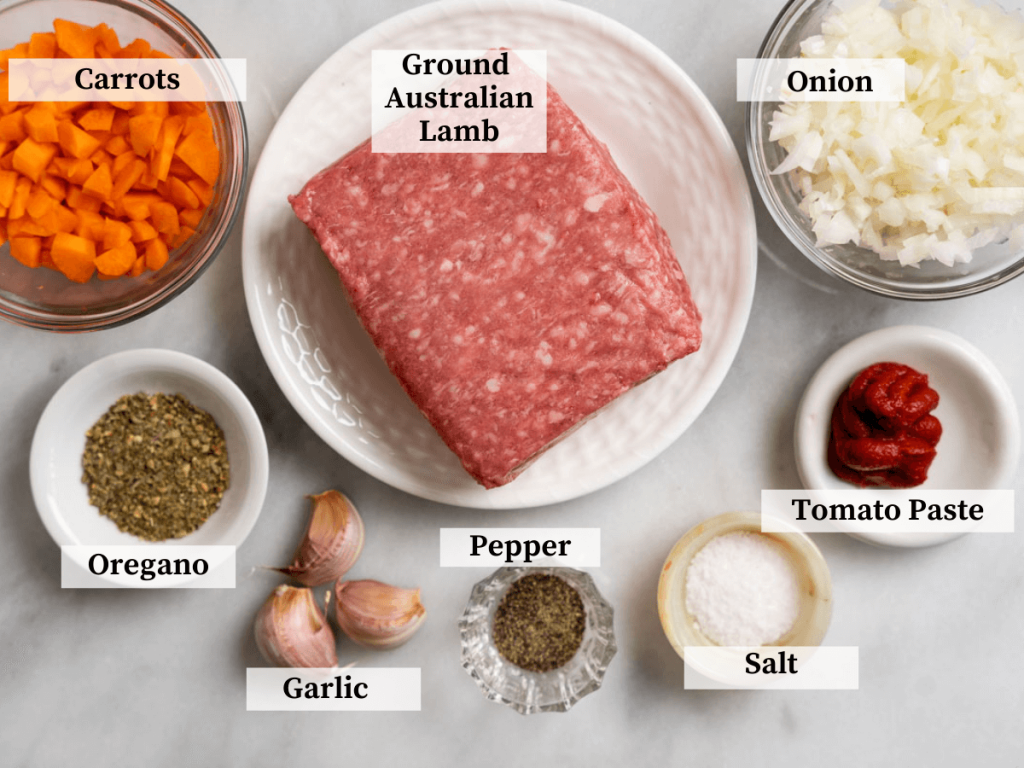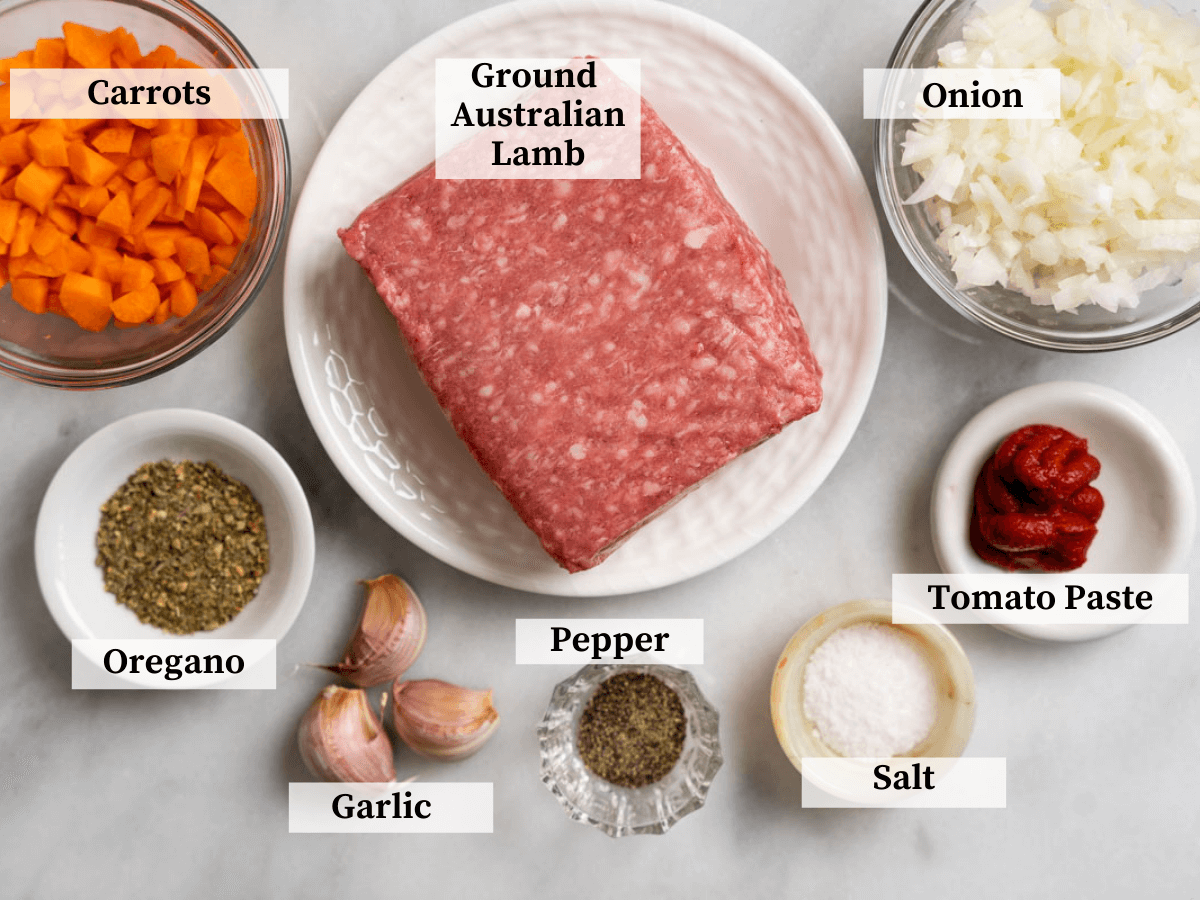 This is a smaller batch recipe perfect for date night. It can be doubled or even tripled.
Ground Australian Lamb – Mild and flavorful lamb is so lean that it doesn't need to be drained. Every bit of the flavor stays right where it should, in your recipe.
Carrots – We chopped up a few carrots to add flavor, texture, and pretty color to our meat sauce.
Onions – We used yellow onions. You can use what you like to cook with.
Seasonings – Italian seasoning, salt, and pepper were all this dish needed. If you don't have Italian seasoning, dried oregano will work too.
Garlic – Minced fresh garlic is what we prefer. You could definitely use a jar of pre-minced garlic for convenience.
Tomato paste – We cooked in a very small amount to add richness to our bolognese meat sauce.
Pasta water – Save a little pasta water to thin out your sauce if needed.
Garnish – We love adding garnishes for color and another opportunity for flavor. A few sprinkles of fresh parsley and some grated Parmesan Reggiano will do.
What is the best pasta to use?
We generally use pappardelle with bolognese. It does a good job clinging to the meat sauce and these noodles aren't generally real thick so the lamb bolognese meat sauce shines through.
You use what you like. This recipe is all about enjoying the ease of the meal.
How do you make Lamb Bolognese
Since this recipe comes together quickly, we recommend that you pre-chop the carrots and the onion. You could start your pasta water now too.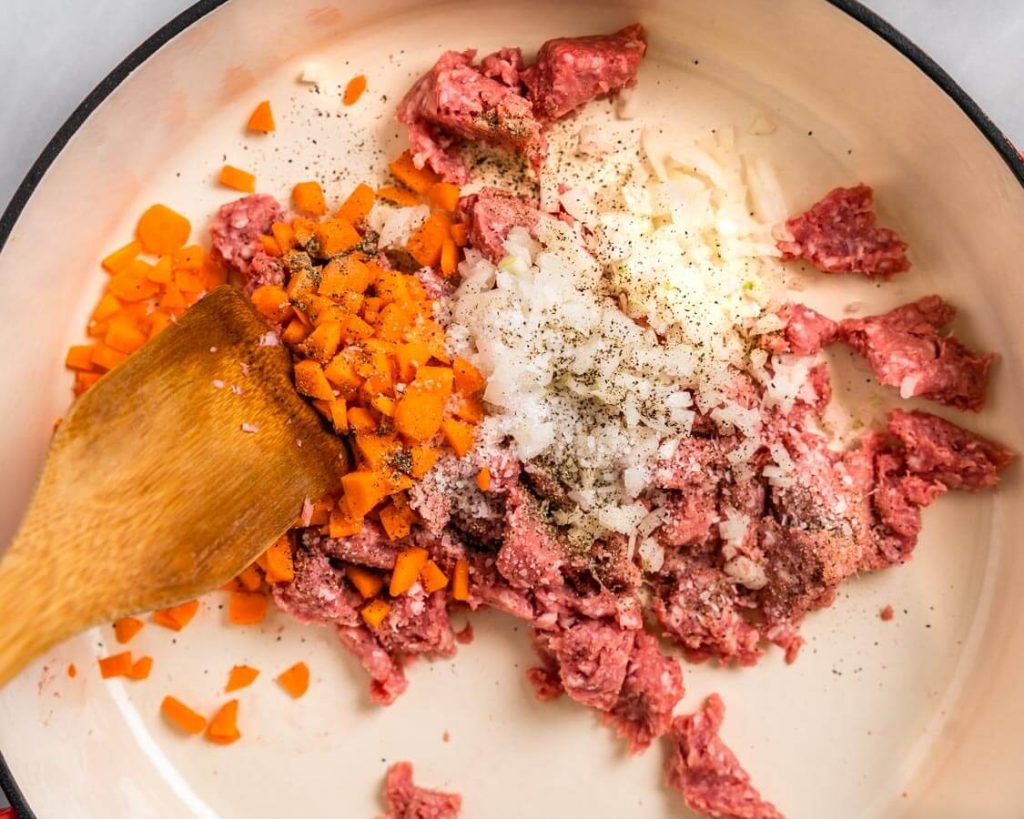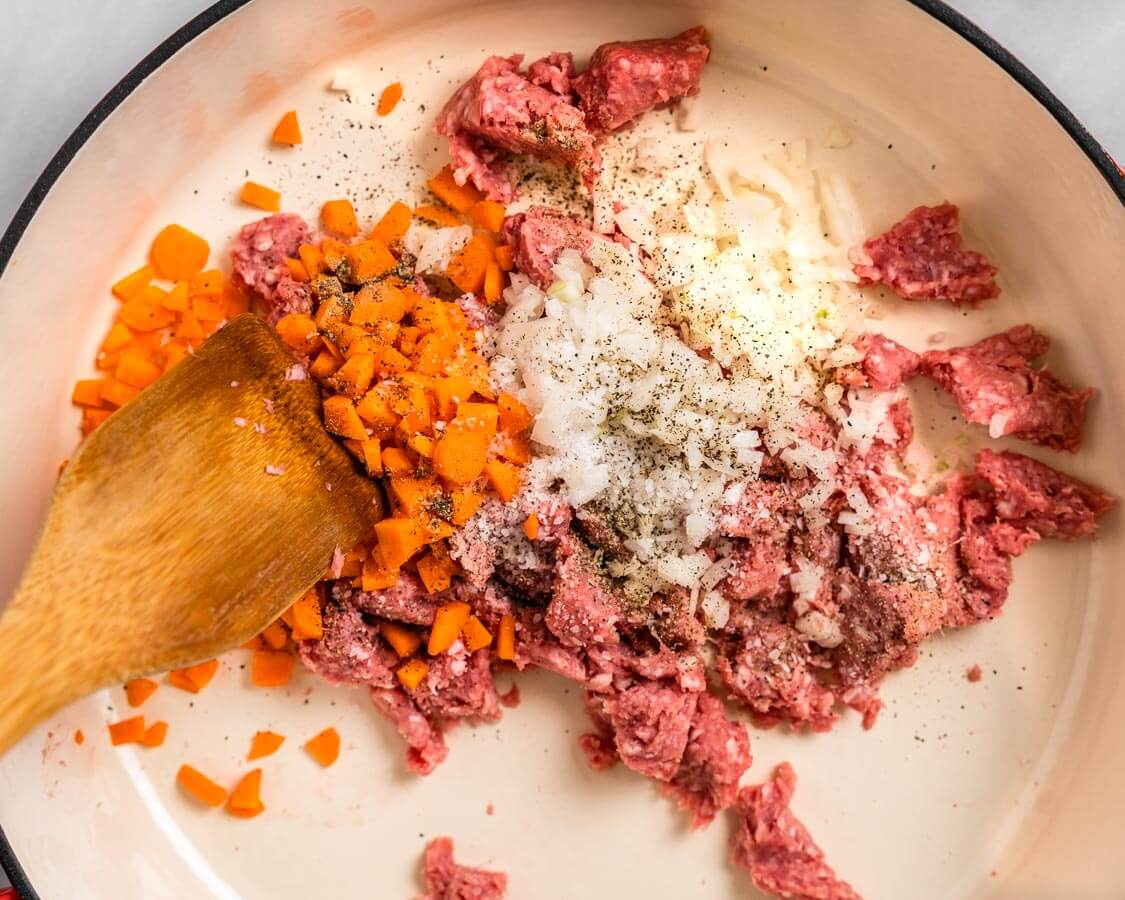 Using a medium-sized saucepan, combine the ground lamb, carrots, onion, salt, and pepper. Allow the meat mixture to cook until the meat is no longer pink.
Add the minced garlic, Italian seasoning, and tomato paste. Stir to combine. If the sauce is really thick, add some pasta water to thin it.
Tips for amazing Bolgnese
Chop the carrots and onion into small pieces so that they don't take as long to cook and are ready when the lamb is cooked through.
Use a skillet or braiser with a large bottom so the ingredients are spread out. The ingredients will cook quicker and at the same rate.
Garlic isn't added initially because it can burn very easily.

Garlic only takes a couple of minutes to cook and adds amazing flavor so we add it towards the end of the recipe.

This Bolognese recipe doesn't need much salt.

We salt the pasta water and the parmesan garnish adds enough salt to this recipe in our opinion.
How to serve Lamb Bolognese
We prefer to mix some of the meat sauce into a large bowl holding the cooked pasta and add just enough sauce to coat the noodles.
Once we plate the pasta, we will add more lamb bolognese meat sauce to the top of the pasta and add a fresh parsley garnish. We serve grated Parmesan Reggiano at the table.
A small salad, loaf of Italian Bread or Focaccia Bread and a glass of wine and dinner is done.
What we used
Pasta cooker – We like being able to just lift our pasta out of the cooking water when our pasta is done. We are less likely to overcook the pasta. We're also able to save our pasta water for thinning the sauce when we use a pasta cooker.
Box Grater – We like seeing the shreds of fresh cheese on our bolognese so using a grater is the way to go for us.
Braiser Pan – This pan is an enameled cast iron. It has a larger bottom so all of your ingredients cook at the same rate. The clean-up is a breeze too!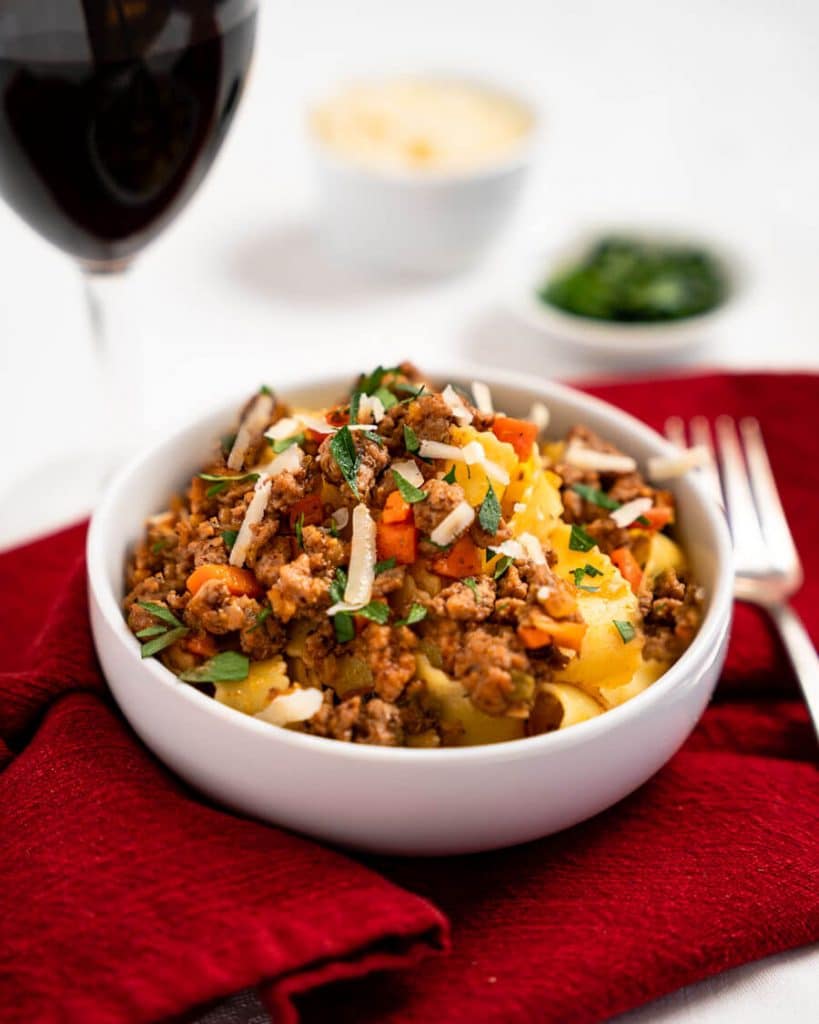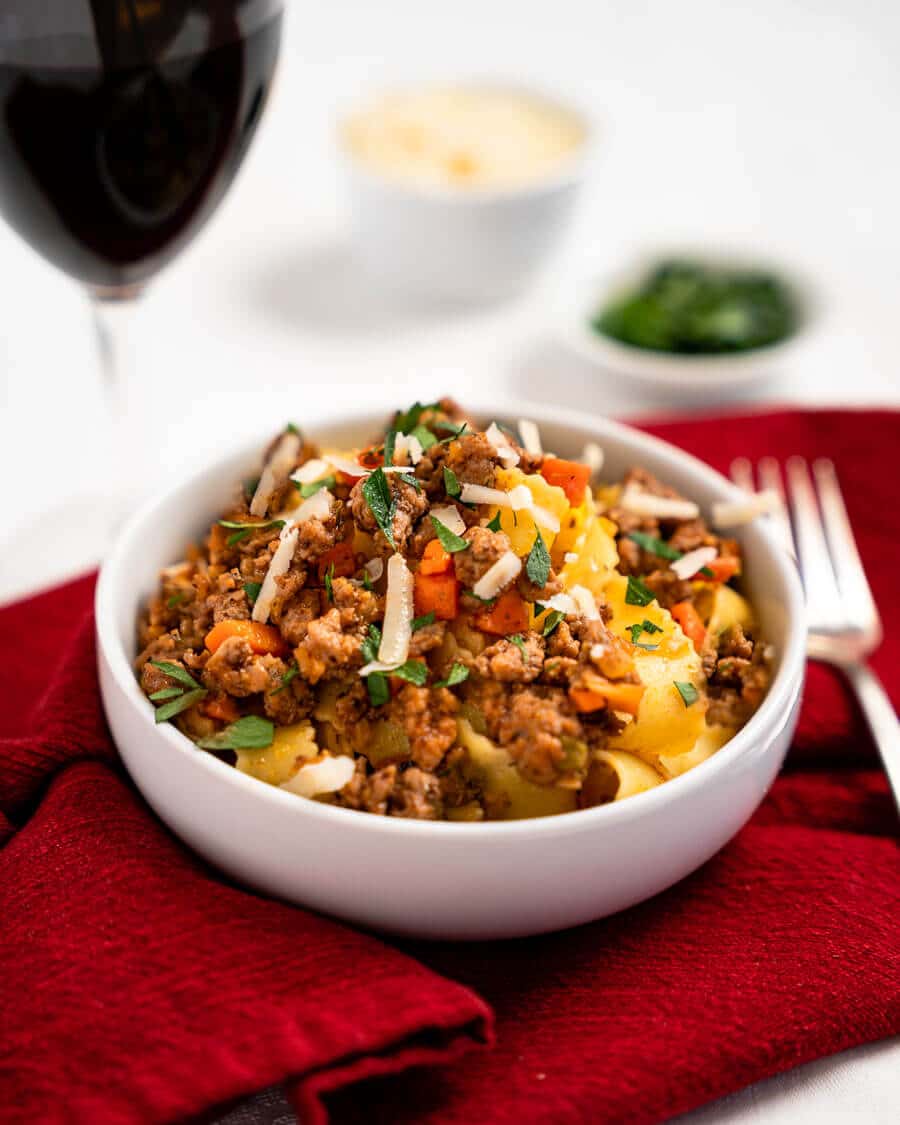 How to store
Store the bolognese in a covered dish in the refrigerator. You can re-heat the bolognese briefly in the microwave or in a saucepan on the stove. You can add a little water if you need to thin the sauce.
This Aussie lamb meat sauce freezes beautifully in an airtight container for 3 to 4 months. And, while pasta freezes too, we recommend cooking it fresh.
If you enjoy this recipe, here are a few more I think you'll like
We love lamb and you can find all of our lamb recipes here!
If you're still looking for amazing lamb recipes, jump on over to the True Aussie Lamb website.
They have some chef creations using all of the lamb cuts available and more tips to cook lamb. There is also an interactive cooking tool that shows you how easy it is to cook lamb and will help you create your own dish.
Simple Aussie Lamb Bolognese
Aussie Lamb Bolognese is a simple recipe that tastes gourmet. This recipe uses minimal ingredients and cooking time. It's perfect for a weeknight meal or special occasion.
Ingredients
1

lb

ground lamb

1/2

cup

carrots

chopped

1/2

cup

onion

chopped

1

tbsp

tomato paste

3

garlic cloves

minced

1

tsp

Italian seasoning

1/2

tsp

salt

1/4

tsp

ground black pepper

1/2

cup

water
Pappardelle or pasta of your choice
Optional garnishes: Parmesan cheese, fresh parsley
Instructions
In a large skillet, combine the ground lamb, carrots, onion, salt, and pepper. Cook together until meat is no longer pink and carrots have begun to soften.

Add the tomato paste, garlic, Italian seasoning, and water. Stir to combine and cook until heated through.

Serve with pasta and garnish with fresh parmesan and parsely if desired.
Nutrition
Calories:
343
kcal
|
Carbohydrates:
5
g
|
Protein:
20
g
|
Fat:
27
g
|
Saturated Fat:
12
g
|
Cholesterol:
83
mg
|
Sodium:
403
mg
|
Potassium:
390
mg
|
Fiber:
1
g
|
Sugar:
2
g
|
Vitamin A:
2744
IU
|
Vitamin C:
4
mg
|
Calcium:
43
mg
|
Iron:
2
mg
This recipe was calculated using the exact brands and measurements I used to make this recipe. If you are following a strict diet please note changing anything will cause the nutritional info to change. My calculations are intended as a guide only.
Pin this amazing recipe!