This Peanut Butter Pretzel Puppy Chow recipe is going to change your puppy chow world. They're sweet, crunchy, and satisfy that peanut butter craving!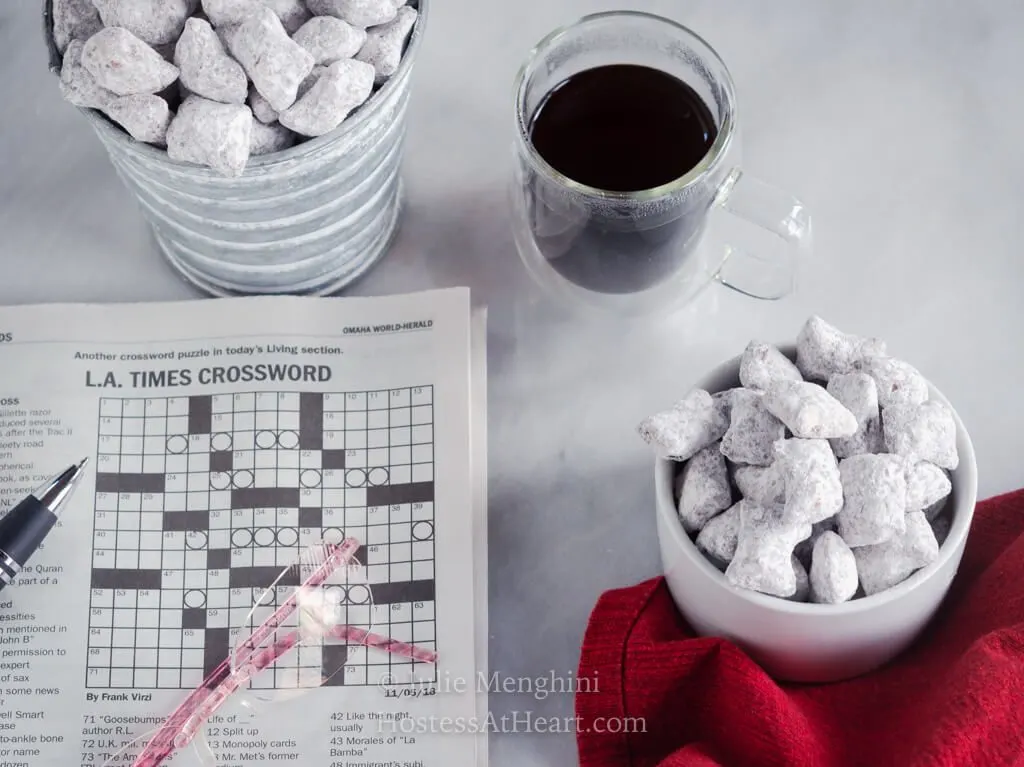 Think you know puppy chow? Think again, this Peanut Butter Pretzel Puppy Chow recipe is going to up your puppy chow game forever. #GameChanger!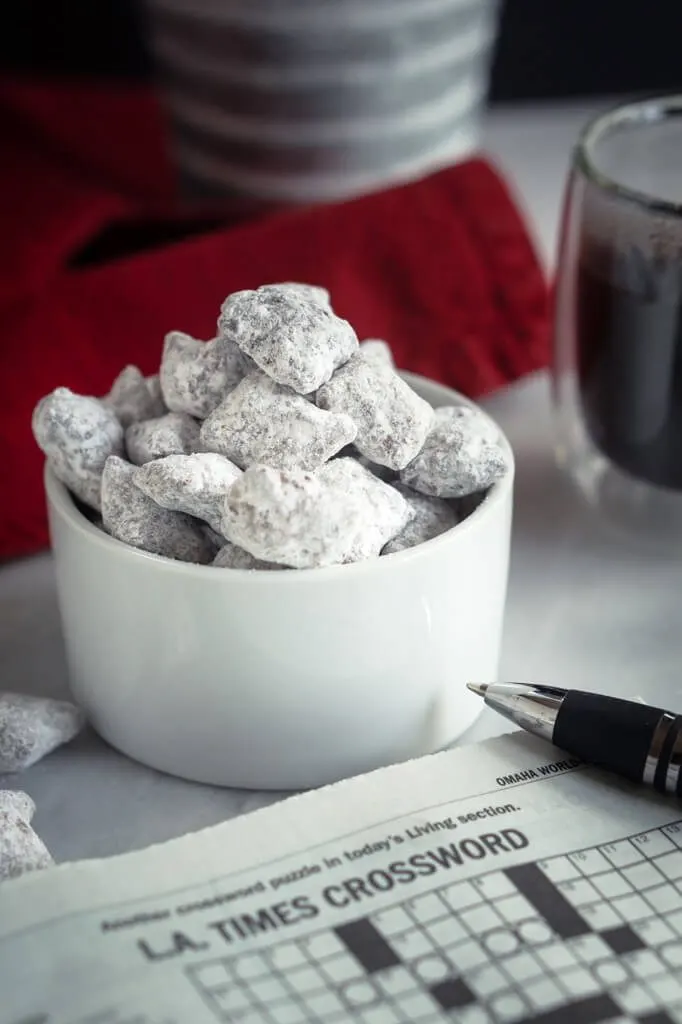 We've been making puppy chow for a LONG time.
My children made it in pre-school when food was allowed in school that long ago.
We've been seeing some new versions on Pinterest but none that made me change my ways until this Peanut Butter Pretzel Puppy Chow recipe!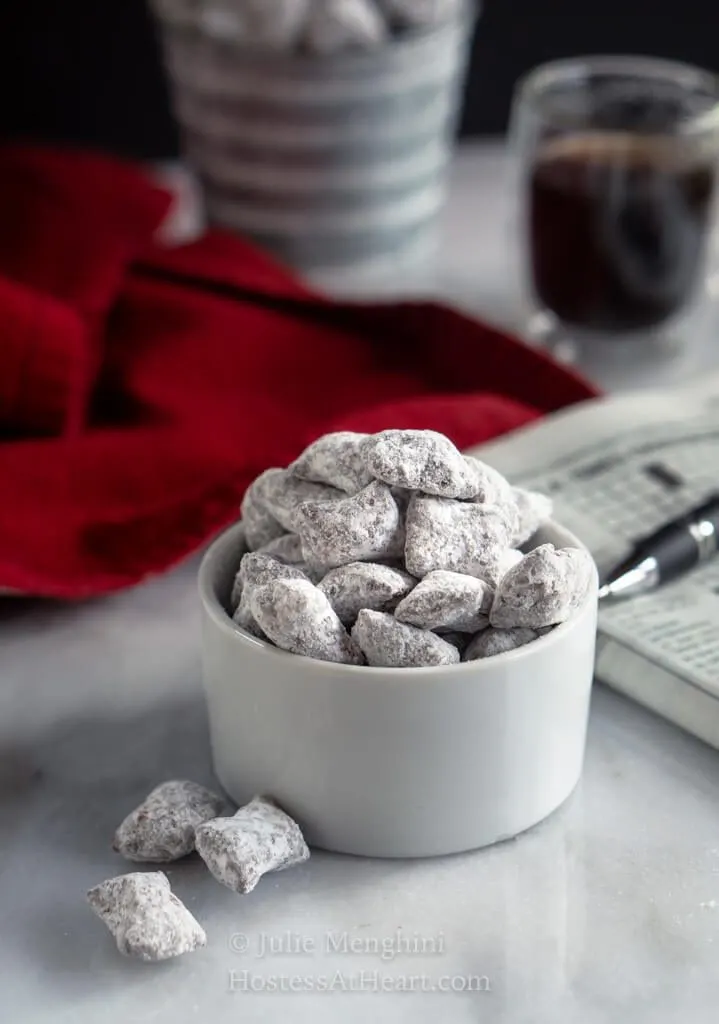 We love finger food snacks like this and it's perfect to have on hand when you're entertaining.
If people can help themselves to appetizers, snacks, and desserts you don't have to serve them, freeing you up for enjoying your guests.
This Peanut Butter Pretzel Puppy Chow is an eye-catching addition to my cookie tray or finger food appetizer any time of year.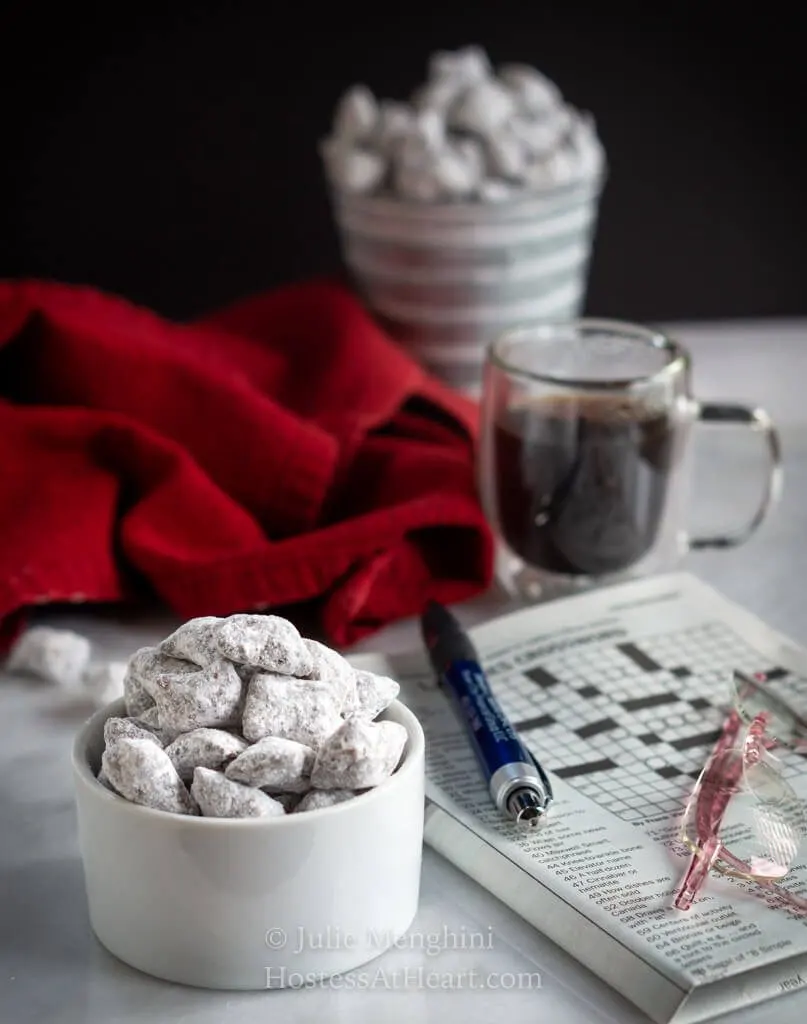 Everyone knows what puppy chow is but little do they know the surprise in this one!
It's addictive though so I only make it around the holidays when I have extra folks around that will help me eat it.
Otherwise, I would try to finish off the batch all by myself. I hate to waste food…right.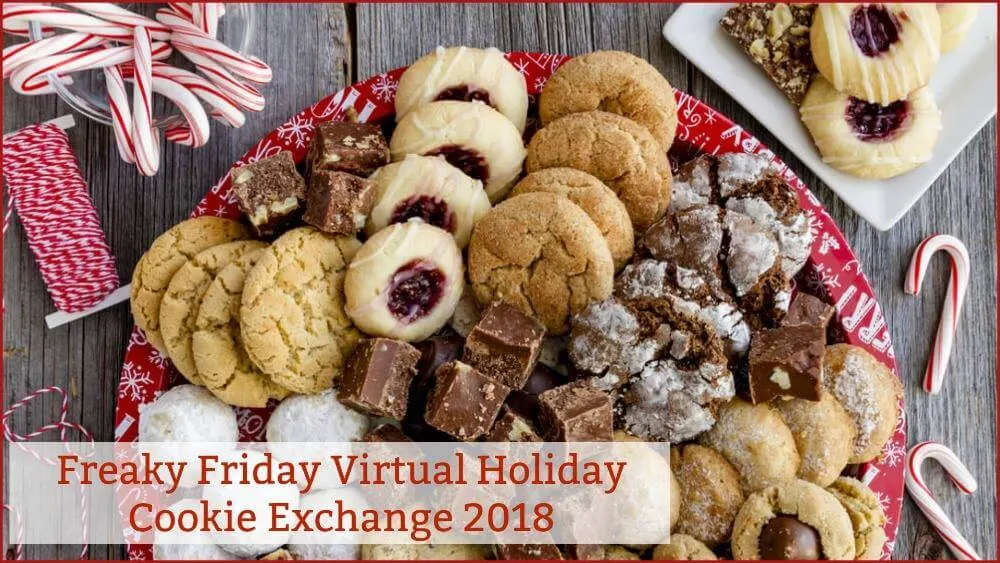 Freaky Friday Annual Virtual Holiday Cookie Exchange arrived just in time. The Freaky Friday blog hop, organized by Michaela who runs An Affair From the Heart, is a group of bloggers that are secretly assigned each others' blogs from which we choose a recipe appropriate for the theme. The blog that I was given was Take Two Tapas.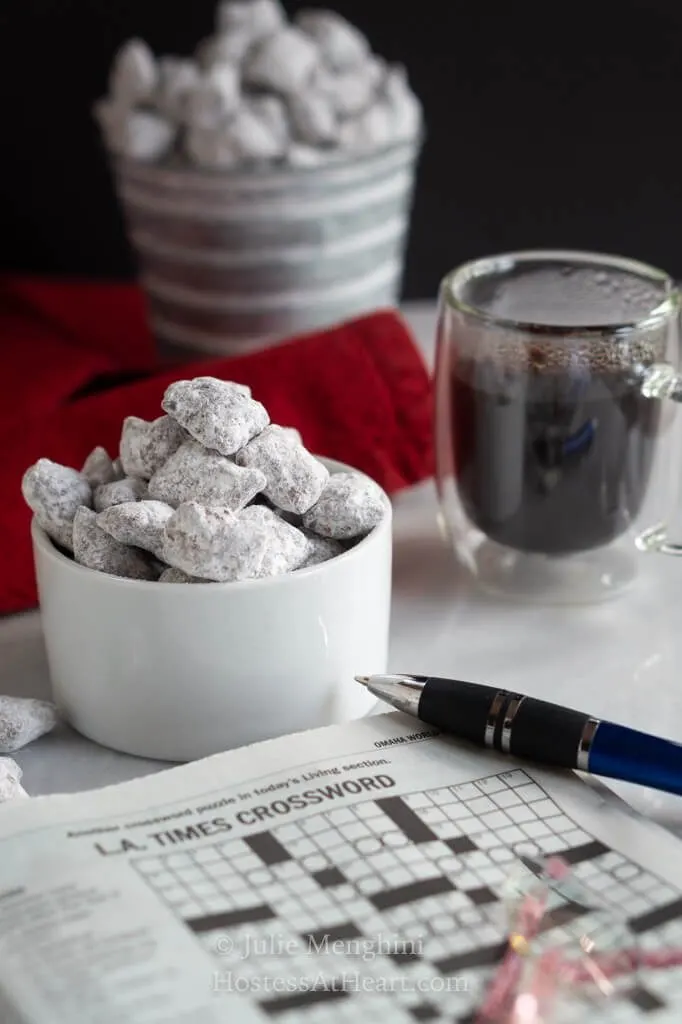 Take Two Tapas is the brain project of the amazing Jennifer.
Jennifer started her blog because she enjoyed grazing on several different dishes instead of filling up on one big plate.
I'm with her! She enjoys entertaining and is a real magician when it comes to transforming food with big flavors into smaller portions.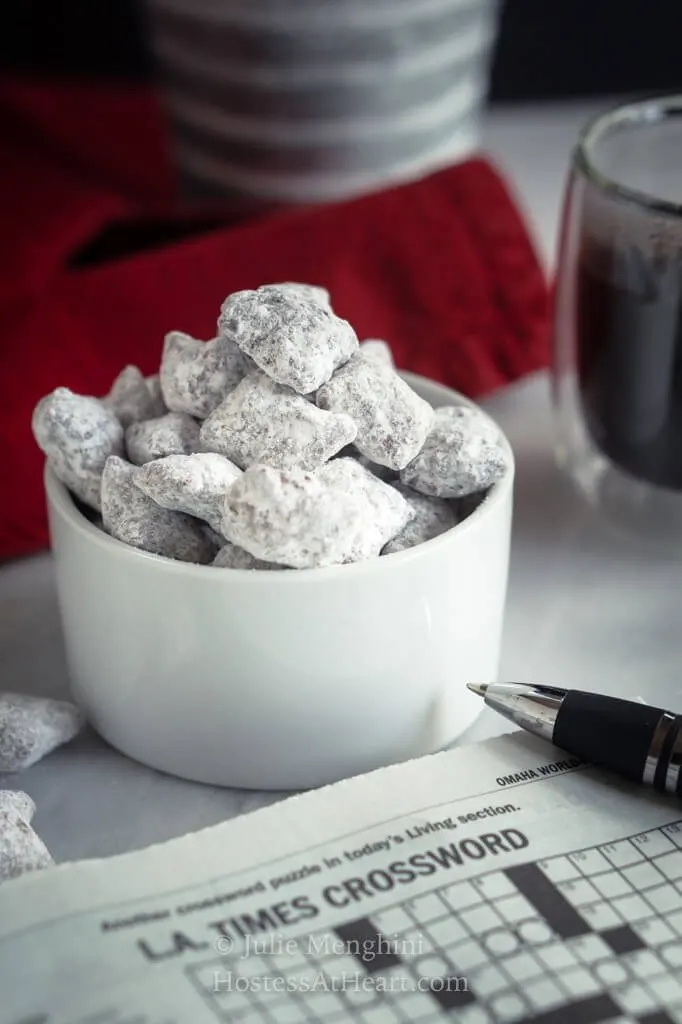 The only rules for our exchange were the recipe I choose MUST BE a cookie, bar, candy or holiday type chex/snack mix, something you would see on a holiday platter.
We had so many things to pick from including her Butterscotch Pretzel Cookies or her Salt River Sticks. Both would escalate my cookie tray to the next level!
WE LOVE SNACKS! HERE ARE A FEW OF OUR FAVORITES!
We love snacks! You can find all of our SNACK recipes here!
Don't have time to make it now?
PIN IT
for later!
Well, we made this recipe and set it out for a tailgating party we had. It didn't make it to my Holiday Cookie Exchange. Everyone loved this version because of the nice crunch the pretzel gives you and the sweet-salty contrast is a lot more even.
If you like this recipe, we would appreciate your comment and a 5-star ⭐️⭐️⭐️⭐️⭐️ review!
Just go see for yourself all of the amazing recipes on Take Two Tapas. I'll guarantee you'll want to stay a while. While you're at it, take a look at what these other Freaky Friday participants are cooking up!
Take a Look at all of our Freaky Friday Virtual Cookie Exchange Recipes:
If this isn't enough inspiration, here are a few more recipes that are perfect for cookie trays!
Chocolate Chunk Molasses Cookies with Pecans
Chocolate Chunk Molasses Cookies with Pecans aren't your ordinary cookie. They're a delicious cookie with a celebration of flavors and textures.
Check out this recipe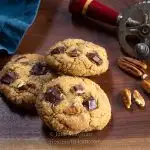 White Chocolate Peppermint Cookies Recipe
White Chocolate Peppermint Cookies are soft and tender. These festive peppermint cookies are a delicious addition to any holiday cookie tray.
Check out this recipe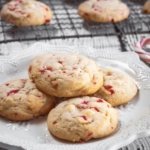 4-Ingredient Lemon Snowflake Cookie Recipe
4 Ingredient Lemon Snowflake Cookies are so easy to make and literally melt in your mouth. They are the perfect delicious no-fuss cookie recipe.
Check out this recipe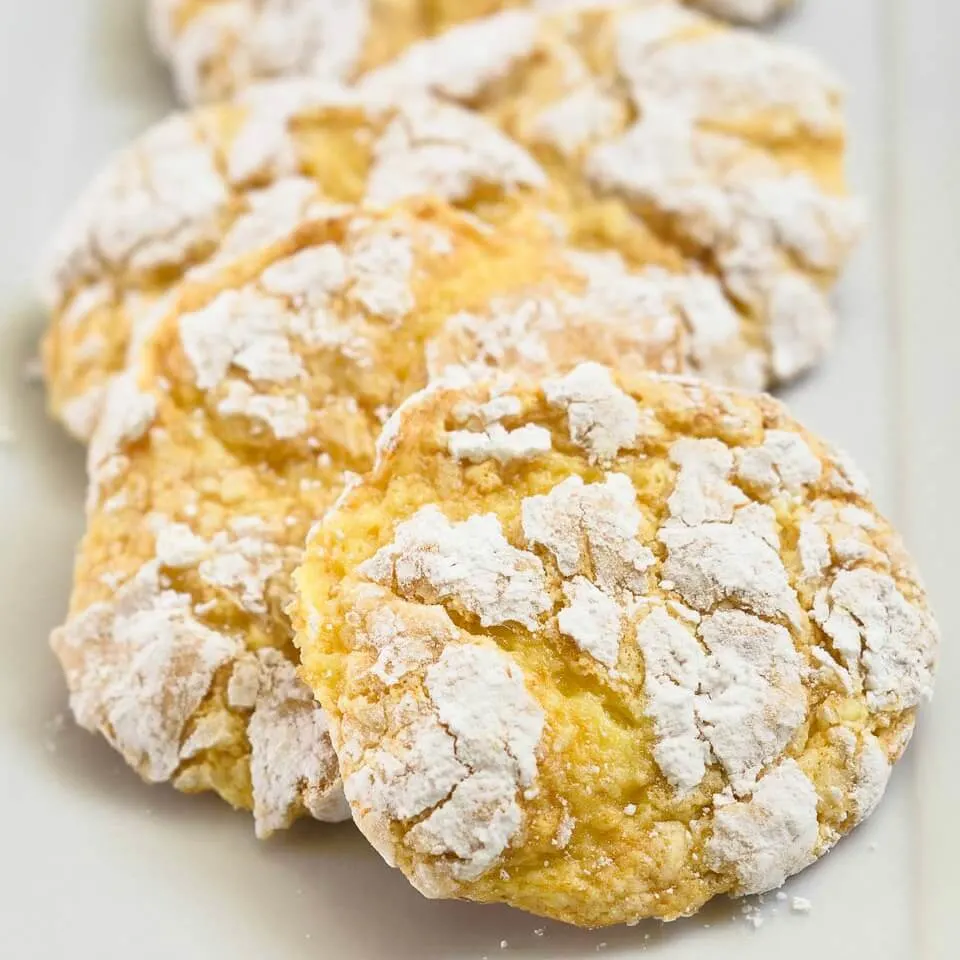 What is your favorite cookie? I hope you'll share!