Paradise Fruit Trifle with Pudding is a quick make-ahead dessert filled with creamy pudding, fruit-filled whipped topping, and Nilla wafer cookie crumbs.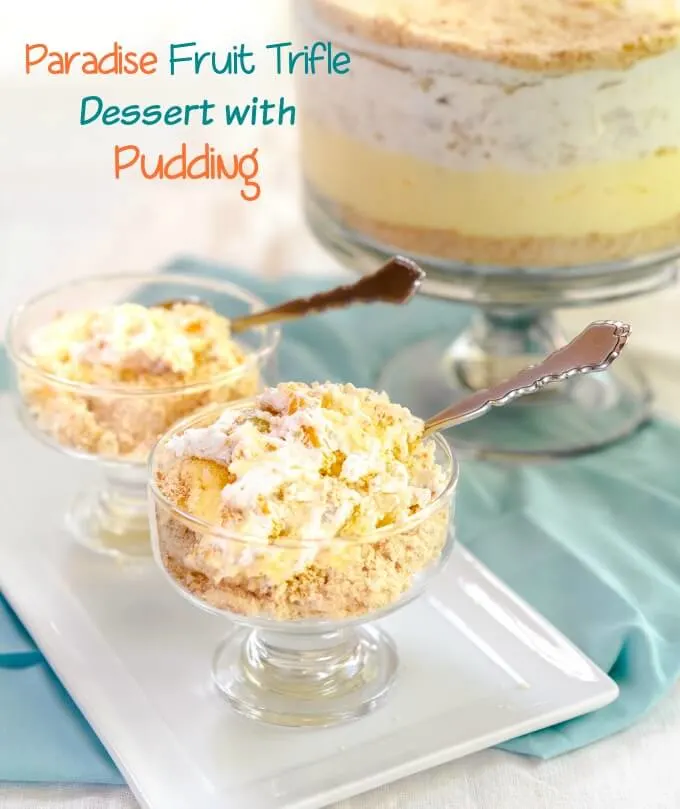 Paradise Fruit Trifle can pass as a Fruit Cocktail Salad or an Easy Trifle Dessert. It's the perfect make-ahead Fruit Trifle recipe because you can make it with the flavors and ingredients that you like and have on hand.
Anything served in a trifle bowl just says you're special and I'm glad you're here. This easy fruit cocktail dessert or my very popular Chocolate Pudding Trifle Dessert just look a little fancier in my trifle bowl don't you think?
I had some cream in the refrigerator that I wanted to use up and went diving into my pantry for inspiration.
A can of fruit cocktail and a box of vanilla pudding jumped out at me. We always have a box Nilla wafers on hand for the Grandbaby when she visits, so I was set to make this easy fruit trifle recipe.
Is it a fruit cocktail dessert or is it a salad? It's whatever you to want it to be! I've served this fruit trifle recipe with dinner and I've served it after dinner. No one has complained that they're served fruit cocktail salad for dessert or fruit cocktail dessert as a salad.
I'm a rule breaker! Just say make it and eat it! Honestly, we ate this fruit trifle pudding recipe for a week! Covered in the refrigerator it was just as delicious the first day as it was the fifth and it makes enough to serve a crowd.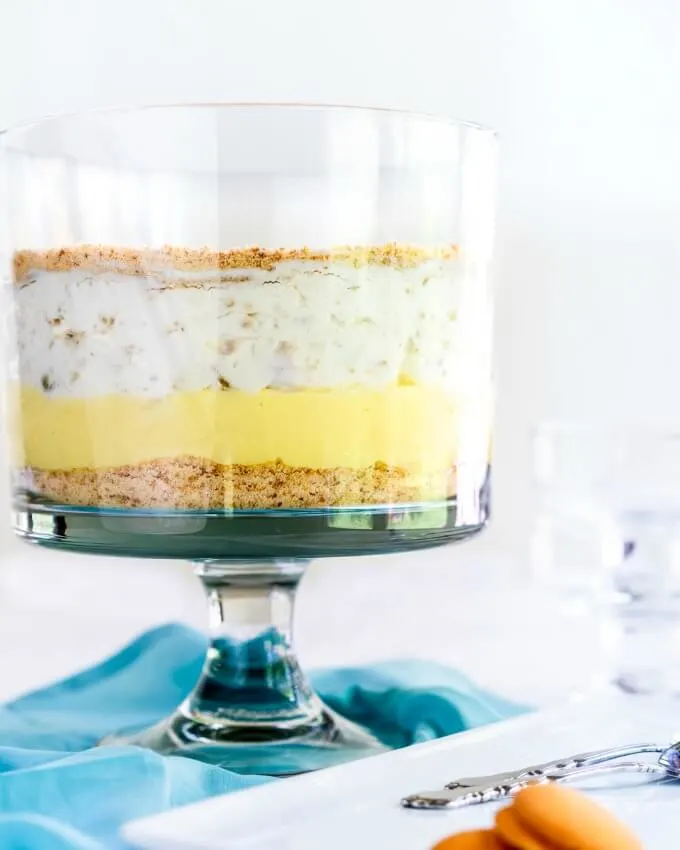 How many layers are in a trifle dessert?
A trifle usually has 3 to 4 layers. Alternatively, make this fruit cocktail dessert in a 9×13 cake pan. Just use one layer of the pudding and the fruit-filled whipped topping. You can also just use one layer of the cookie crumbs on the bottom of the dish, but why would you? Pour more over the top! I mean more cookies for everyone right! It would make serving it a little easier at a potluck or picnic too.
Where did the trifle originate?
Trifle, in English cuisine, is a dessert made with fruit, a thin layer of sponge fingers soaked in sherry or another fortified wine, and custard. It can be topped with whipped cream.
From what I read Trifle Desserts could have originated in a lot of places depending on what you call it and where you are from such as "Fool", "syllabub", "Zuppa Ingles", or "Bizcocho Borracho." What ever you want to call it, call it quick, easy, and delicious!
Fruit Trifle Dessert variations
change out the fruit cocktail for crushed pineapple
use fresh fruit or pie filling instead of canned fruit
add a layer of angel food cake
try another variety of pudding such as lemon or pistachio
use instant pudding instead of the cook and serve variety
replace Nilla wafer cookies with Graham crackers
purchase ready whipped topping instead of whipping your own. It doesn't save much time but it's one less bowl to wash up.
Note: I don't recommend using bananas in any fruit trifle dessert or salad that you're going to be making ahead of time or kept for any duration.
You may need:
Trifle Bowl – I love my trifle bowl. I've used it as a punch bowl or just a serving bowl for fruits and salads.
Silicone Spatulas – This pretty set has a flat side and a curved side to take on your toughest job. I love that they are all one piece and can withstand 500°F! Throw out those old chipped ones and treat yourself!
If you like this recipe, here are a few more I think you're going to LOVE!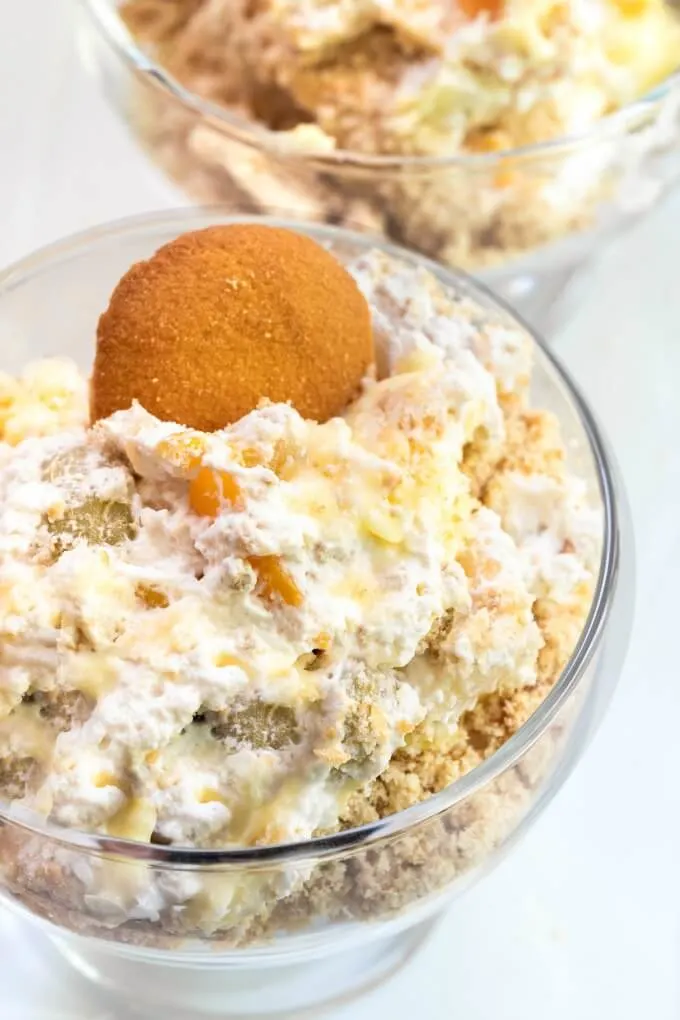 What is your favorite quick and easy, make and take salad or dessert? Please share with a comment below. You are my inspiration!