Orange Cup Sweet Potatoes add a bright citrus to your sweet potatoes and a beautiful fall color to your holiday table. They're perfect to make for two or a crowd.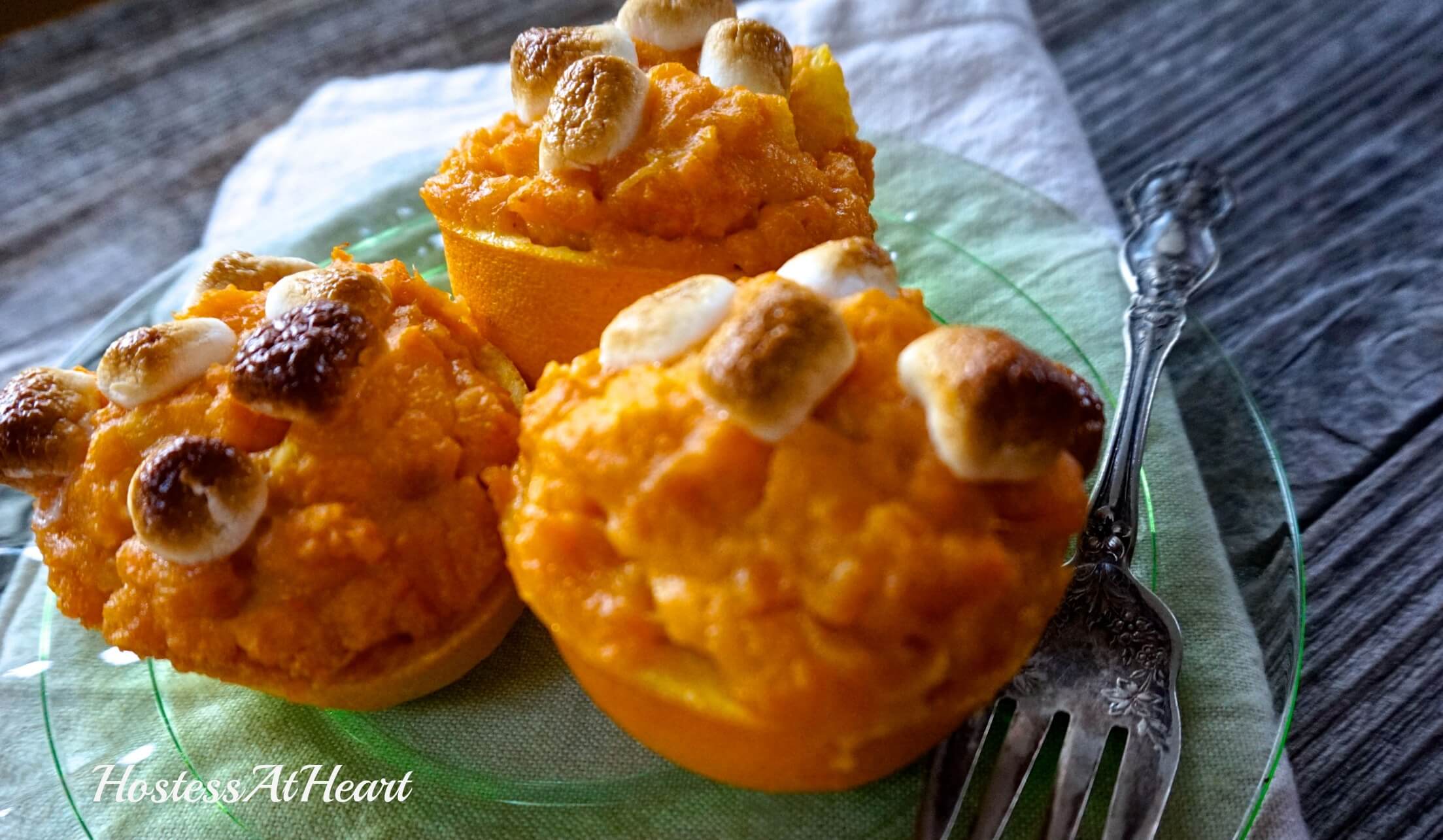 I don't want to be the first to tell you, but the holidays are right around the corner, like in two weeks right around the corner! It hasn't sunk in yet because I haven't entered the panic mode yet. I think it's more like I'm in denial. Just thinking about these Orange Cup Sweet Potatoes gets me in the mood.
I always host my husbands' family for Thanksgiving. The family is growing, and the dynamics have changed. Our children are having children. That is what holidays are about. Enjoying family and appreciating family members while you can.
My mother-in-law used to host most of the holidays but has passed the culinary torch to me and my sister-in-law. She gave me this cookbook recently. This cookbook was produced as a fundraiser and is a compilation of recipes by the best professional and at-home cooks in Omaha. That's what it claims anyway. There are several recipes that I will be trying![Tweet "Orange Cup Sweet Potatoes are perfect for two or a crowd! #holiday #recipe"]
I recently made this "Orange Cup Sweet Potato" recipe. It was delicious and the oranges provided a nice bright sweetness to the sweet potatoes. There isn't anything difficult about this recipe and would be perfect for a smaller Thanksgiving gathering.
What is on your menu this Thanksgiving? Are you cooking or visiting? Big crowd or little gathering? Don't forget the wine. Families get along best with wine
I'm sharing this recipe with my friends over at Fiesta Friday. I'm sure I'll pick up a few Thanksgiving dishes today too.
Let's keep in touch! You can find me on Pinterest, Instagram, Facebook, and Twitter! Better yet, enter your email address in the box below and never miss a recipe!