Fresh Orange Salad is like a burst of sunshine. Sweet oranges drizzled with an amazing poppyseed dressing recipe makes the BEST fruit salad any time.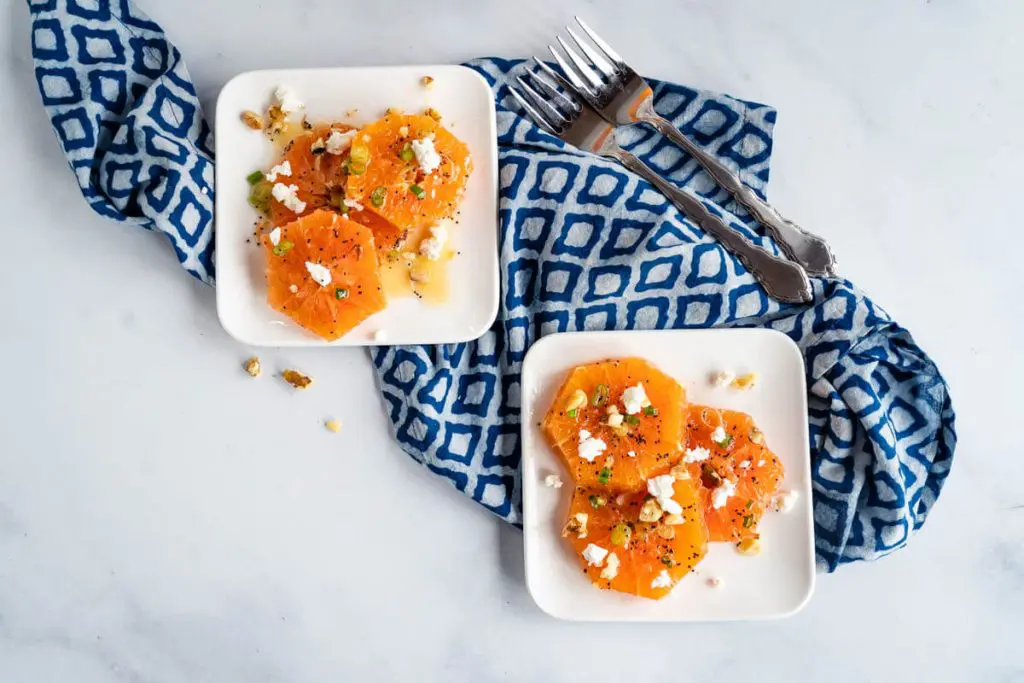 This Orange Salad recipe is a delicious fruit salad that can be made any time of year. This salad has a bright burst of sweet citrus flavor with a poppyseed dressing that makes it just as beautiful as nature intended.
Oranges are one of those fruits that just saying the name has you tasting that sweet citrus flavor.
Fortunately, oranges are also a fruit that we have access to all year long. Here in Nebraska, our produce is generally just a memory by October so we rely on produce that we can get shipped in.
Another fortunate thing about oranges is that they have a great shelf life.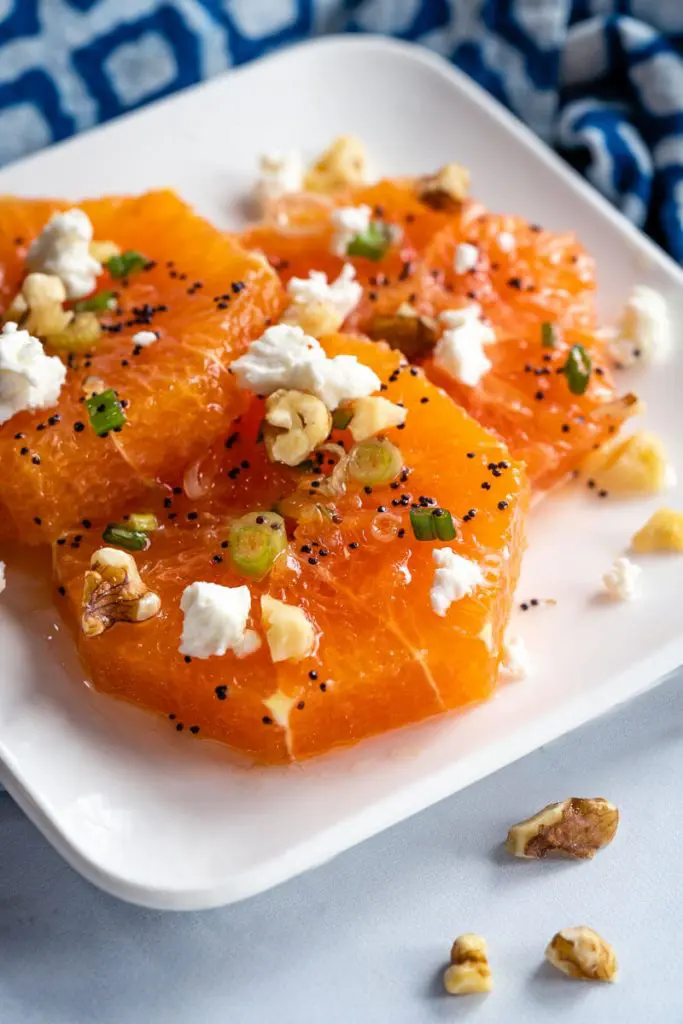 How long do fresh oranges last?
Fresh oranges stay fresh 2 to 3 weeks on the counter and up to 2 months in the refrigerator.
Oranges need to be used quickly once they start to go soft. Once they develop a white mold or start to discolor, they are spoiled and shouldn't be used.
I eat fresh fruit every day. John will eat it if it's peeled and placed right in front of him.
When I set out to make this Fresh Fruit Salad I thought about sectioning the fruit to make it easier to eat. After that first orange, that idea flew out the window.
Also, I didn't want a lot of "pith" (the white lining of the orange peel) in my fruit salad and I didn't want to spend days removing it.
The easiest way to cut up an orange.

Slice the top and bottom off of the orange until you see the fruit and not just the white pith.
Using a paring knife, cut down the sides of the orange between the fruit and the pith.
Cut the fruit into slices. Remove any remaining pith.
Fruit Salad ideas
We're showing you two ways to cut up your oranges. If you slice your oranges into that pretty little star shape, it will hold your vinaigrette like a champ and it's also striking on these cute little plates.
If you choose to section your orange as pictured in the center photo above, you can add additional bite-sized fruit. Blueberries, grapes, or other seasonal fruit makes a great contrast of color and flavor.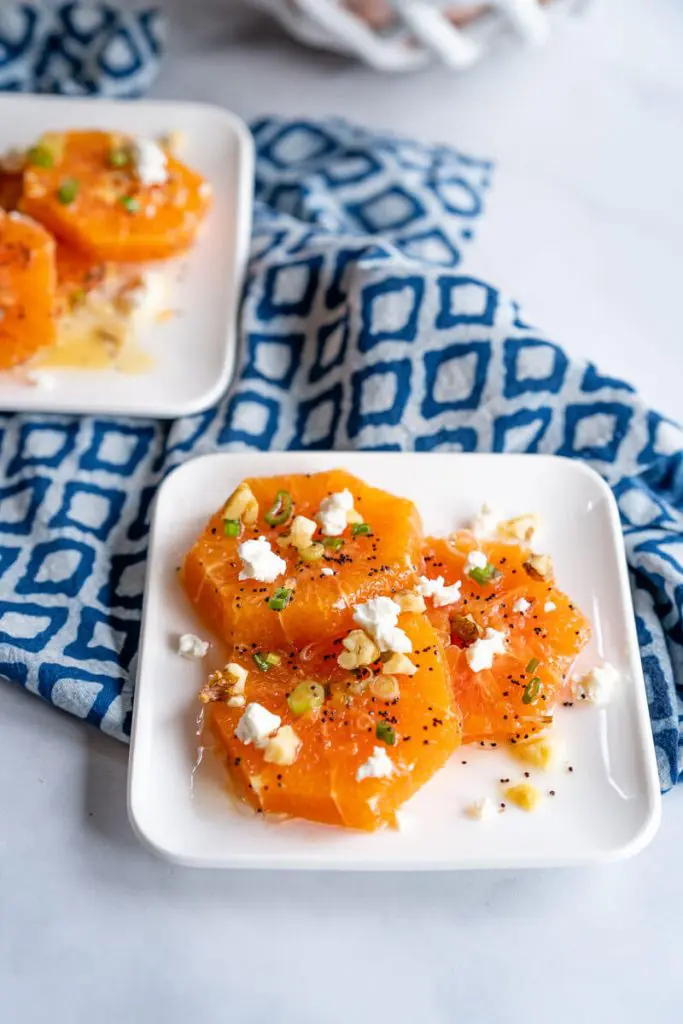 Use several varieties of oranges. This salad would be beautiful if contrasted with blood oranges. Don't you think? You could also use Clementines or tangerines.
You can read up on choosing the best orange for your recipe here.
We used chopped walnuts in our garnish. The nutty flavor goes so well with the sweet fruit.
Chopped pistachios or cashews would be so pretty and a delicious alternative.
Garnish with a sprig of mint for a beautiful pop of color.
The glory of this Orange Salad is that you can use what is available to you any time of year.
Ingredients to make the Honey Poppyseed Dressing recipe
We made a simple honey poppyseed dressing that we used to infuse our orange slices. We included fresh scallions in this recipe so there was a nice contrasting savory element.

Note: You can pre-plate your salad prior to serving. Cover them with plastic wrap and refrigerate.
We recommend adding the dressing just prior to serving. Dressing the oranges too far in advance will change the texture and flavor of the oranges.
Pin this delicious Fresh Fruit Salad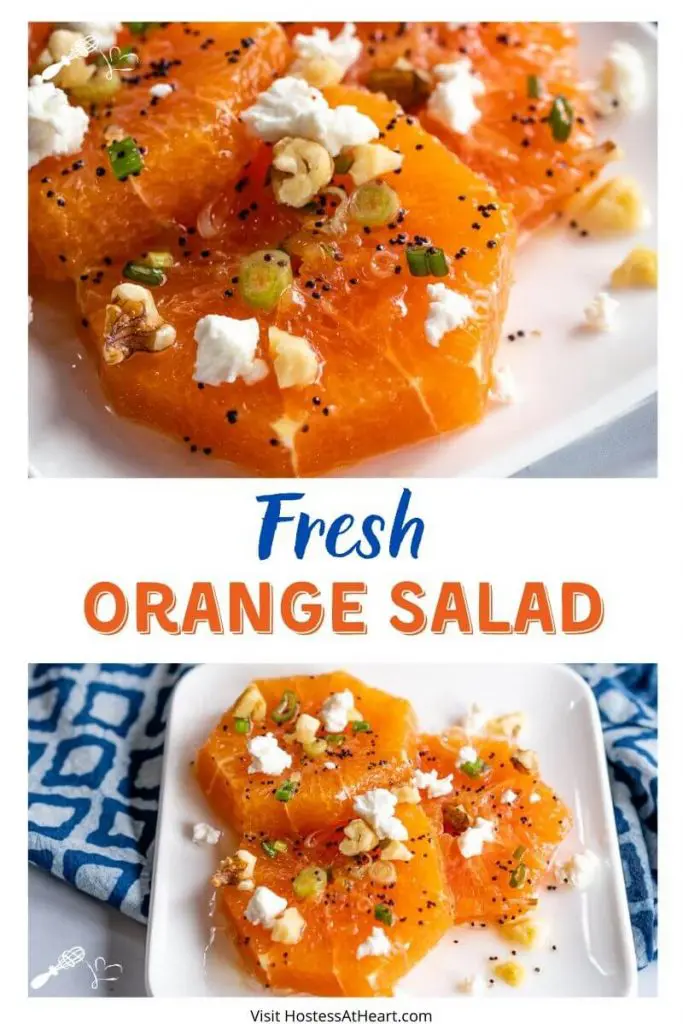 If you like this salad recipe, here are a few more you may enjoy
Our Orange Salad makes the perfect side dish to these amazing recipes!
Our most popular recipes!