Wente Chardonnay is one of our favorite wines! This year I'll be serving this great Wente Chardonnay with this Easy Strawberry Goat Cheese Ball!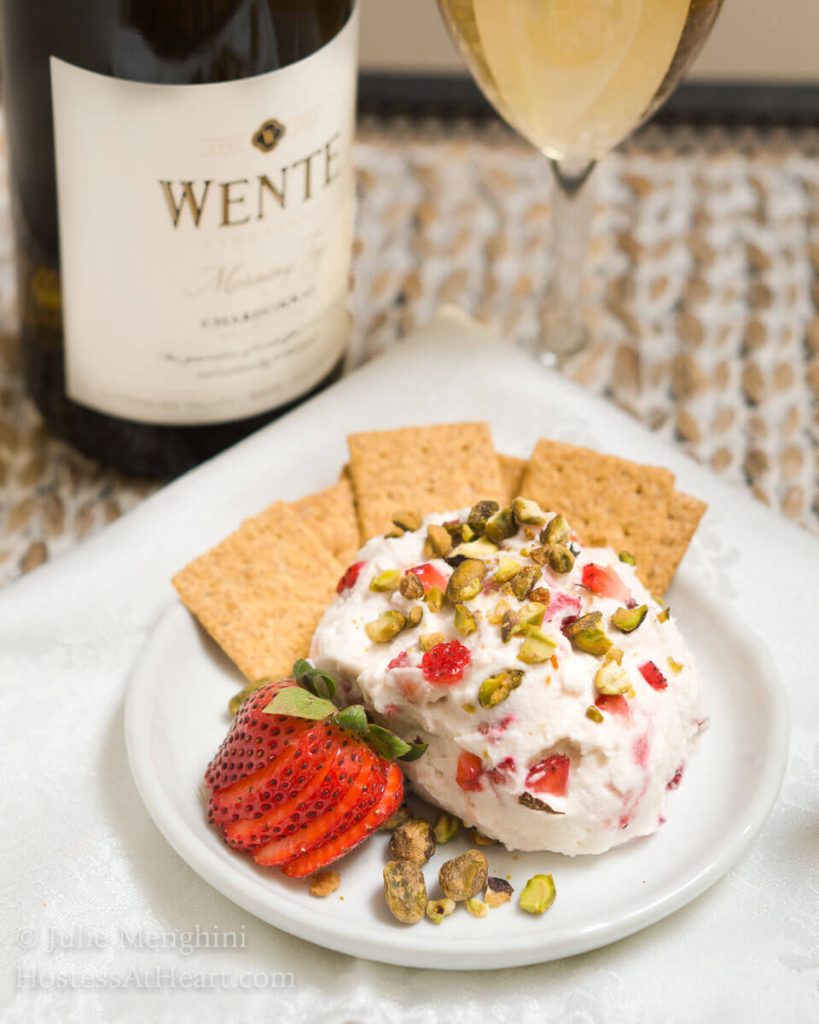 Several years back my daughter, Sarah and I took a girl's weekend shopping trip to Kansas City. After totally exhausting myself trying to keep up with her, we settled into a nice restaurant for dinner. Sarah chose a Wente Vineyards wine and told me how much she really enjoyed this wine. She would really love this wine with this Strawberry Goat Cheese Ball!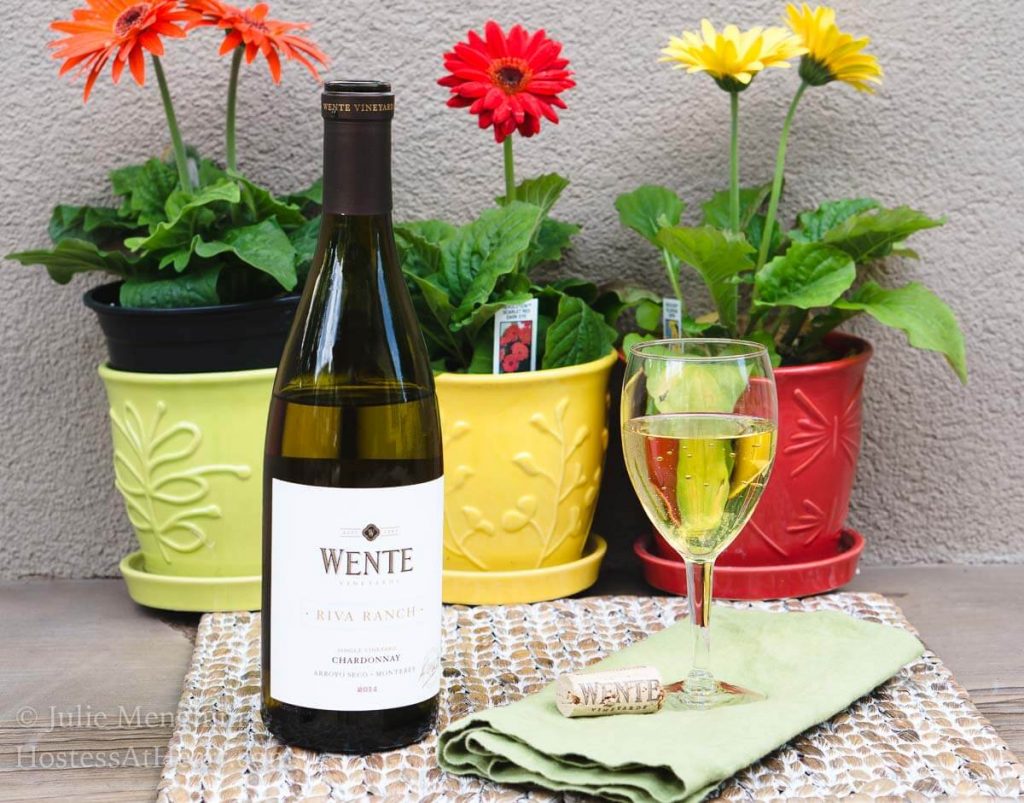 The hardest thing we found with this wine was limiting ourselves to just one glass since we were driving. We had the bottle corked and I shared the rest of it with my husband, John the following night over dinner. We've shared Wente Vineyard wines ever since.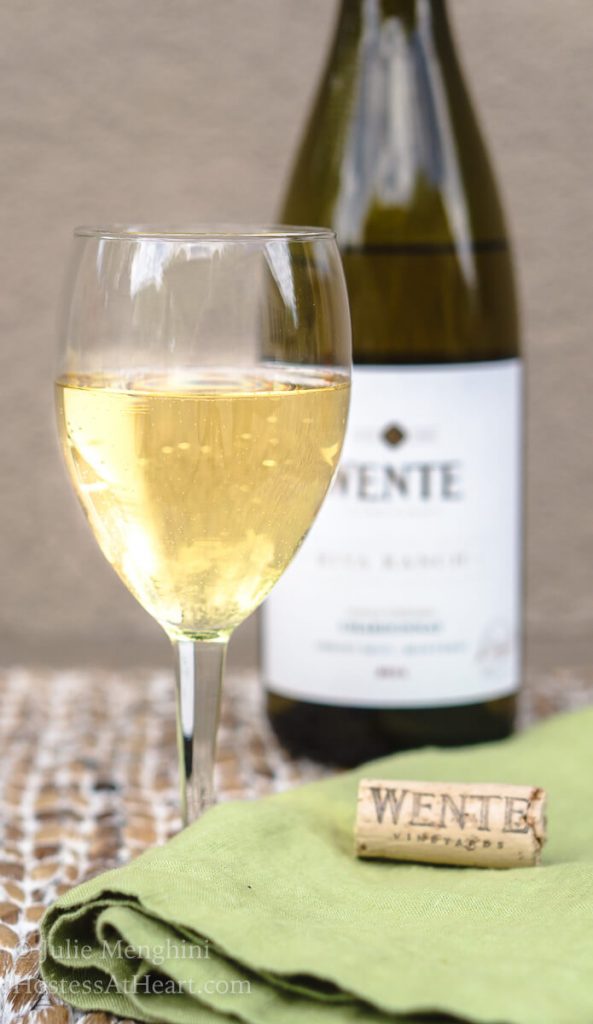 You know how I talk about National food and drink days? Most of them I choose to ignore. Well, May 25th is Chardonnay Day! This is a day that I just can't let go by without raising a toast and I would be remiss in not giving you a heads up.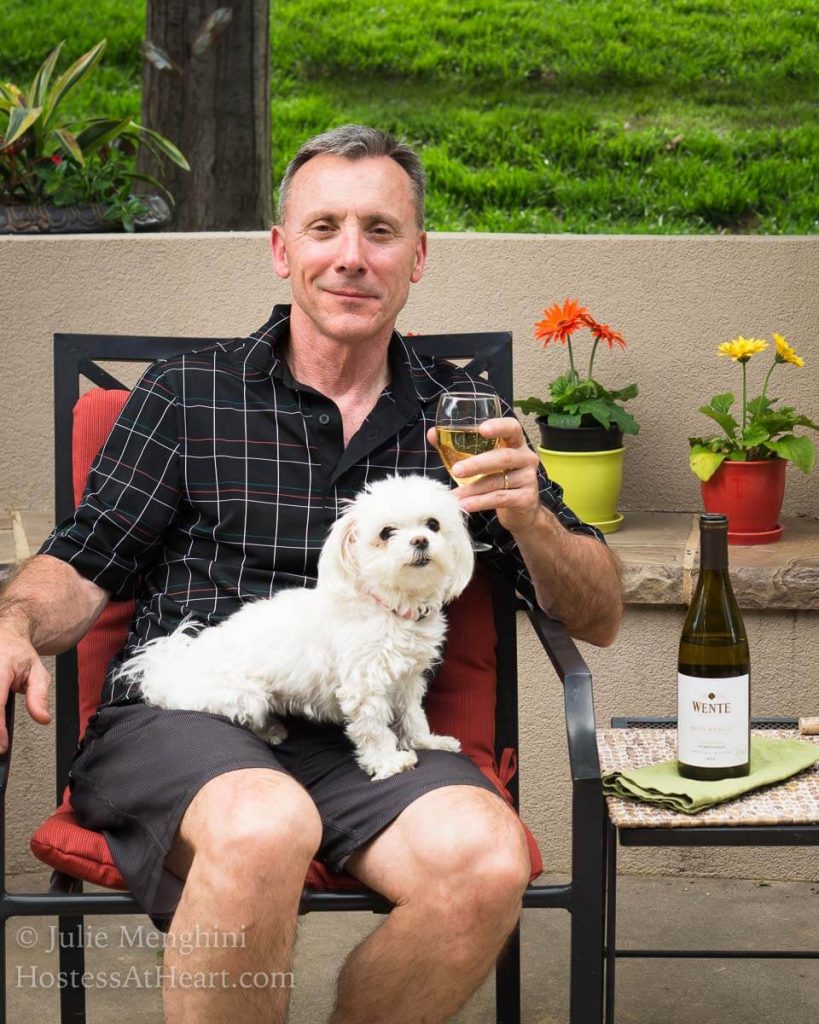 I'll be sharing my bottle of Wente Chardonnay with my best friend and husband, John. That guy and I have been together since we were 19 years old and we married at the ripe ole age of 21. People talk about the trials and tribulations of marriage. The difficulties we've weathered weren't about our relationship but from what life can throw at you. We've weathered them all together.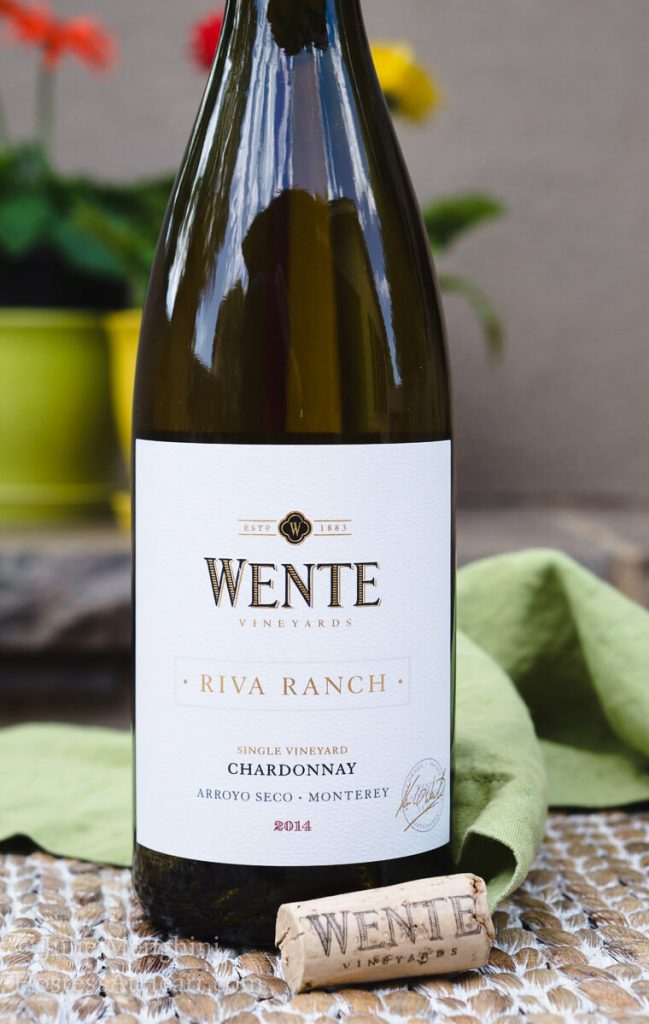 We've been together a long time, but that is a drop in the bucket compared to Wente! They've been around since 1883 and 5 generations of the family have been handcrafting fine wine on approximately 3000 acres of sustainable estate vineyards. This expertise is evident in their portfolio of wines. These people make wine not because they have to but because they love too. Like John and I, it's the "love of the journey".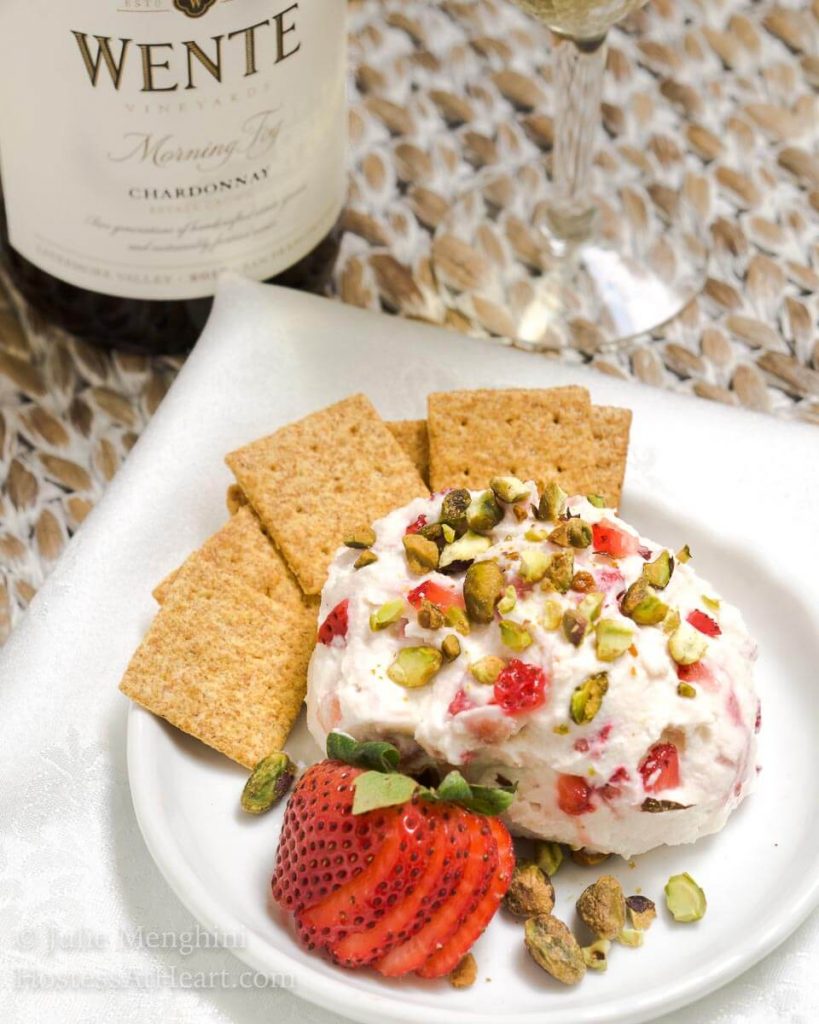 When we were younger we didn't drink wine unless it was a special occasion. We love sharing a bottle of wine now because every day is special. Especially on Sunday nights over dinner or just sitting outside with an appetizer. We toasted the upcoming Chardonnay Day with a quick and easy Strawberry Goat Cheese Ball with Honey and Pistachios. It's a lot like Wente. It tastes fancy and might even look pricey but it's affordable and delicious! It paired heavenly with our Chardonnay.
Strawberry Goat Cheese Ball with Wente Vineyards
Ingredients
5

oz

goat cheese

1/4

cup

diced Strawberries

1

Tablespoon

honey

1

Tablespoon

chopped pistachios
Instructions
Using a spatula, stir the goat cheese until softened. Stir in the honey. This will further soften the goat cheese. Fold in the strawberries.

Shape into a ball and transfer to a serving plate. Garnish with chopped pistachios

Serve with fruit or crackers.
If you aren't a Chardonnay lover there are other Wente varietals in both red and white. Their Pinot Noir is one of our favorites!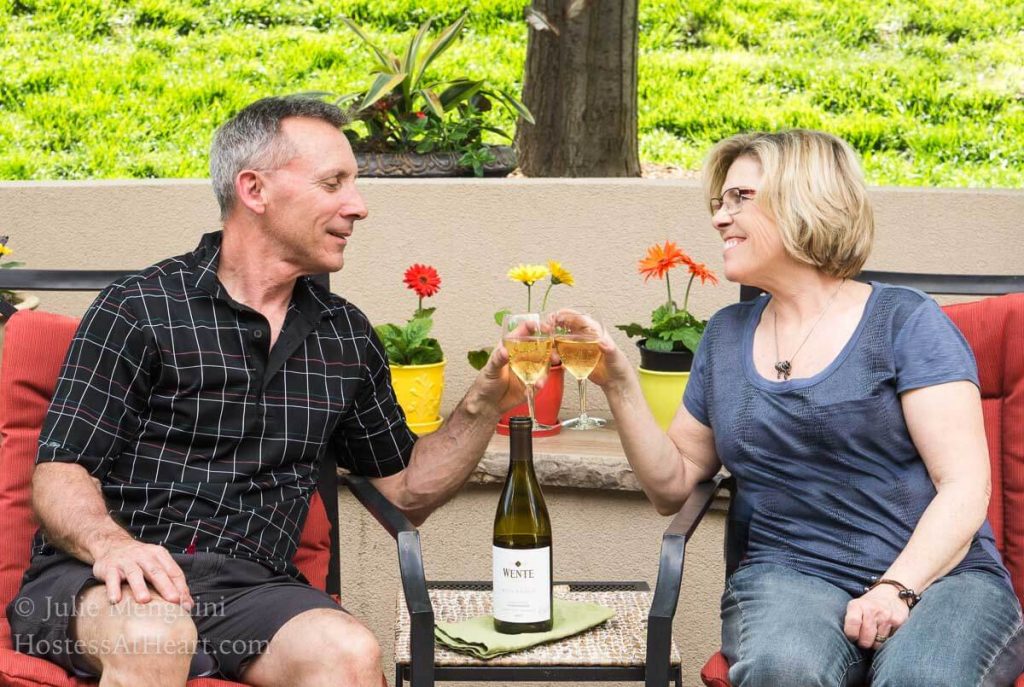 John says he's the "Jeffrey", as in Ina Gartner's husband, of Hostess At Heart, someone you often hear about but rarely see? Well, John here's looking at you! There isn't anyone I'd rather share a very special bottle of wine with. Cheers!
A couple other appetizers that would be perfect with a Wente Chardonnay are: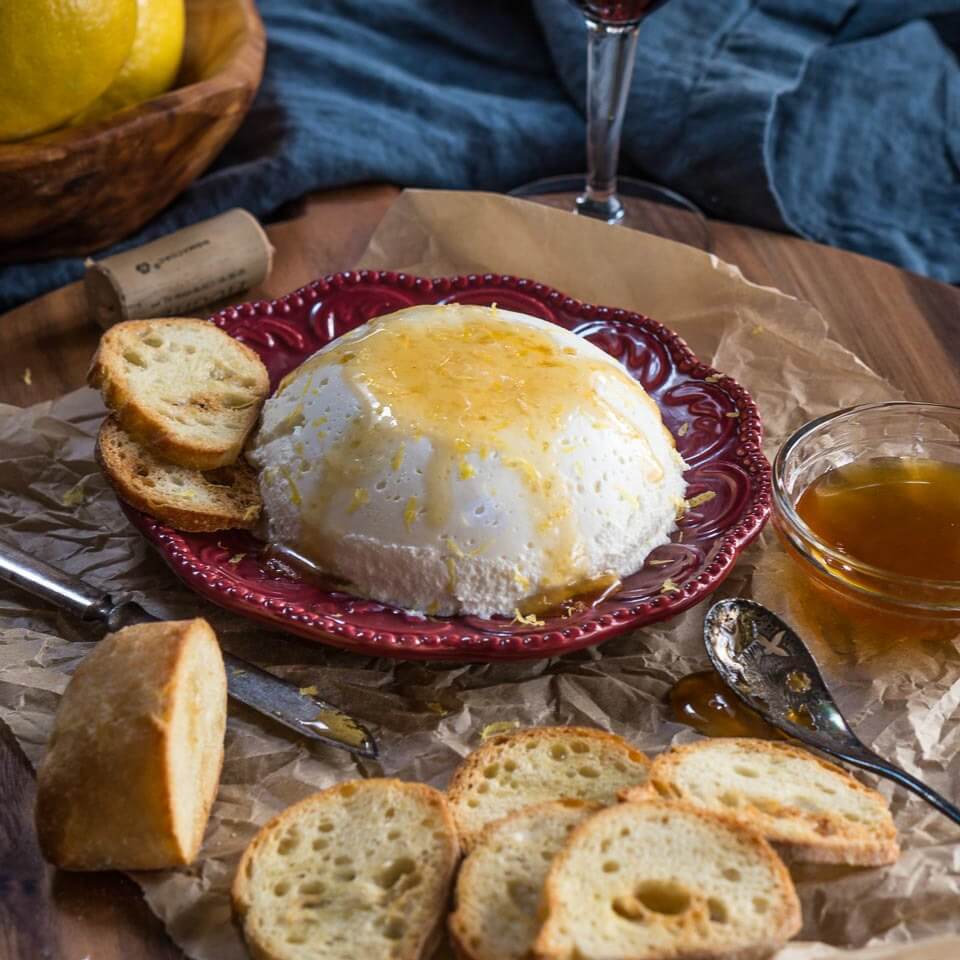 Let's keep in touch!  You can find me on Pinterest, Instagram, Facebook, Twitter, and YouTube! Better yet, enter your email address in the box below and never miss a recipe!