Easy Pizza Knots make the perfect finger food appetizer for tailgating, your next party, or movie night with the family.
This recipe was originally posted January 2017. Updates made are to improve your experience.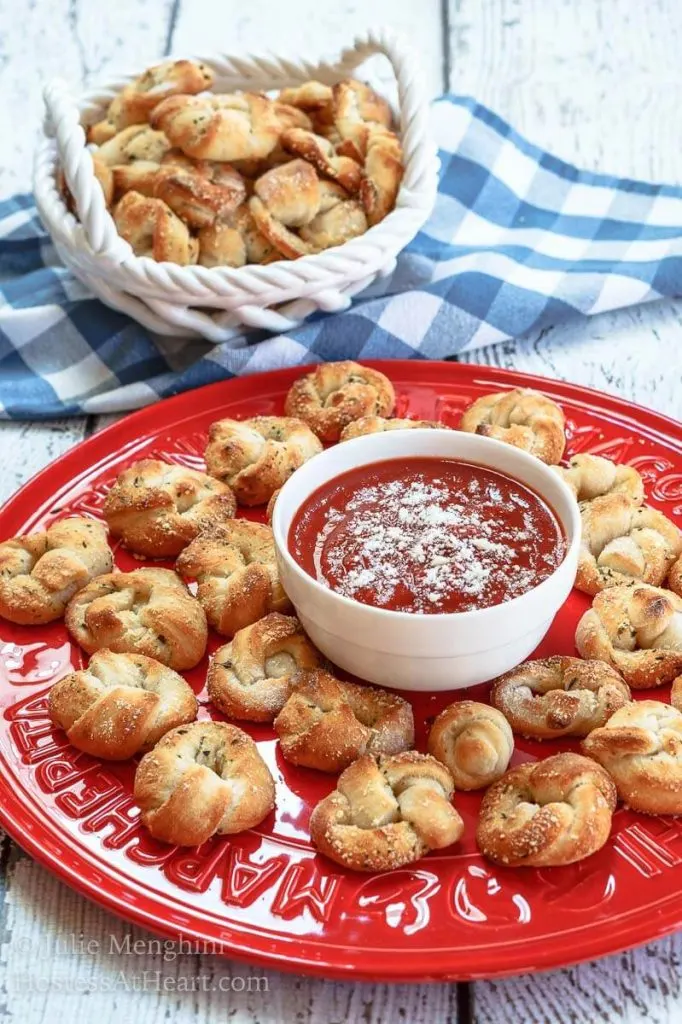 When I made this Easy Pizza Knots Recipe, I had two places that I needed to take them. They were two very different events but one thing they had in common was that not a one was left by the time we left. Everyone loved them. I loved how quick and easy they were to make.
John and I were eating at one of our favorite pizza places. I noticed they were cutting pieces of pizza dough and putting them in mini pans. I couldn't exactly see what they were doing, but it made me think of the pizza twists and breadsticks that I've seen served with marinara.
It wasn't long before we were invited to a couple of different events on the same day and that I needed to take something to share. I knew one event would have children present and the other was adult only. I wanted something that either crowd would like. Also, it had to be able it sit out and be delicious warm or cold.
Remembering the pizza lunch I decided to try knots. Pizza knots are perfect finger food. I served them with jarred pizza sauce that I put in our hosts' microwave for just a minute. I kept them simple by just flavoring them with Italian herb seasoning and parmesan cheese.
There's a great "How To" video in the recipe card. Just keep scrolling!
When I'm having people over to the house I want them to feel like welcome friends and not invited guests. Do you see the difference? When you show up at my door I want everything ready to go so we can visit and enjoy our time together. Here is the method to my madness.
I was looking for something easy to bring to a family event that could be served room temperature. I have a big family with a wide range of taste preferences. Everyone loved them! Ever since my young kids kept requesting more. We made them for dinner tonight and my kids devoured them. ~ Eylse
Tips to make casual entertaining easier!
Before people arrive, have the vibe of the gathering already established. Most of mine are casual so I have room temperature snacks and appetizers already out for immediate munching. I'm talking easy finger food and I want you to help yourself.
Have plenty of plates and silverware. Disposable is fine for a casual affair. I don't want you eating off of a dirty plate! Have a trash can that can be easily accessed.
Bring out refrigerated food once the majority of the people have arrived.
Keep warm appetizers in a crockpot or feel free to heat them up once most of your friends are there. They don't care and want good food even if it's not fancy or needs a little time in the oven.
People want to help! Let them bring something or if they ask to help let them if you can use it.
Have a variety of drinks. I always have a large dispenser of water out and a nice array of fruits, lemons, mint, and cucumbers. I also have a small selection of beer and wine (red and white) if it's appropriate for the get-together.
Most IMPORTANTLY let them see you having a good time. They want you to enjoy your time together and not play caterer. It took me a long time to get this one. I tried to impress my guests instead of enjoying my time with friends. It was a whole lot of work and once the night is over you're exhausted. Plus you're less likely to invite people over if all you do is work!
Don't forget to pin this fun recipe to your favorite board!
These little knots would be perfect with a cheese dip or fondue too!
A few things you may need!
Pizza Cutter – I use this handy tool for cutting cinnamon roll dough, ravioli and of course, pizza!
Pastry/Pizza Roller – This roller is so handy. I use it for easy jobs like this one or when I'm making sugar cookies.
Pizza Pan – Perfect for the whole pizza or just these little bites. Nothing ever sticks to this one and I love the 14″ size!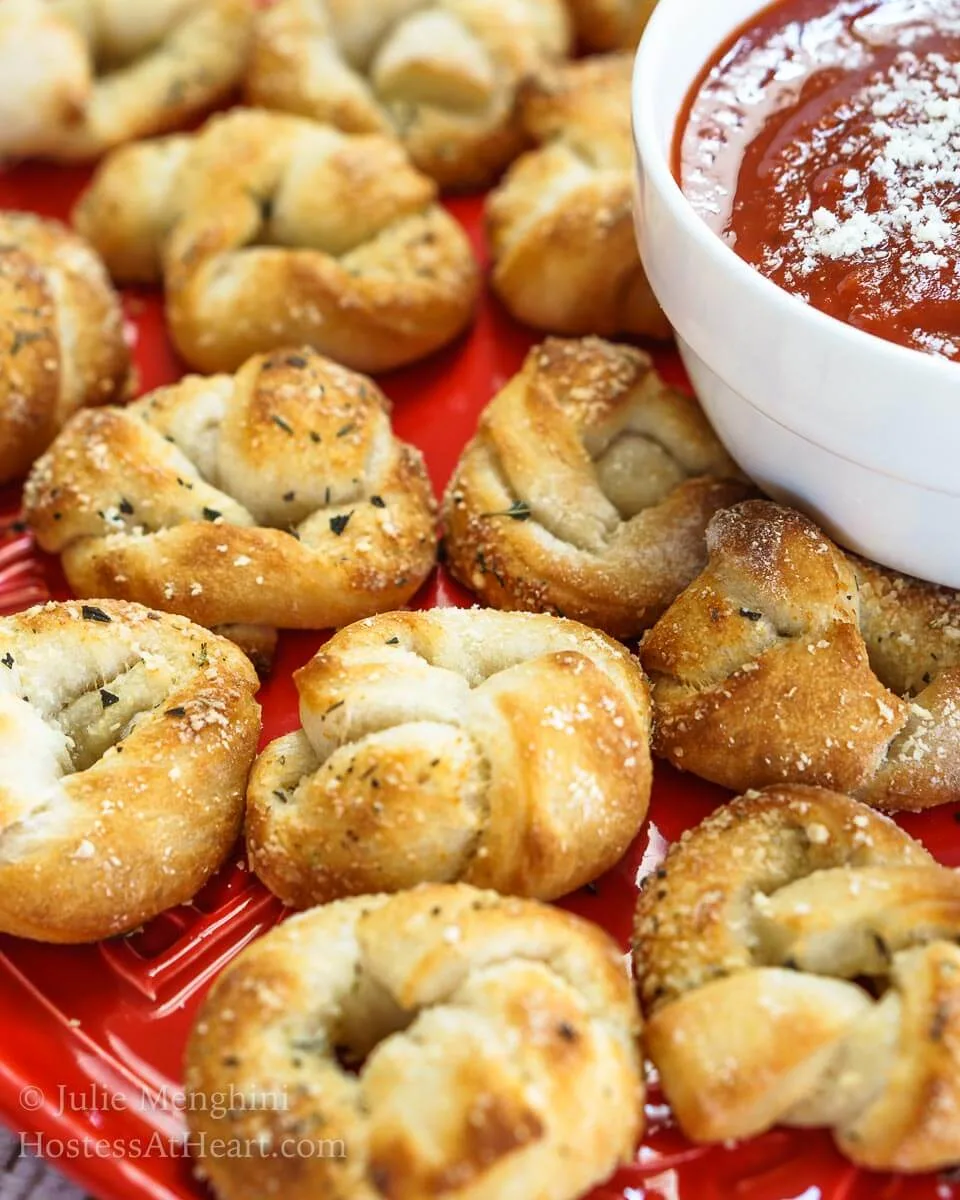 I love easy appetizer recipes and here are a few of my easy finger food favorites!
I got way too much credit for this Pizza Knots appetizer. I got credit for making homemade pizza knots when I'd used store-bought pizza dough. Believe me, everyone went to a lot more work than I did!
Speed up the prep – make breadsticks or bread twists!
Do you have a favorite tip for entertaining? I would love it if you would share! Just leave me a comment and a 5-star rating would really be appreciated too!
If you like this recipe, we would appreciate your comment and a 5-star ⭐️⭐️⭐️⭐️⭐️ review!
I can never have too many party-friendly recipes. Our recipe for this No-Crust apple pie is always a hit and the easiest pie you'll ever make! I always recommend that you keep it easy and a Parmesan Chicken Meatball Sub is all that and more!