Easy Crab Dip with Bacon recipe will appeal to anyone that walks through the door. It's perfect for a fancy affair or the next pigskin party.
This post is sponsore
d by Bakers Supermarkets, b

ut the content and opinions expressed here are strictly my own.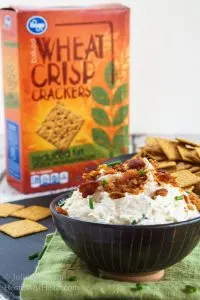 It doesn't matter what kind of entertaining I do, I want to have appetizers out for my guests to munch on when they arrive. I think appetizers break the ice and get the conversation going. I want my appetizers to be simple and delicious like this Easy Crab Dip with Bacon recipe.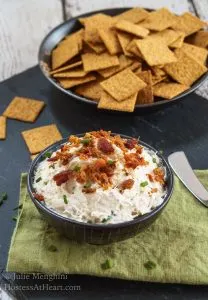 What is it about appetizers? I spend more time searching for appetizers than I do a dinner dish. What I want is a recipe that people want to eat but doesn't take all day to make.
John and I were having a late dinner and I thought instead of having a late lunch that maybe coming up with a "happy hour" appetizer might be fun. I'm always looking for new ideas and after walking through the isles of my local Baker's Store went to work.[Tweet "Easy Crab Dip #Recipe @BakersGrocery"]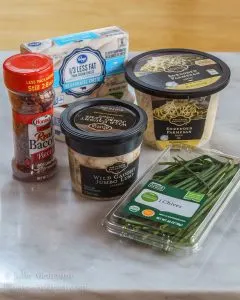 It all started with this beautiful container of lump crab meat that I found in the meat department. When you live in Nebraska, you can't go crabbing (whining) so finding fresh seafood isn't always that easy to do. This Lump Crab was luscious and I didn't want to cover up its' tender sweet flavor. It's definitely the star of this recipe.
Don't have time to make it now?

Pin it

for later!
I think you will agree when you try this recipe that it is delicious and will appeal to any seafood lover. It tastes rich, cheesy, and creamy and is perfect on a nice crunchy Kroger Wheat Crisp cracker or even on a baked potato!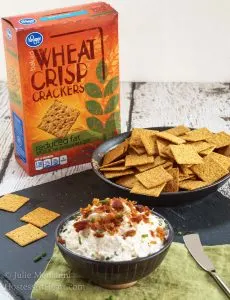 It's always fun to share so let's head over to Fiesta Friday and Saucy Saturdays!
Let's keep in touch! You can find me on Pinterest, Instagram, Facebook, and Twitter! Better yet, enter your email address in the box below and never miss a recipe!
Here are a couple other great appetizers!
Crab and Havarti Stuffed Portabella Mushrooms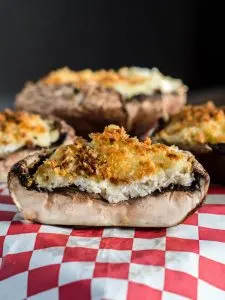 Scallops with Pineapple Salsa and Plum Wasabi Drizzle