Asian Rice Instant Pot recipe makes a saucy flavorful rice that's moist and tender and cooks in only 15 minutes. This delicious simple rice makes a quick and easy side to any meal.
This recipe has been updated 10/15/22 by reducing the amount of liquid in the recipe after further testing. I thank my readers for giving me their feedback and allowing me to make my recipes better when needed.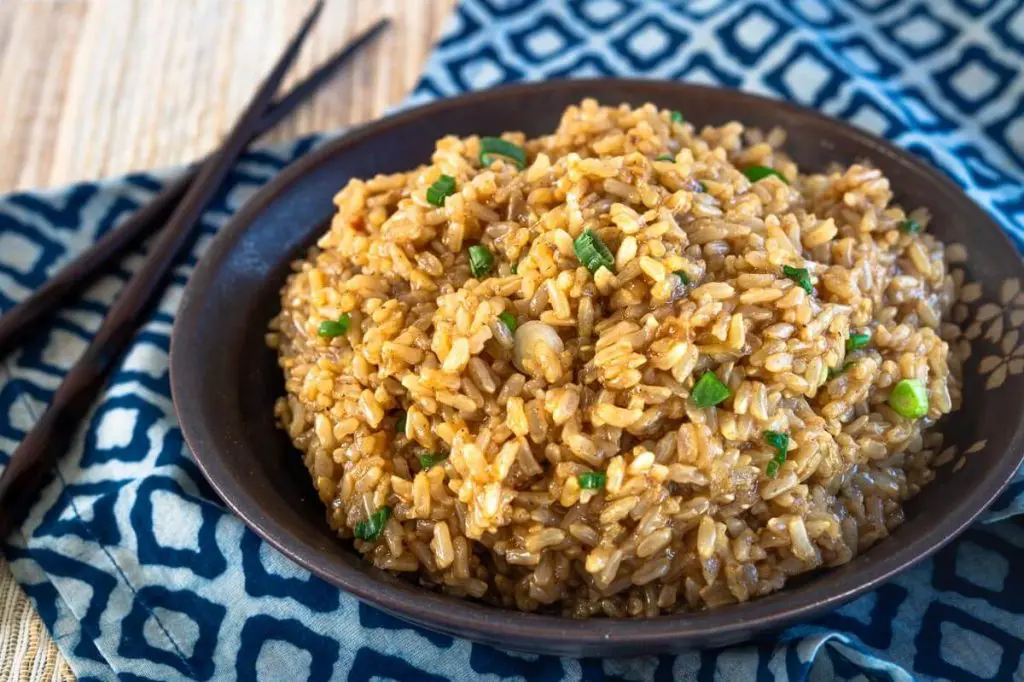 This simple Asian Rice Recipe cooks up tender and so flavorful.
Using Brown Rice assures the recipe is saucy and delicious but never mushy.
Our Instant Pot makes this simple Asian Brown Rice recipe perfectly cooked in only 15 minutes.
We've always loved rice, especially with the Asian dishes we make at home.
Before we had our instant pot, we would have to start our rice to make sure it was cooked in time to serve it with our meal, at least 45 minutes.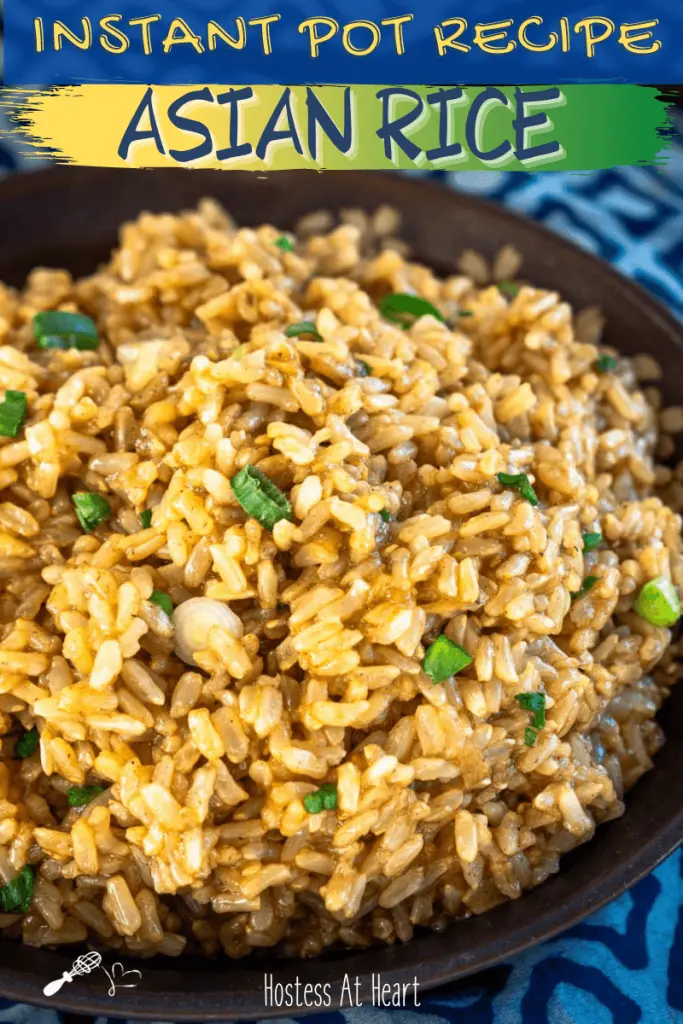 The first time we made rice in the instant pot was for our instant pot Chicken and Rice recipe.
We haven't made it any other way since, regardless of the variety of rice that we use.
What kind of rice is Asian Rice?
It depends on where the dish comes from such as in Thailand you may get Jasmine rice or Basmati in India.
The most common variety is Koshihikari rice (or Koshi rice) in Japan, a white, polished short grain. It's stickier than other varieties of rice.
My rule is to make what you like, and most of the time it's brown rice for us. The rest of the time we use a wild rice blend. They're delicious, versatile, and easy to access for us.
Best of all, they all cook up beautifully in the instant pot.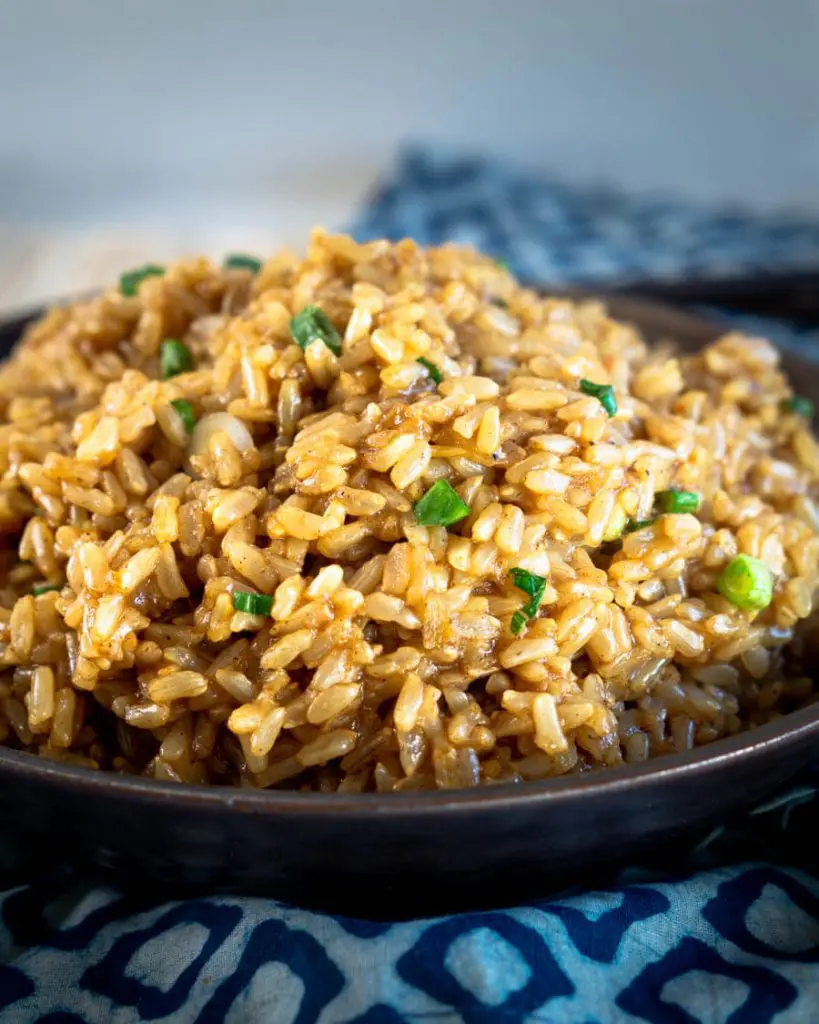 Simple Asian Rice Ingredients
Rice – We used brown rice but use what you like.
Onion – Yellow onion is what we used. You can use a white or sweet onion too.
Fresh Ginger – We keep ginger in the freezer and grate it as we need it.
Fresh Garlic
Vegetable Broth – You can use beef or chicken stock or broth too. We use low sodium broth.
Soy Sauce – Low sodium is what we prefer.
Crushed Red Pepper – Provides a nice little heat without changing the flavor of the dish.
Green onion – Fresh scallions add a delicious texture as well as an eye-pleasing garnish.
Tip: Whenever we use soy sauce we go for the low-sodium variety. The sodium level in this recipe is more than double when you use broth and soy sauce that aren't low in sodium.
Note: We now use a 1:1 ratio of liquid to rice when making rice in our Instant Pot. The equipment and the variety of rice that we use can make a difference, and we want you to be successful with any of our recipes so value your comments. Together we are better!
How to make Asian Rice
Combine all of the ingredients in the instant pot.
Secure the lid and set the vent to seal.
Press the manual button and set the pressure at high for 15 minutes.
Once the time has expired, allow the pot to naturally release for 10 minutes and then push the vent open. Use a wooden spoon to prevent steam burns.
Stir and serve.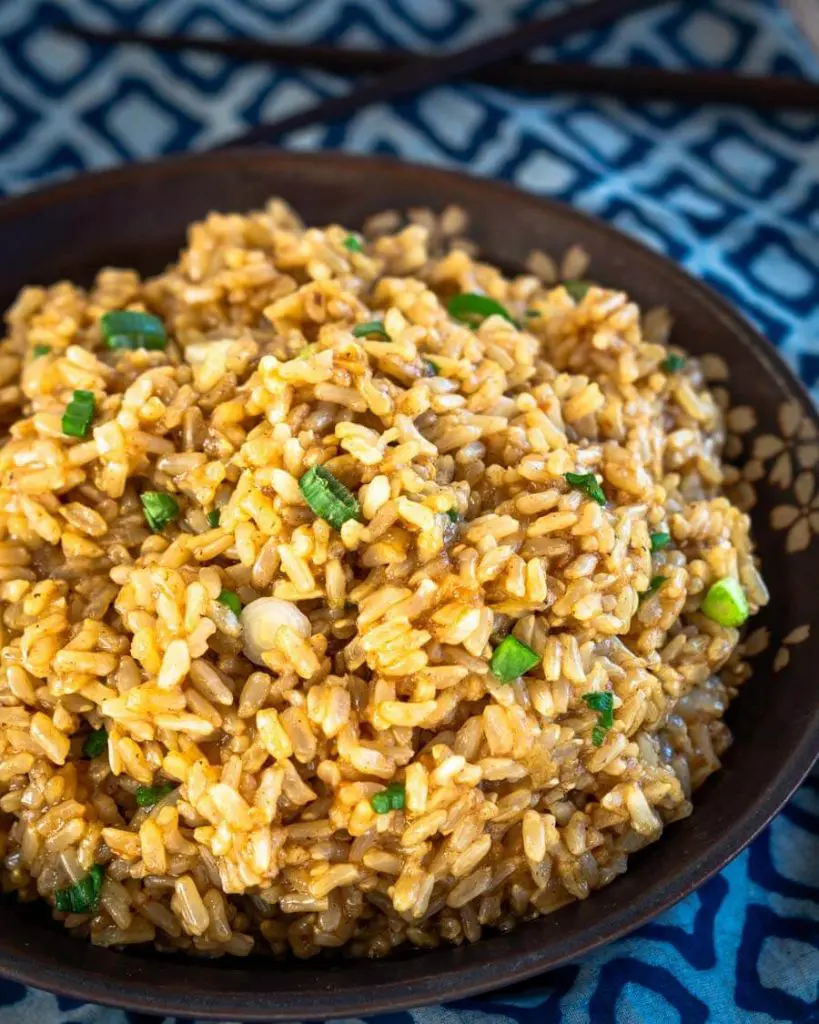 What to serve Asian Brown Rice with
My answer would be anything. However, here are some of our favorite recipes!
ITEMS YOU MAY NEED
Hostess At Heart participates in affiliate programs. As an Amazon Associate, I earn a commission from qualifying purchases. Please refer to my disclosure page for more information about these affiliate programs.
You don't need much to make this Asian Rice Recipe. Just an Instant Pot. It took me a while to use mine but once I did, I use it a lot. It's great on busy days or those days when we forget to take something out of the freezer.
The instant pot also frees up our stove and oven when space is a premium.
We love Asian food. You can find all of our Asian recipes here.
Still looking for Rice Recipes? Check these out!
Pin this Instant Pot Asian Rice!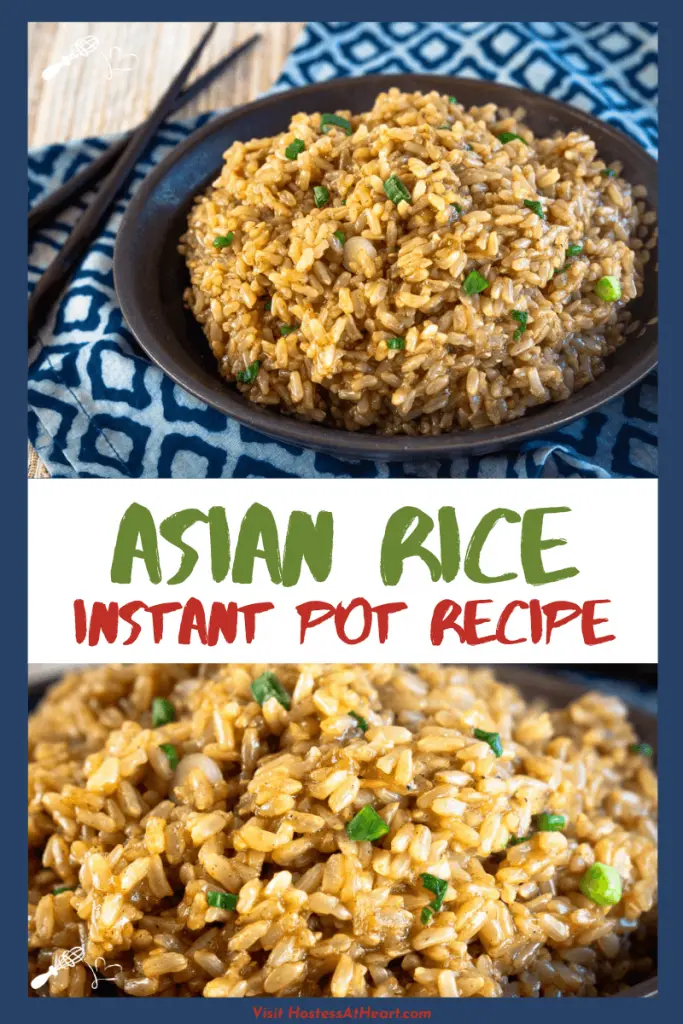 Once you try our Asian Rice Recipe, I don't think you'll cook it any other way! What is your favorite rice recipe?