Chicken, Shrimp, and Sausage Gumbo
has
a deep, smooth and savory flavor with a subtly spicy finish. One bowl is a complete and filling meal.
This delicious recipe was first published on 1/30/18 and has been updated to improve the reader experience.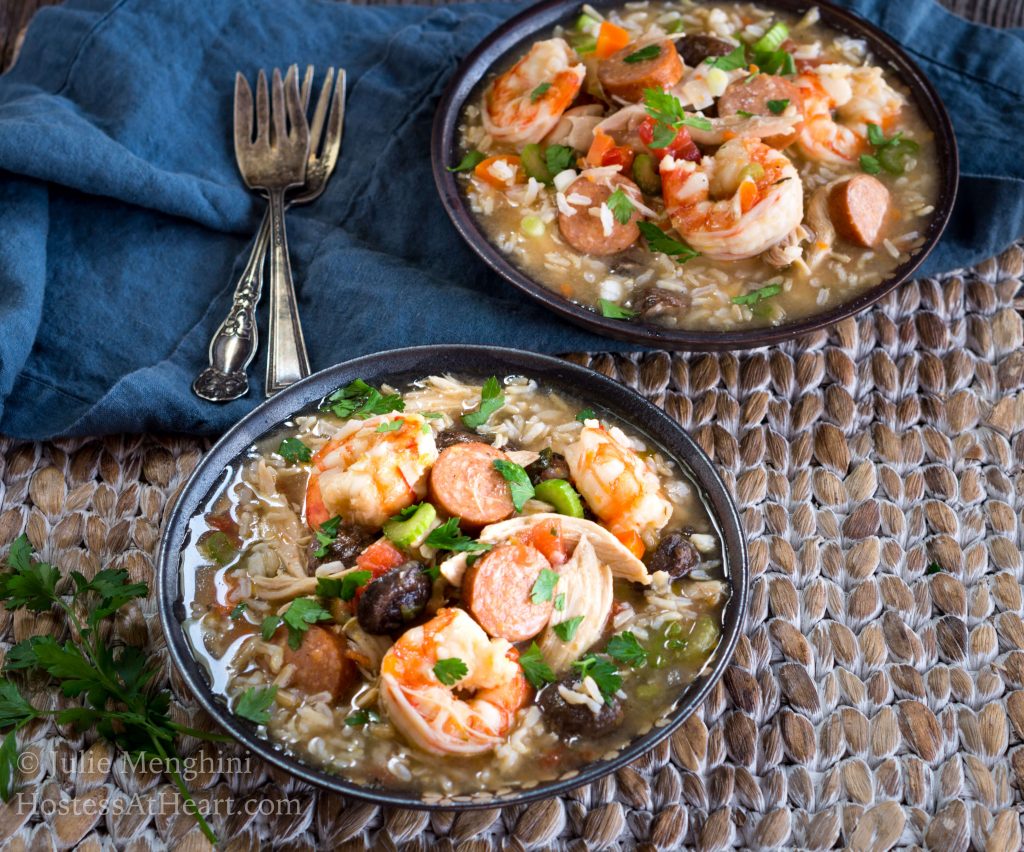 When you have a big ole bowl of Chicken, Shrimp, and Sausage Gumbo, you know you've had a complete meal and you only wish you had room for more. It has a deep savory flavor that's smooth and ends with a spicy zing.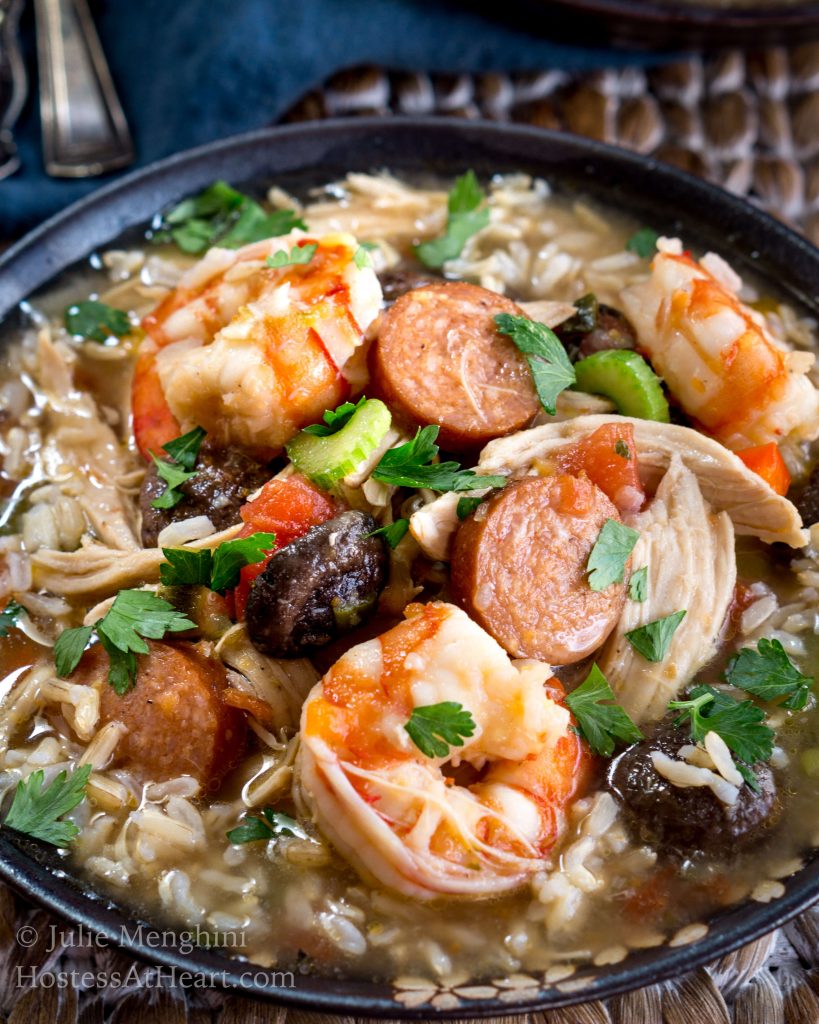 John and I love making our Sunday dinners together. We'll hover around the grill when we can or chop and dice inside when it's too cold. A glass of wine, while we cook, makes it that much more special. Recently we had a list of errands that left us without a plan for dinner. We decided to stop at a restaurant for some soup and a sandwich. John chose their gumbo and said it was so good. He said next time he'd skip the sandwich and go for a bigger serving of soup.
Being a foodie with a desire to please I decided to make him some gumbo. I have this beautiful book that a good friend gifted me called "The Encyclopedia of Cajun & Creole Cuisine" by Chef John D Folse. This book is a huge compilation of over 10 years of recipes. What I love about this book are the history and the photography. The recipes are made up of ingredients that we recognize using techniques that don't involve molecular science.
One thing that I took from the Gumbo recipes in this book is that I could make my own according to the flavors that I wanted. It stated that there were as many gumbo recipes as there are families making it. I wanted an easy Gumbo recipe that didn't take all day to make.
What is the difference between Gumbo & Jambalaya?
Jambalaya is more like a paella, or rice dish. Gumbo is more like a soup that is served over rice. Gumbo starts with a roux and may or may not contain okra or file (dried sassafras leaves) as thickeners. Both Jambalaya and Gumbo can contain chicken, seafood, and sausage. Their origins are very difficult to track many claiming European or African origins but everyone agrees that they're the best in Louisiana. I found varying information including a good summation and some great recipes on My Recipes.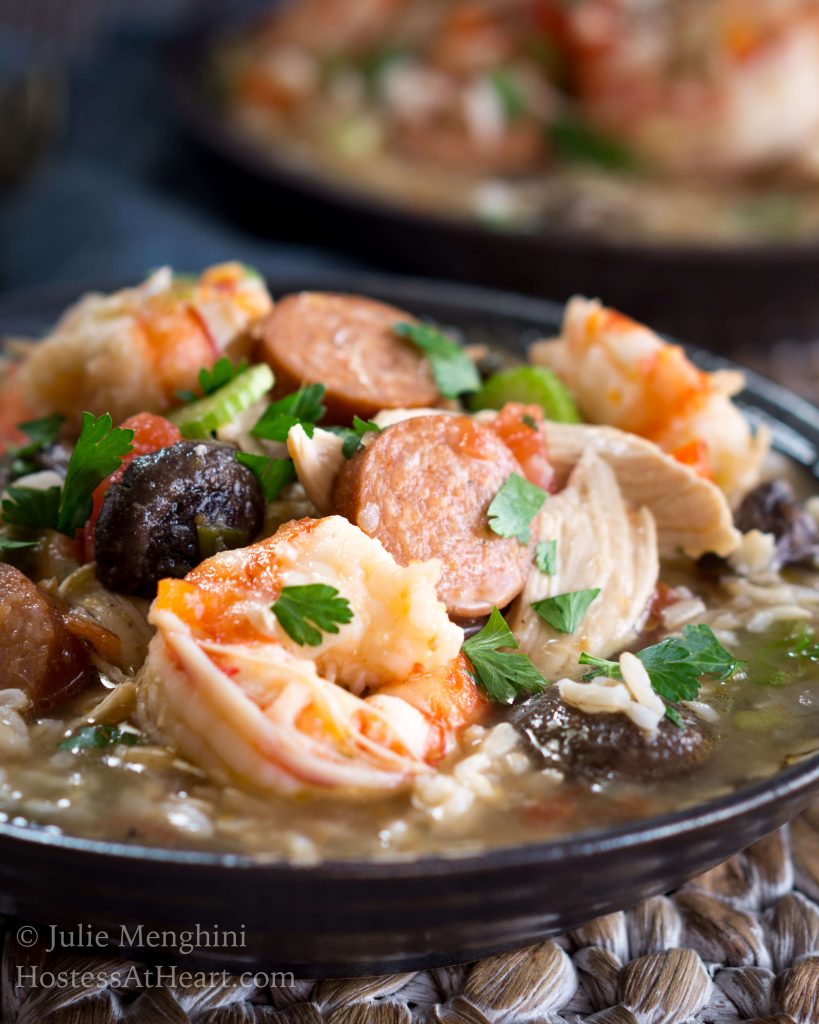 One take away is the hot sauce that I used. Lots of people use Sriracha as their hot sauce. I used a Louisiana hot sauce which added heat without changing the flavor. My Gumbo had a good kick but it can be bumped up easily enough at the table with a few extra shakes of Louisiana Hot sauce.
Tips for the perfect Gumbo
I add my shrimp to hot Gumbo shortly before serving it. That keeps the shrimp from being flavorless or having a rubbery texture. You can leave it out altogether if you prefer a Chicken and Sausage Gumbo.
Take your time making the gumbo roux (butter, flour and stock mix) Let it get brown and develop flavor. Make sure you watch it so it doesn't burn.
Prepare your vegetables before you start the roux.
You May Need:
The Encylopedia of Cajun and Creole Cuisine – This book is HUGE and has so many recipes, photos, and history built into it that a food-lover can get lost in it for hours!
Lodge 6-qt Enamel Dutch Oven – I have dutch ovens that cost triple what this one does but it's my favorite for baking bread or simmering soups on top of the stove!
Shun 8″ Chefs knife – These knives are definitely an investment but having great knives have made chopping and dicing no chore at all.
If you're looking for Mardi Gras inspiration here are a few more recipes I think you'll enjoy.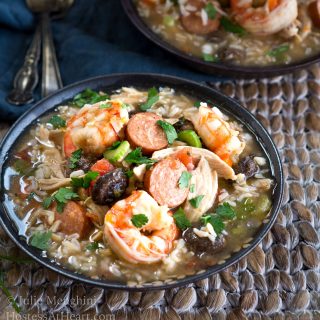 Chicken Shrimp and Sausage Gumbo
Chicken, Shrimp, and Sausage Gumbo has a deep, smooth and savory flavor with a subtly spicy finish. One bowl is a complete and filling meal
Ingredients
Chicken Stock
5

lb

chicken

3

qts

chicken stock

1

onion

diced

3

celery ribs

sliced

3

carrots

sliced

1

fresh thyme sprigs

tied together to make a bundle

Salt and pepper
Gumbo
1

onion

diced

4

carrots

thinly sliced (1-1/2 cups)

3

celery stalks

thinly sliced (1-1/2 cups)

1

red pepper

diced

1

lb

andouille sausage

I used turkey andouille

1

lb

mushrooms

sliced

1

lb

shrimp

large

2

tbsp

Louisiana hot sauce

1/2

cup

butter

unsalted

1/2

cup

flour

1/4

cup

garlic

minced

1

can

diced tomatoes with green chilies

1

tbsp

thyme

1/4

cup

parsley

chopped

salt and pepper
Instructions
Chicken Stock
Combine all of the chicken stock ingredients together and cook until chicken is completely cooked. Remove chicken and thyme bundle. Let chicken cool until you can remove the skin and the meat from the bone. Shred the chicken into bite-sized pieces.
Gumbo
In a large dutch oven melt butter over medium-high heat. Add flour and whisk together until golden brown. Add chicken stock 1/2 cup at a time to make a thick slurry (up to 4 cups). Bring to a boil and add Gumbo vegetables, sausage, garlic, mushrooms, and thyme. Cook for 15 minutes.

Add remaining chicken stock and chicken back into the dutch oven. Add the can of tomatoes with chilies and when it is hot add shrimp and cook only until the shrimp turn pink (just a few minutes). Salt and pepper to taste and stir in parsley.

Serve over cooked rice. Refrigerate any leftovers.
Nutrition
Calories:
395
kcal
Carbohydrates:
11
g
Protein:
29
g
Fat:
25
g
Saturated Fat:
8
g
Cholesterol:
148
mg
Sodium:
637
mg
Potassium:
586
mg
Fiber:
1
g
Sugar:
4
g
Vitamin A:
3505
IU
Vitamin C:
15.2
mg
Calcium:
66
mg
Iron:
2.3
mg
Nutritional Disclaimer
This recipe was calculated using the exact brands and measurements I used to make this recipe. If you are following a strict diet please note changing anything will cause the nutritional info to change. My calculations are intended as a guide only.