This Fudgy Chocolate Brownie Cookie recipe has a shiny crinkly crust and is like sinking your teeth into a rich, soft, and gooey brownie.
Given a choice, I'd take a good brownie over most other desserts. If you like a good fudgy brownie or a brownie stuffed with cookies, I'm there. Make Brownie Cookies, and it's like the brownie 1st prize at the State Fair.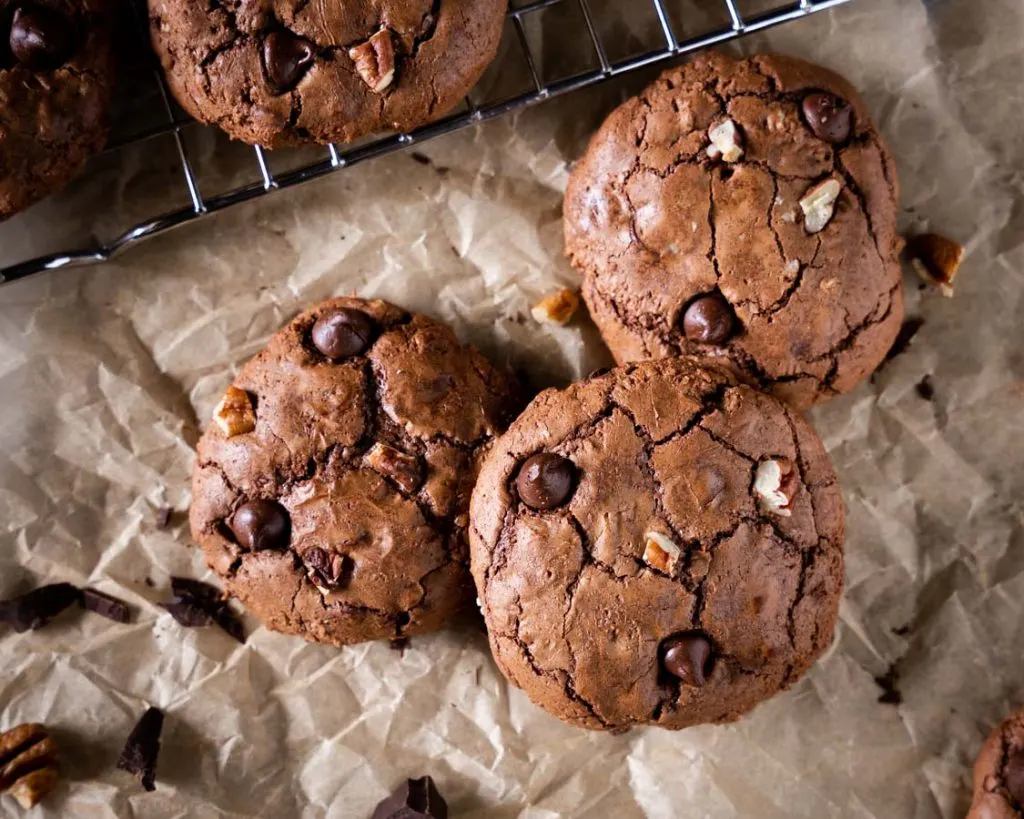 If you're a chocolate lover, be prepared for an infusion of 2 chocolate flavors that will transport you into pure chocolate bliss. 12 large homemade brownie cookies will guarantee you have plenty to share.
What's so special about these cookies?
As much as I would love to take credit for creating this chewy Brownie Cookie recipe, this recipe is actually inspired by the Fall edition of our Freaky Friday Blog Hop.
What is the Freaky Friday Blog Hop? Freaky Friday is a blog hop with some of my favorite food blogger buddies!
We secretly get assigned one another's blogs to make a recipe from, and then we all reveal who we had and what we made on the same Friday, and that is today!
The Freaky Friday blog hop is organized by Michaela who runs An Affair From the Heart.

I was so excited to get Lynn's blog, Fresh April Flours for our Fall edition of Freaky Friday.
Let me tell you a little bit about Lynn
Lynn went from a simple cake decorating class to opening up a professional cake business. It took her stepping back from the business to reclaim her love of baking. I totally get it! She's now a full-time blogger.
She and her husband are raising 4 boys and even with her love of baking maintain a healthy lifestyle. Like us, they consider desserts a treat.
It's no secret that we're (I'm) mildly obsessed with chocolate. So, when I went perusing Lynn's blog, I hit a gold mine when it comes to chocolate. I hit the lottery! Just take a look at her Easy Chocolate Mousse and her Chocolate Chip Pecan Pie! And, you wouldn't believe what this girl does with brownies!
Ultimately I had to try her Brownie Cookie recipe. I've already made them twice. Two kinds of chocolate and butter? What's not to love?
I followed Lynn's recipe word for word and didn't make any changes. It's great as is.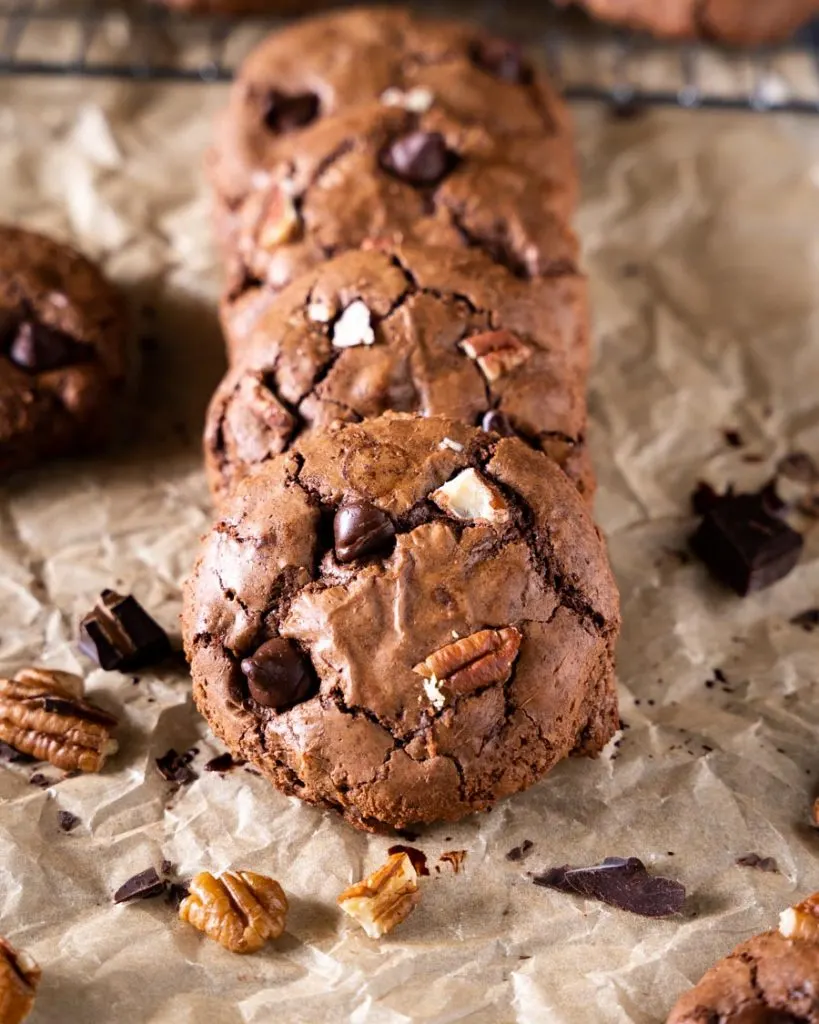 How to make Chocolate Brownie Cookies
Preheat the oven to 350°F so it's good and hot when you're ready to bake.
Melt the butter with chopped chocolate and chocolate chips. Once melted remove the melted chocolate from the stove and let it cool.
Whisk the flour, baking powder, and salt together.
Mix eggs, sugar, brown sugar, and vanilla together by hand or with an electric stand mixer.
Gradually add the dry ingredients to the wet ingredients.
Add the cooled chocolate mixture and stir in the remaining chocolate chips and walnuts.
Give the brownie batter a quick chill and then drop scooped cookies onto a parchment paper-lined bakery sheet. If you choose to chill it for an extended period of time, let it warm a bit until it is a scoopable consistency.
Bake and devour!
Make sure you check out the detailed instructions in the recipe card.
Brownie Cookie Recipe Ingredients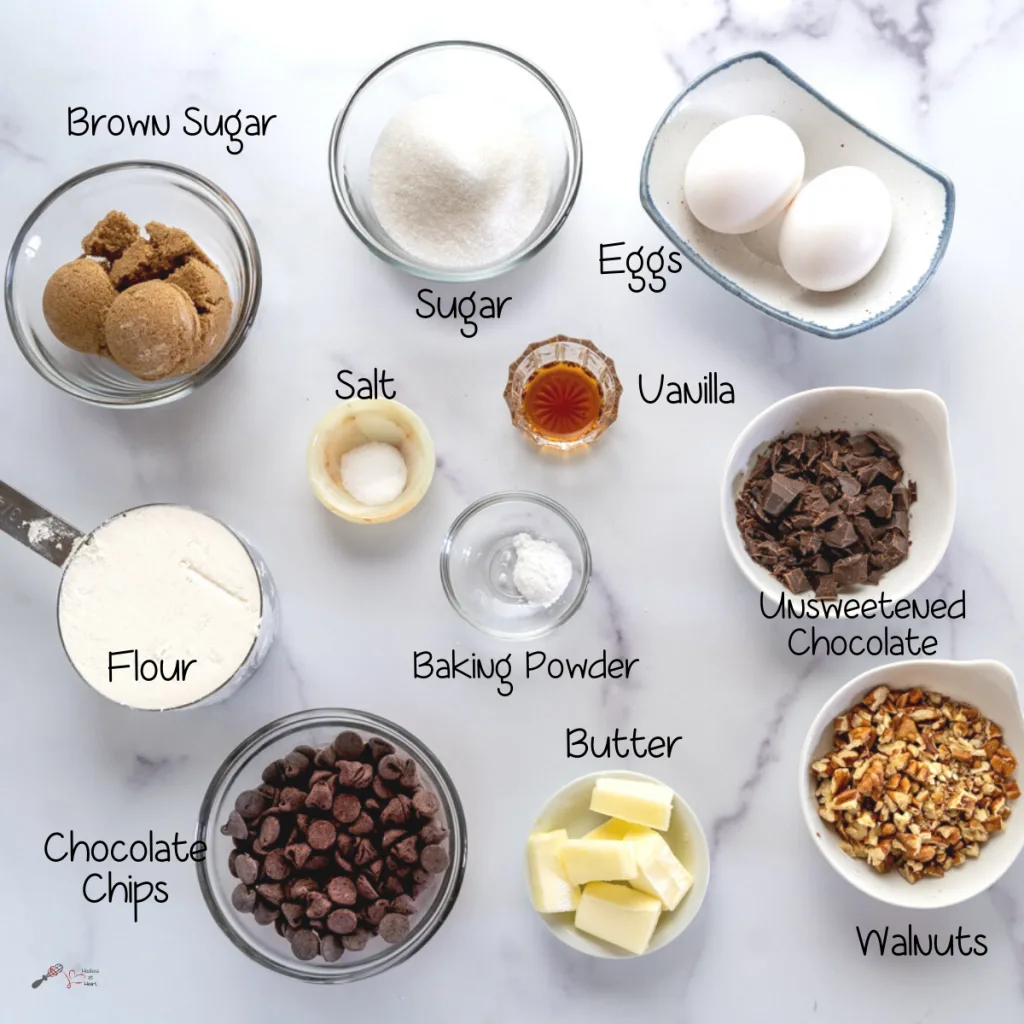 Butter – Unsalted. If you don't have unsalted butter you can use salted butter and eliminate the salt in the recipe.
Unsweetened baking chocolate – This comes in a bar that you chop.
Semi-sweet chocolate chips – You can use dark chocolate chips or milk chocolate too.
Flour – All-Purpose flour.
Baking powder – Fresh is best.
Salt
Eggs – We use large eggs.
Sugar – White granulated sugar.
Light Brown sugar – You can use dark brown sugar if that's what you prefer.
Vanilla extract – We like using pure vanilla but imitation is acceptable in this recipe.
Walnuts – Pecans would be a great substitution or you can leave the nuts out all together.
F.A.Q's for the perfect Chocolate Brownie Cookies
How do you know when brownie cookies are done baking. – These cookies will look underbaked in the center but the edges will be set. We leave them on the baking sheet for 5 minutes before transferring them to a wire rack to finish setting. Don't overbake!
What gives brownies that shiny crackly crust? According to King Arthur, the shine has more to do with using chocolate chips and heating the sugar and butter together to fully dissolve the sugar.
How long can chocolate brownie cookies last? They're fine at room temperature for several days. Any longer than that, and the freezer is probably the best option for you. Just wrap them really well so they don't pick up any funny freezer odors, and store them for a month or two.
Should chocolate brownie cookies be refrigerated? – No, refrigeration dries out brownies. They should be kept at room temperature in a sealed container.
You can freeze shaped cookie dough and freeze it on a baking sheet. Once frozen, you can put the cookie dough in an air-tight container and then pop out and bake as many as you need. You can bake them frozen but add a couple of minutes to the baking time.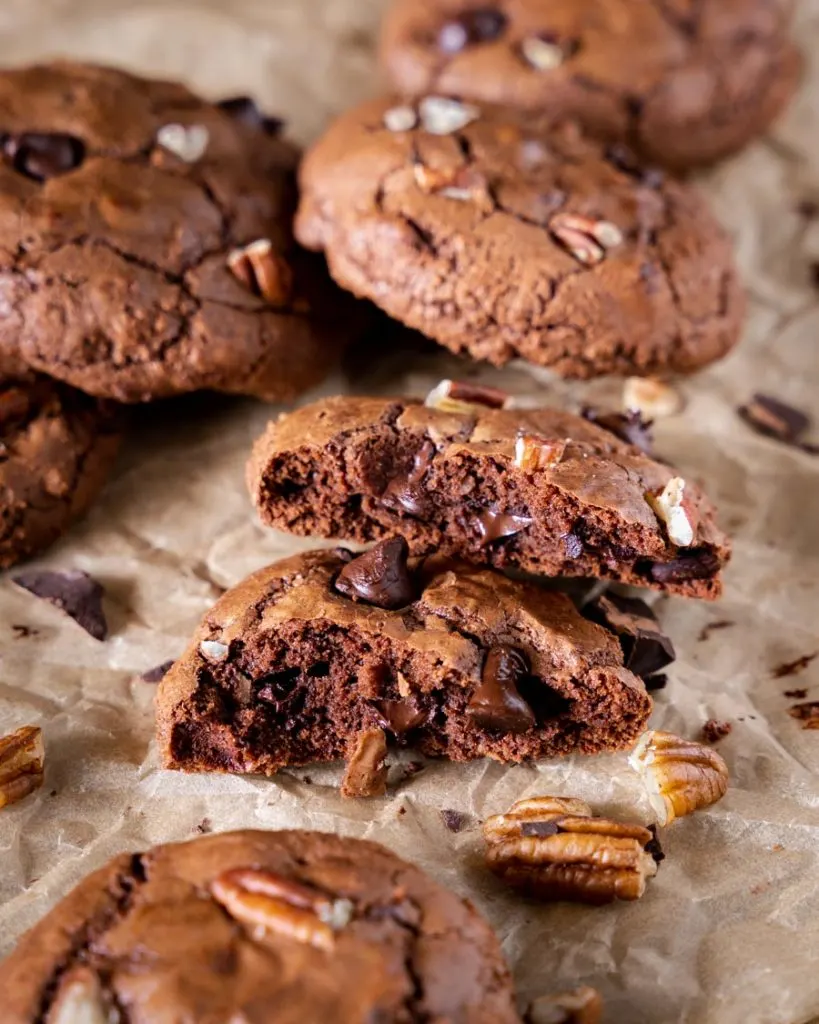 Some of our favorite Freaky Friday Recipes
Butter Cookie Recipe – These little cookies are like a shortbread cookie. They're small and perfect with a cup of tea.
Derby Pie Brownies – Rich and gooey, this bar is like a cross between a pecan pie and a brownie.
Chocolate Coffee Cake – This moist cinnamon streusel-topped cake recipe is layered and drizzled with rich dark chocolate.
Pin it!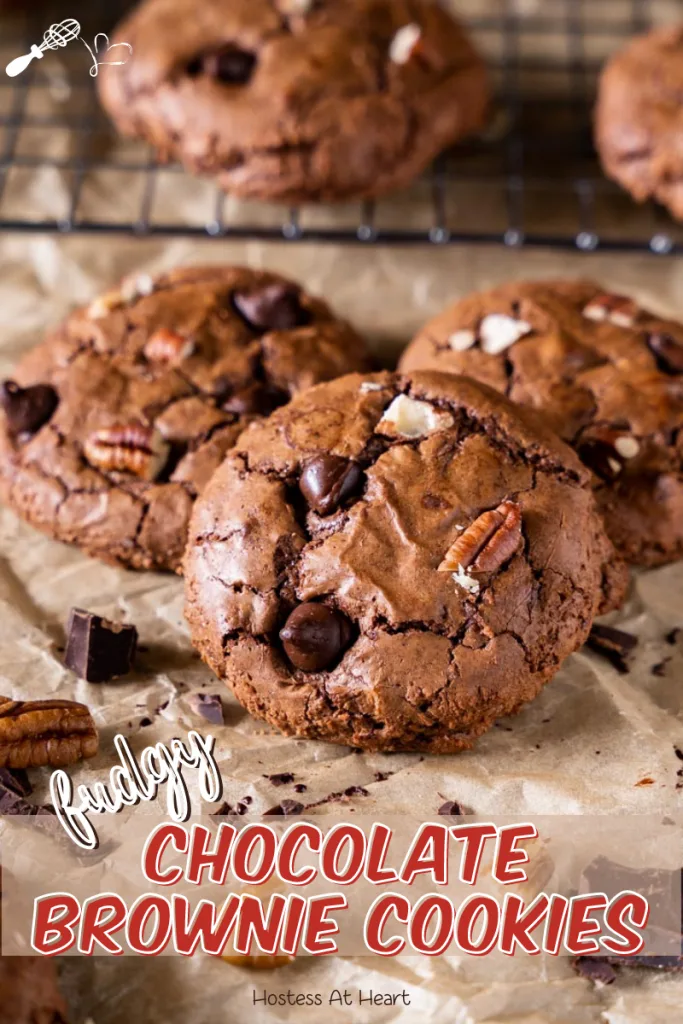 Thank you Lynn for sharing your amazing Brownie Cookie Recipe. I encourage everyone to check out her blog and other brownies and desserts!
Take a look at all of our 2021 Freaky Friday Fall Edition Recipes: