Herb Roasted Chicken is moist, tender and delicious. Slathering it with herb butter and cooking it on a grill guarantees crispy, beautiful skin.

John is the king when it comes to cooking outside. He was a great boy scout, and when we went camping, we always ate in style. Maybe not Herb Roasted Chicken, but we ate a heck of a lot better than most.
He recently brought home a gorgeous free range organic chicken. It was so fresh and plump, and we didn't want to waste one ounce of it, so decided to roast it whole. Roast it on "The Big Green Egg" that is. The Big Green Egg is a ceramic grill that uses lump charcoal. It has a couple of vents that allow you to control the temperature. There isn't any financial gain for me to endorse this equipment, but we make some amazing food using it. It can be used for smoking, and indirect cooking too.
[Tweet "Herb Roasted Chicken on the #BigGreenEgg"]
John prepped the bird by spatchcocking it. It makes me giggle like a preadolescent boy when I say spatchcock. I am so mature. To do this, take a pair of good kitchen shears or a boning knife and cut through the bird on each side of the backbone and remove it. You then press down on the breastbone hard enough to flatten the bird out.
Flattening the bird allows the dark meat and white meat cook at the same rate which keeps the white meat moist since you aren't overcooking it while the dark meat cooks. I freeze the backbone and use it when I make chicken stock.
Once the bird was ready to go, we put a smear of *homemade herb butter under the skin. I rubbed the exterior of the bird with olive oil and seasoned with salt, pepper and a sprinkle of fresh chopped rosemary and thyme.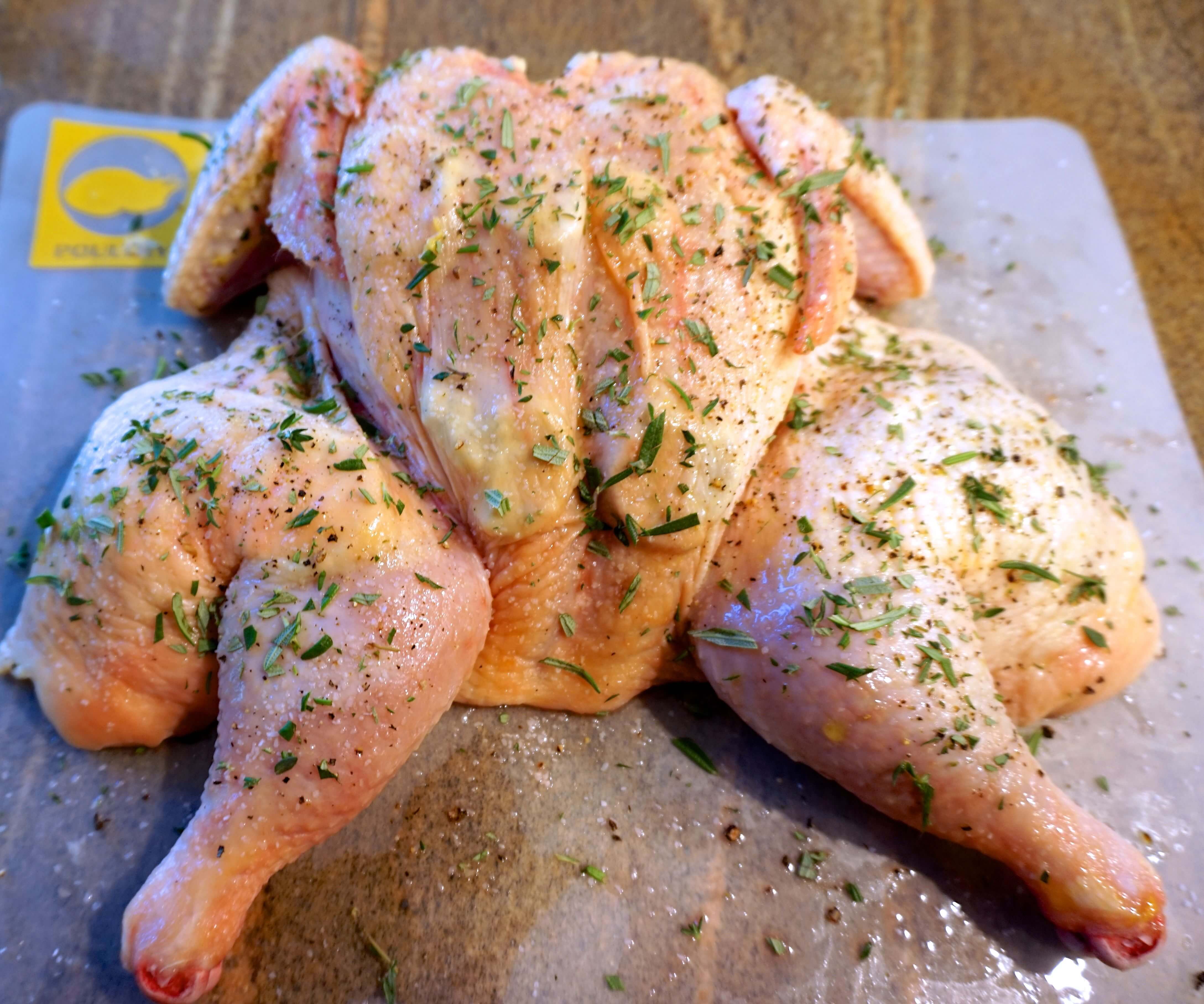 The chicken cooked on the grill at 375 degrees F for 1 hour and 20 minutes. We basted it with more herbed butter when it reached 145 degrees F, and took the bird off of the grill when it registered 160 degrees F. After removing the bird, we let it rest 15 minutes before carving.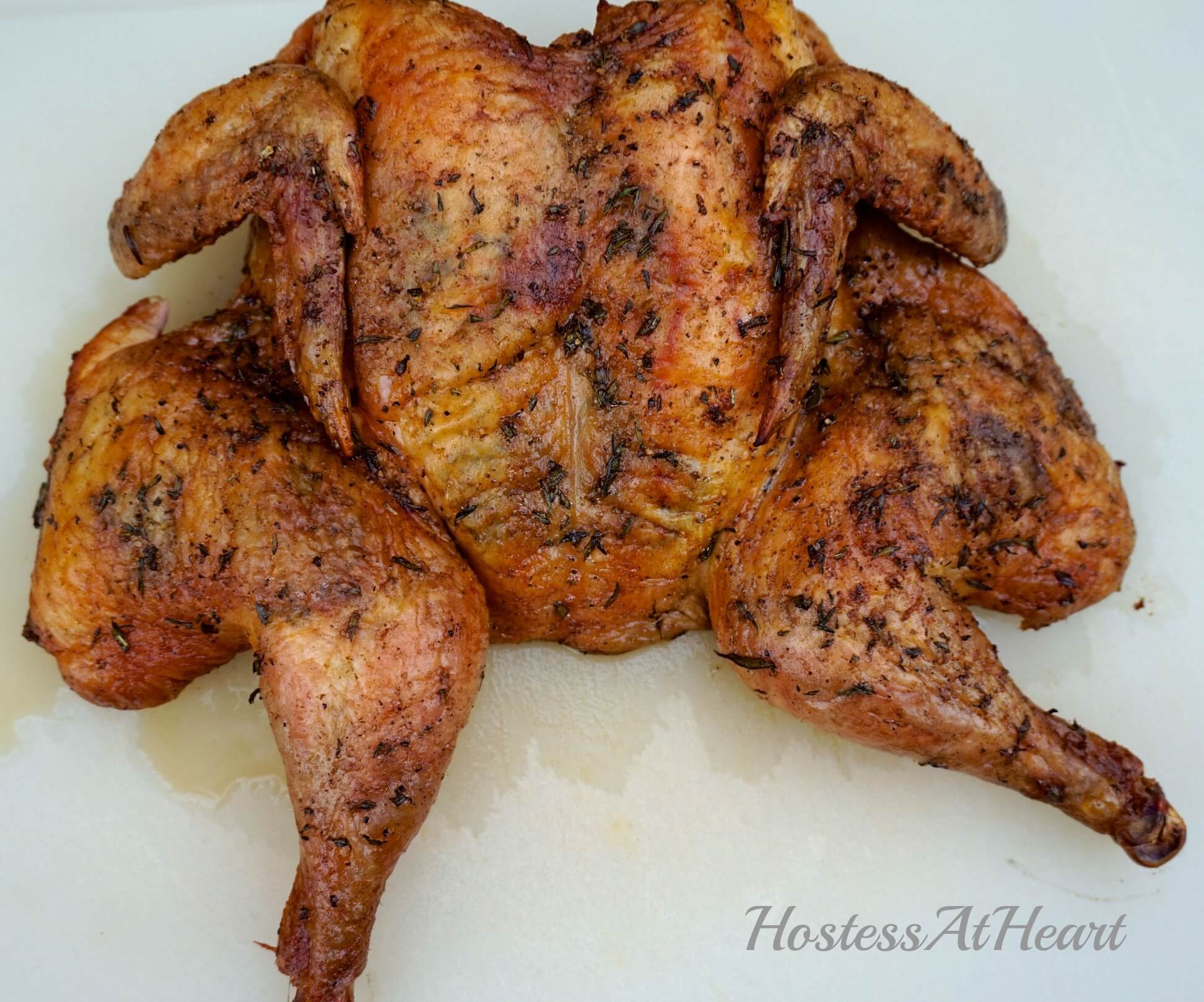 Hello, beautiful! This baby was succulent and flavorful. The skin was crispy good. We paired this lady with a side of roasted carrots and creamy cheesy polenta. A bottle of a dry Rose' and a french baguette rounded out this meal giving it a perfect score.
*I keep flavored butter in my freezer. I made this butter by taking room temperature butter and mixing with grated lemon peel, chopped rosemary and thyme. Roll it into a log and cover it with plastic wrap. I  placed it in a freezer bag and using a marker to write name and date it. Flavored butter is great on roasted veggies including potatoes or used to flavor meat like we did here.
Now it's time to head over to The Novice Gardner and Angie along with her co-hosts Tracy @Scratch It Cook and Nancy @Feasting With Friends. I hope you will join us!
Let's keep in touch! You can find me on Facebook, Twitter, Pinterest, Instagram, Google +, and Bloglovin