Using an Herb Butter and spatchcocking a chicken before grilling assures a moist, tender, and seasoned bird with perfectly crispy browned skin.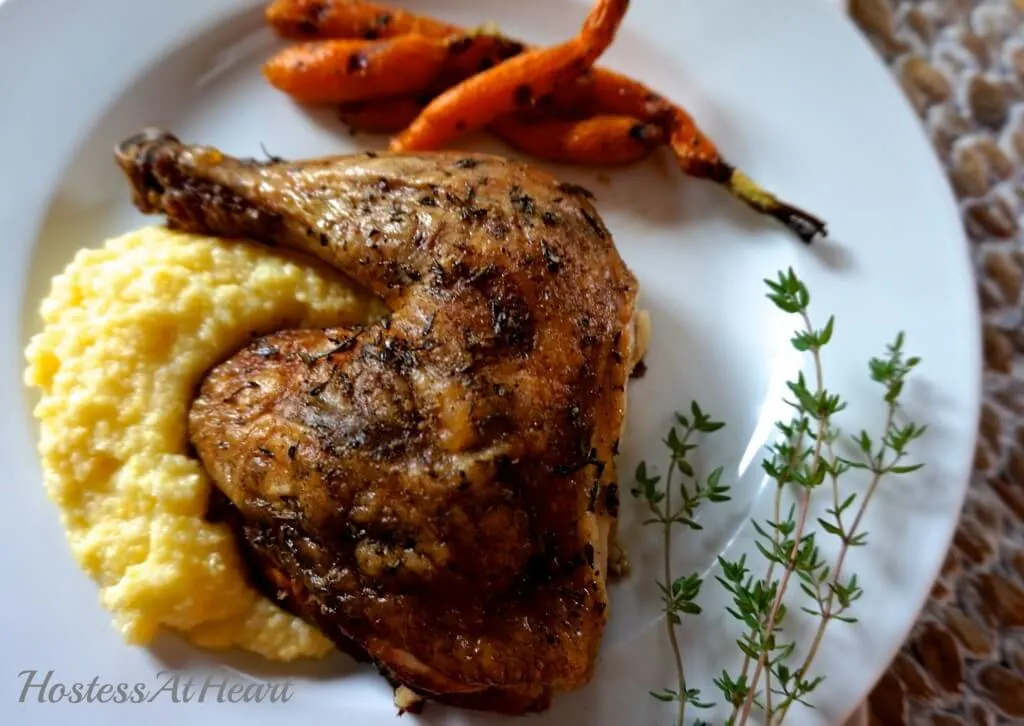 John is the king when it comes to cooking outside. He was a great boy scout, and when we went camping, we always ate in style. Maybe not Grilled Herb Butter Chicken, but we ate a heck of a lot better than most.
He recently brought home a gorgeous free-range organic chicken. It was so fresh and plump, and we didn't want to waste one ounce of it, so I decided to roast it whole.
Roast it on "The Big Green Egg" that is. The Big Green Egg is a ceramic grill that uses lump charcoal. Alternately you can grill it on any grill or bake it in the oven too.
It has a couple of vents that allow you to control the temperature. There isn't any financial gain for me to endorse this equipment, but we make some amazing food using it. It can be used for smoking, and indirect cooking too.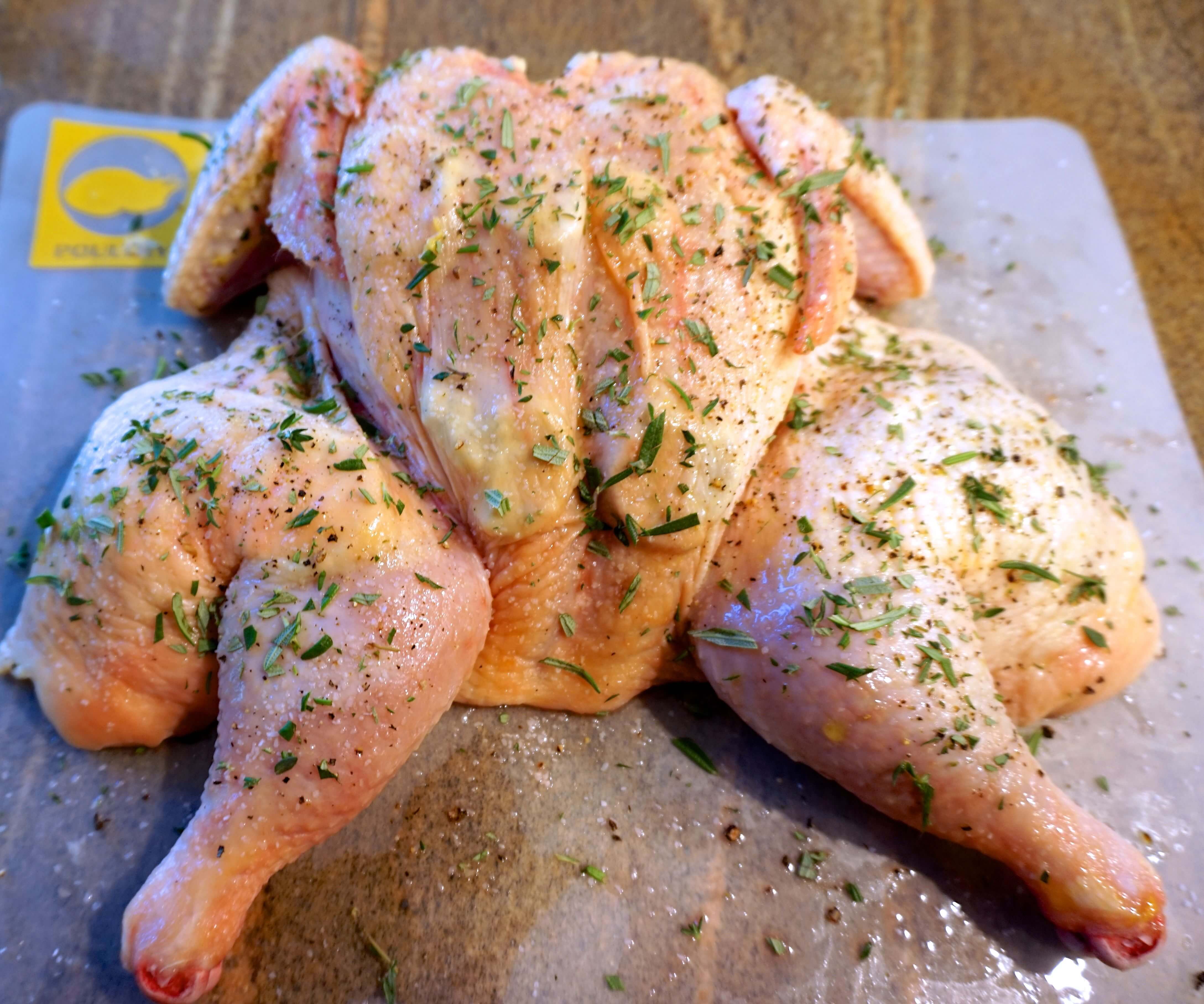 John prepped the bird by spatchcocking it. To do this, take a pair of good kitchen shears or a boning knife and cut through the bird on each side of the backbone and remove it. You then press down on the breastbone hard enough to flatten the bird out.
Flattening the bird allows the dark meat and white meat cook at the same rate which keeps the white meat moist since you aren't overcooking it while the dark meat cooks. I freeze the backbone and use it when I make chicken stock.
Once the bird was ready to go, we put a smear of *homemade herb butter under the skin. I rubbed the exterior of the bird with olive oil and seasoned with salt, pepper and a sprinkle of fresh chopped rosemary and thyme.
You could use an Italian seasoning too which is what I often do.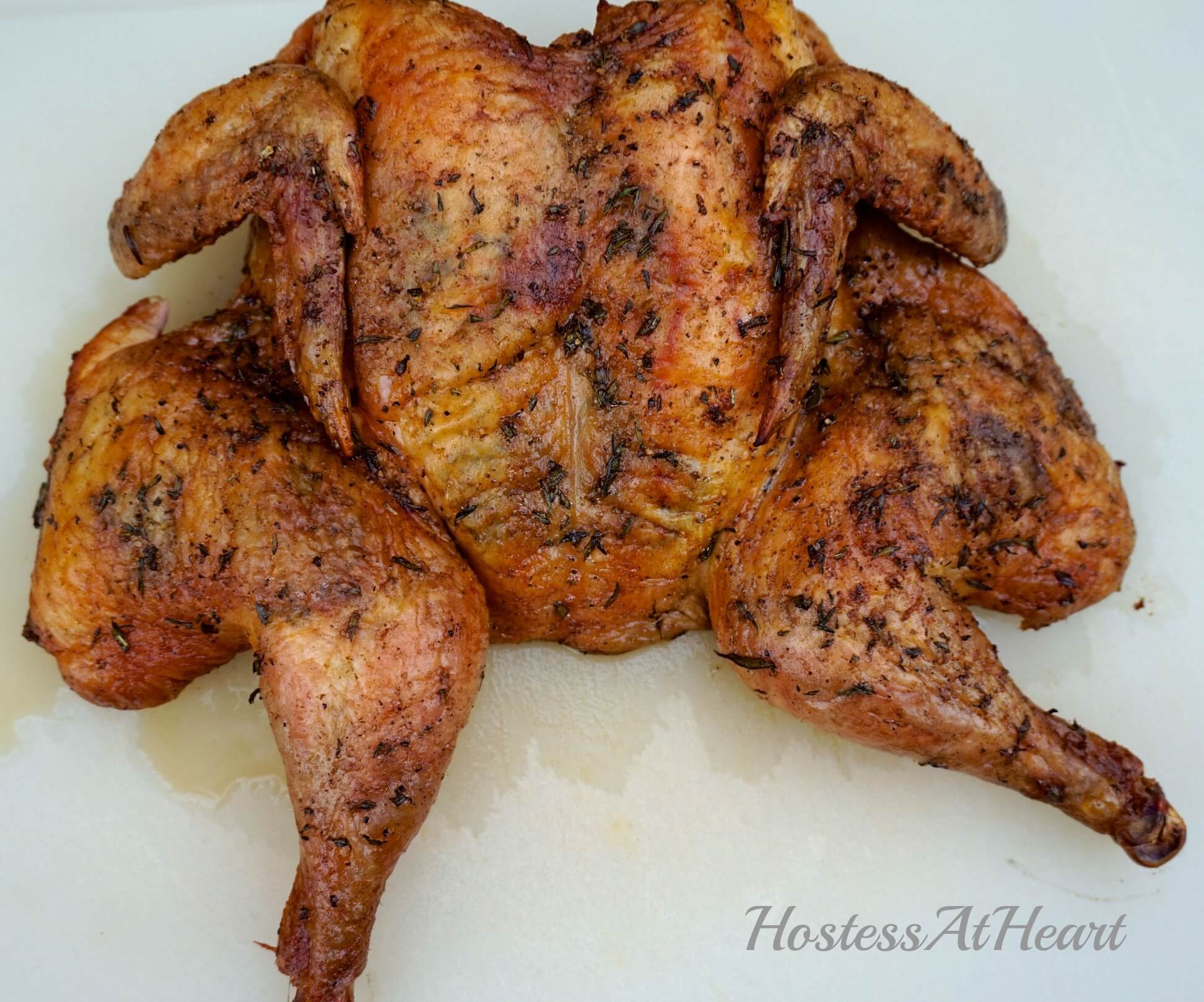 The chicken cooked on the grill at 375 degrees F for 1 hour and 20 minutes.
Tips for the perfect Herb Butter Chicken
Spatchcocking chicken or turkey assures that the white and dark meat cook at the same rate. No more dry white meat!
Applying herb butter under the skin gives the meat flavor as it cooks.
A drizzle of olive oil over the skin and additional seasoning makes for a delicious browned bird with crispy skin.
Baste the bird once it reaches 145° to achieve the perfect browned crispy skin.
When you remove the bird from the grill let it rest before carving it. The meat will reabsorb the juices. By cutting it right away, those flavorful juices will just run out.
Don't overcook the bird. Use an instant-read thermometer and test in the thickest part of the let without touching the bone. Chicken is finished when it reaches 160°F. It will continue to rise for a short time because of the residual heat.
Put your cutting board in a rimmed baking sheet to catch any remaining drips. It will make for an easy clean-up.
This chicken was succulent and flavorful. The skin was crispy good. We paired this lady with a side of roasted carrots and creamy cheesy polenta for a complete meal meant for a king.
Tips for flavored butter
I keep flavored butter in my freezer. I made this butter by taking room temperature butter and mixing it with grated lemon peel, chopped rosemary, and thyme.
When your butter tray is getting empty, save the last couple of tablespoons by putting them in a small dish in the freezer. When you get 6 to 8 tablespoons, let it thaw and add the flavors you like. Shape it into a rectangle or log shape that will fit your butter dish and either use it or refreeze it in a reclosable plastic bag. Mark and date the contents and refreeze.
Herbed butter is delicious on popcorn or vegetables and potatoes or for making your own seasoned crackers.
Season the butter with honey and cinnamon. It's amazing on toast or pancakes.
If you enjoyed this recipe, check these out
Our most popular posts would go great with this Herb Butter Grilled Chicken!
Don't forget to pin this delicious Grilled Chicken Recipe