Easy Chicken Parmesan Meatball recipe makes a delicious meatball sandwich, served over a plate of pasta, or a quick and easy meatball appetizer with your favorite sauce or dip!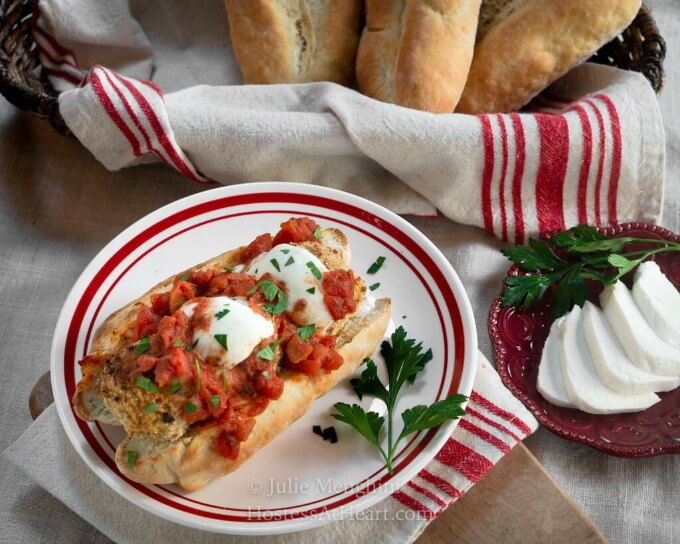 This chicken meatball recipe is so quick and easy to make. They make a great appetizer and leftovers can double as a meatball sub dinner. Baking them ensures that they're never over or under cooked.
There is always so much going on. I used to say as soon as we get through "this", everything will settle down. Well, as soon as we do get through "this" the next "this" pops up. You know what I mean? I think it's universal.
Even though we are so busy, it makes it all that more important to get together with friends or to sit down together with each other at the end of the day. That is why I love baking up a big batch of chicken meatballs.
I totally understand how busy you are so if you don't have time for our helpful tips and delicious recipe ideas, just scroll to the bottom of the page where you can find the printable recipe card.
I cook in batches. It's just as easy to cook twice as much as we need and have leftovers the next night or put the extra food in serving size containers and freeze it. Then I'm prepared if we need a quick meal or appetizer for impromptu entertaining.
Other ideas for Chicken Meatballs Recipe
They make a great easy parmesan chicken recipe over pasta.
Stuff them into a bun for a meatball sub.
Bake them and put them in a slow cooker covered with sauce to keep them warm for your next gathering. Guests can help themselves.
Meatball fondue – serve with picks and provide several sauces such as marinara, cheese sauce, or pesto.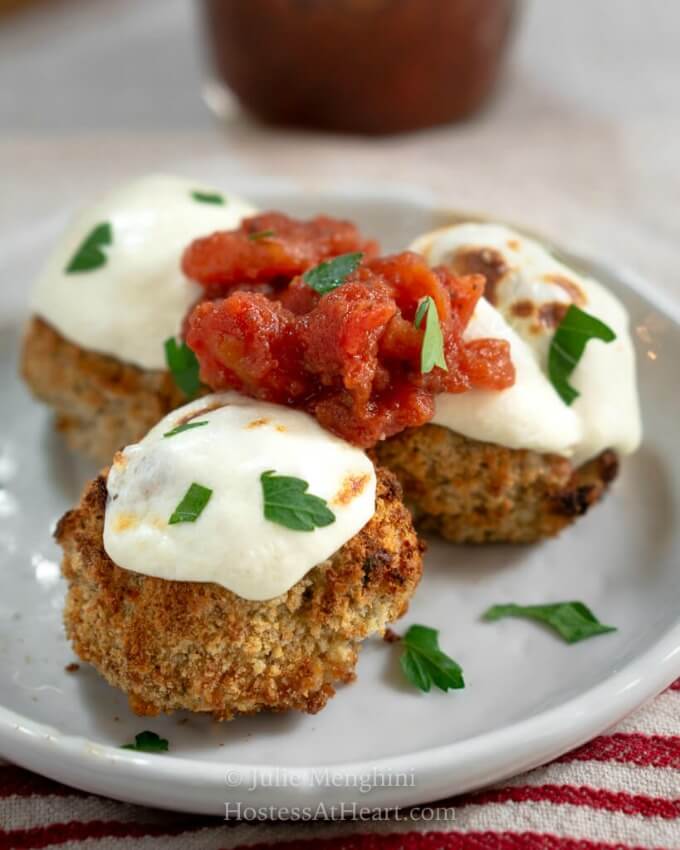 There are so many ways you can flavor meatballs. These Baked Italian chicken meatballs is way up there on our love list. Another recipe that's really been hot on the blog is the Crockpot Mexican Meatballs in Chipotle Sauce and our Baked Turkey Meatballs in Green Chiles Sauce. I guess it's fair to say we love meatballs right?
LET'S KEEP IN TOUCH!

You may need
The following are affiliate links. We are a participant in the Amazon Services LLC Associates Program, an affiliate advertising program designed to provide a means for us to earn fees by linking to Amazon.com and affiliated sites. For more information, please see our disclosure.
The best way to know when your meatballs are done is to test them with an Instant Read Thermometer. I personally use this thermometer for everything that I cook by temperature even my bread! Chicken meatballs are done when they reach a temperature of 165° F.
When I make meatballs or cookies or anything that I want to be a similar size, I use scoops. They not only look better but they cook evenly too. You can make a larger scoop when serving these meatballs over pasta or a smaller one when serving them as appetizers.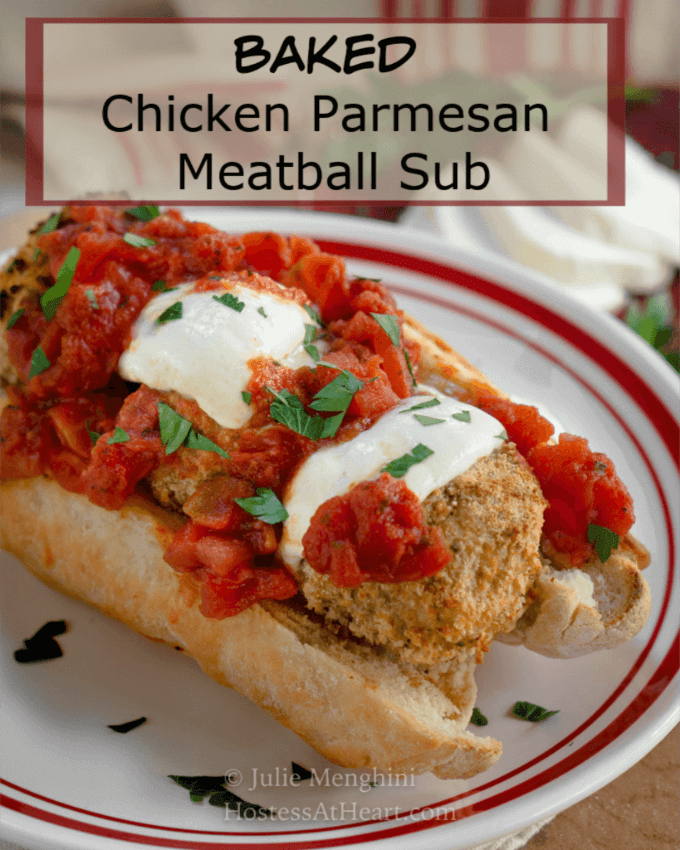 Dipping sauces and topping ideas for these delicious chicken parmesan meatballs!
To me, one thing that I am picky about when I have a sandwich is the bread, roll, or bun. I used my Simple Ciabatta Bread Recipe for these rolls. In my post I show you two different ways you can make them with plenty of process shots to help you make them. They're definitely perfect for this Chicken Parmesan Meatball sandwich!
Baked Chicken Parmesan Meatball Recipe
Baked Chicken Parmesan Meatballs are delicious over a plate of pasta for dinner or served with sauces or dips as appetizers. They're quick, easy, and delicious!
Ingredients
Meatballs
1

lb

ground chicken

1

egg

large

1/4

cup

Italian bread crumbs

1/2

cup

grated Pecorino Romano cheese

1/2

tsp

garlic powder

1 1/2

tsp

Italian seasoning

1/2

tsp

kosher salt

1/8

tsp

ground black pepper
Breading
1

egg

1

tbsp

water

1/4

cup

Italian bread crumbs

1/4

cup

panko bread crumbs

1/2

tsp

Italian seasoning

1/4

tsp

kosher salt
Marinara
14

oz

can of diced tomatoes

don't drain

1/4

tsp

garlic powder

1/2

tsp

Italian seasoning
Remaining Ingredients
4

oz

fresh mozzarella

fresh parsley

optional

hoagie rolls or pasta

optional
Instructions
Preheat oven to 400°F. Line a rimmed baking sheet with foil and spray with non-stick cooking spray. Set aside.

In a medium bowl, combine ground chicken, bread crumbs, pecorino romano cheese, egg, garlic powder, salt, pepper, and Italian seasoning.


Roll chicken mixture into 1-1/2″ meatballs and put on prepared pan. (I used a 1-1/2 Tbl scoop)


Combine egg, 1 tablespoon of water and whip together with a fork. In a separate bowl combine panko, breadcrumbs, Italian seasoning, and salt. Glaze the meatballs with the egg mixture and then roll them in the breading mix.

Bake for 20 minutes or until the register an internal temperature of 165°F.


While meatballs bake, add a can of diced tomatoes to a 9 to 10-inch saucepan. Add garlic powder and Italian seasoning. Cook until most of the liquid has cooked off. About 10 minutes.

Assembly
Turn the oven to broil and put the oven rack in the top 1/4 of the oven or about 10 inches from the top. Add mozzarella to the top of each meatball. Broil until melted. Watch carefully this will only take about 5 minutes.

Place meatballs in a hoagie roll (if using) and top with sauce. Garnish with fresh parsley.
Notes
Nutritional value doesn't include hoagie rolls or pasta.  You can also use store-bought marinara for convenience.  Serving size is 4 meatballs per sandwich.  The recipe makes approximately 16 meatballs.
Nutrition
Calories:
421
kcal
|
Carbohydrates:
19
g
|
Protein:
36
g
|
Fat:
22
g
|
Saturated Fat:
9
g
|
Cholesterol:
214
mg
|
Sodium:
1233
mg
|
Potassium:
875
mg
|
Fiber:
2
g
|
Sugar:
3
g
|
Vitamin A:
505
IU
|
Vitamin C:
9.2
mg
|
Calcium:
378
mg
|
Iron:
3.8
mg
This recipe was calculated using the exact brands and measurements I used to make this recipe. If you are following a strict diet please note changing anything will cause the nutritional info to change. My calculations are intended as a guide only.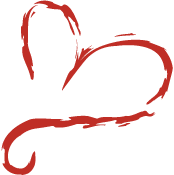 Thank you from the bottom of my heart for spending some time with me today!