Irresistible Spinach Bread Recipe is a delightful homage to Popeye's favorite treat. This easy-to-follow copycat recipe promises a savory Yeast Bread, that's loaded with fresh spinach. It's as wholesome as it is delicious.
This is a soft and tender bread loaf that's perfect with a cup of soup but sturdy enough to make an amazing sandwich.
This spinach bread recipe was originally posted in 2015. Improvements were made to the recipe and content to improve readers' experience.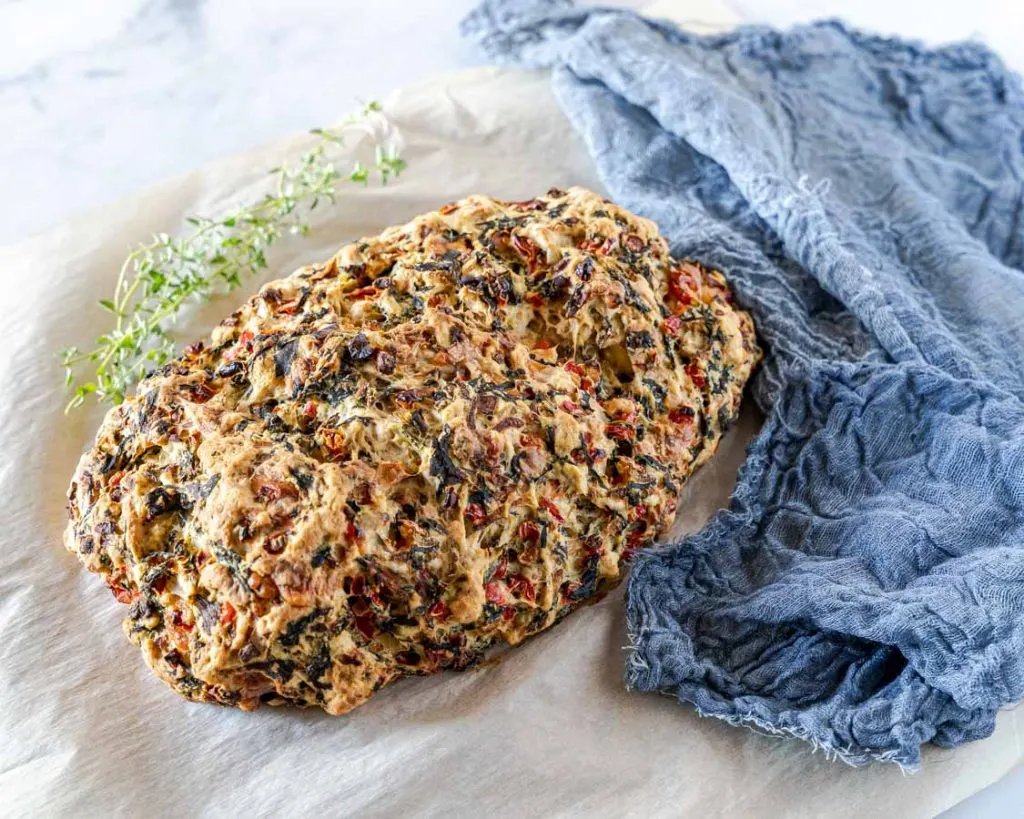 Do you crave wholesome ingredients like I do? If so, you're going to love this spinach-infused bread, and you'll definitely want to check out our Cheese Bread and Cranberry Walnut Bread. They're stuffed with deliciousness too!
Why You'll Love This Spinach Bread Recipe
I love the bread at Great Harvest Bread which is a local bread bakery in my area. I set out to find a recipe for it, but most of the recipes were for spinach bread or stuffed spinach bread so I set out to give it a try instead. My first attempt resulted in a bread that was so moist that it wouldn't hold together.
I wasn't in a hurry to redo it until one of our readers wanted to give it a try. I told him to give me a little time to develop a recipe that was worthy of making. After a little experimenting, I got a recipe that I'm super happy with.
This is delicious bread for sandwiches or avocado toast like we did with our Spelt Sandwich Bread!
A batch of my spinach bread recipe makes a heartfelt gift. Who wouldn't love a loaf of homemade bread?
Equipment Needed for the Popeye Bread Copycat Recipe
Hostess At Heart participates in affiliate programs. As an Amazon Associate, I earn a commission from qualifying purchases. Please refer to my disclosure page for more information about these affiliate programs.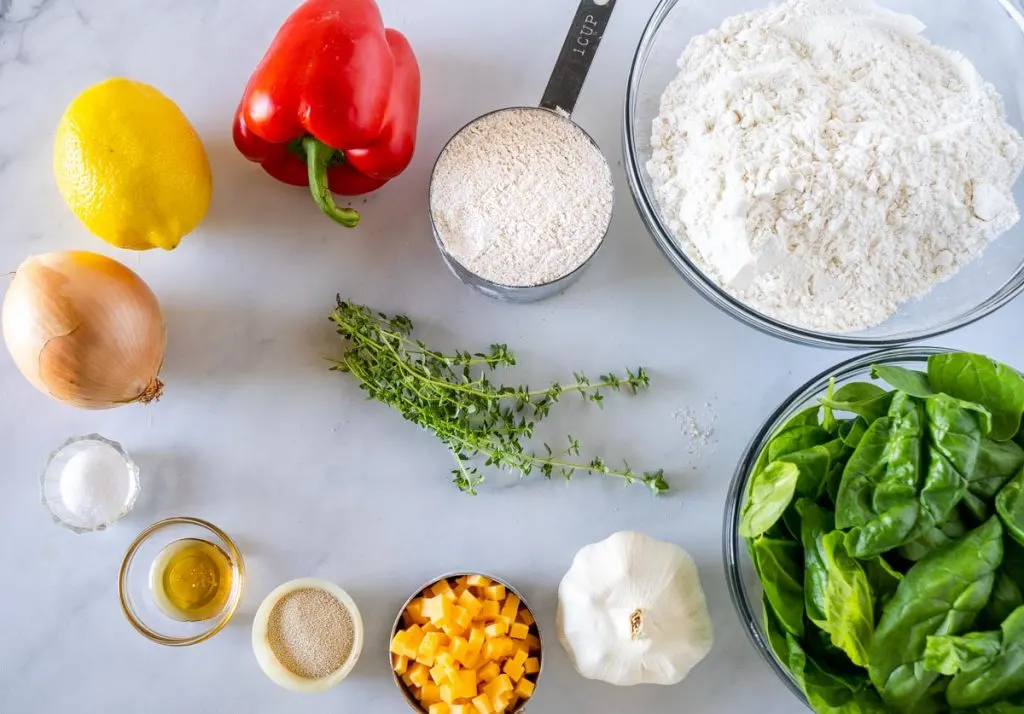 Ingredients for Spinach Bread
Warm Water. It needs to be between 110º to 115º F to activate the yeast.
Honey. A little bit is used mostly to feed the yeast.
Fine Sea Salt. – I find that this seasalt mixes and disolves easily. Kosher salt can be heavier and sink to the bottom of your dry ingredients when mixed together.
Active Dry Yeast. Find out more about different types of yeast.
Olive Oil.
Whole Wheat Flour. Adding this flour creates a wonderful crumb and texture.
All-purpose Flour. Bleached or unbleached is fine.
Spinach. I prefer baby spinach and remove the tough stems.
Onion. Yellow onion or a sweet onion would be my choice.
Red bell pepper. The red is sweeter than the other colors but you use what you prefer.
Diced Garlic.
Fresh Thyme.
Lemon Juice. Lemon helps keep the ingredients their beautiful color and adds a brightness to the bread.
Cheddar.
Butter.
How to Make Spinach Bread
While there are a lot of steps for the spinach bread recipe, it is not nearly as complicated as it seems! Just follow our step-by-step instructions.
Step One. In a medium-size bowl, combine the water, honey, and 1 teaspoon of salt. Whisk together and then sprinkle the yeast over the top. Let it sit for 10 to 15 minutes to foam.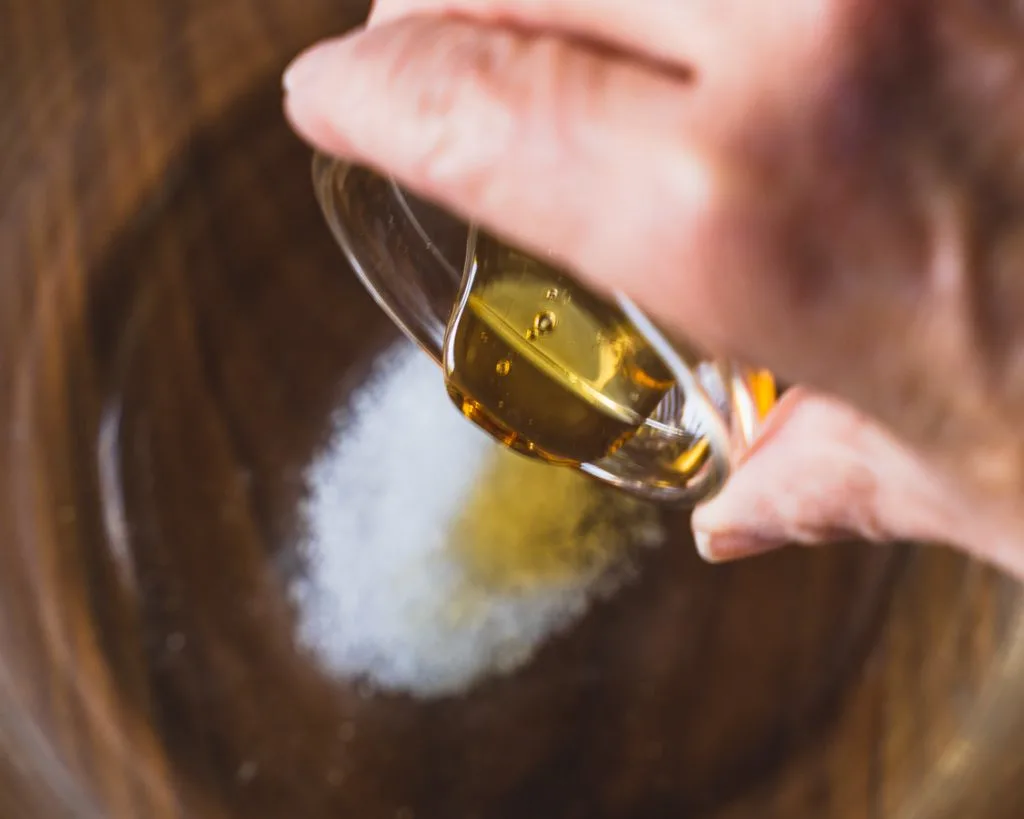 Step Two. Whisk in 2 tablespoons of olive oil, and 1 cup of whole wheat flour and mix until combined. Set aside for 45-60 minutes or until it has a sponge-like texture.
Step Three. Meanwhile, in a medium-sized skillet, heat 2 tablespoons of butter and saute the onions and pepper until tender, about 5 minutes.
Step Four. Add the thyme, garlic, and 1 teaspoon of salt.
Step Five. Stir in the spinach and cook until the spinach is softened and bright green.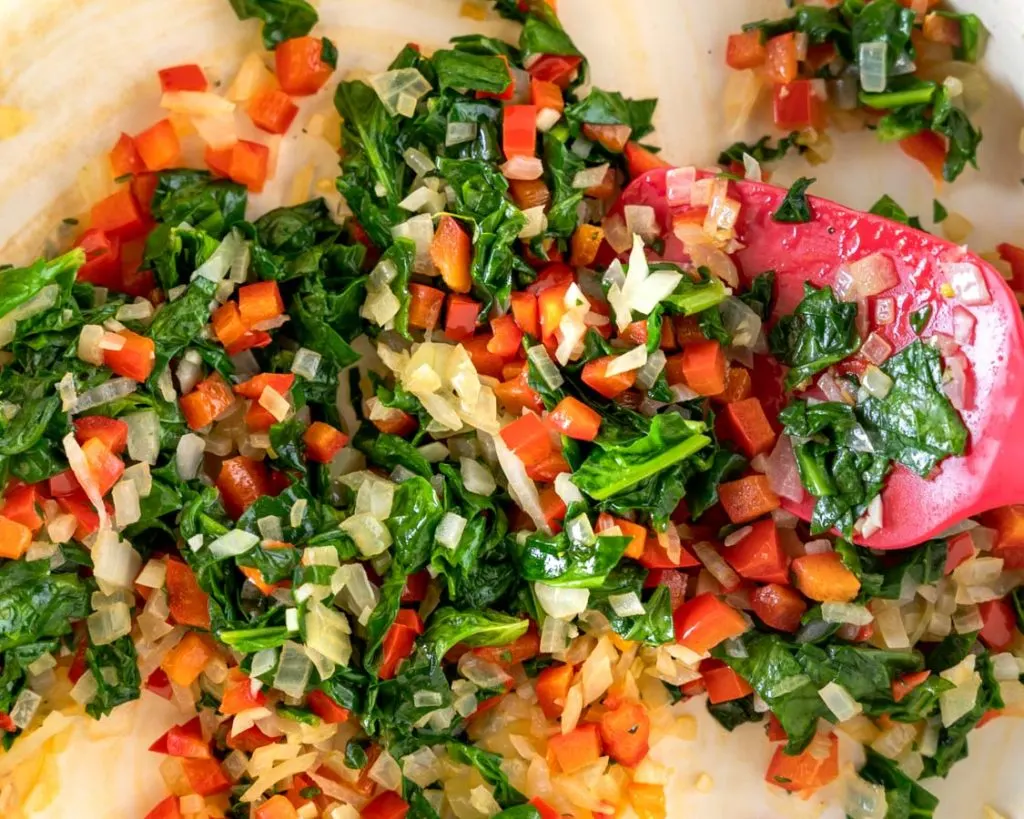 Step Six. Pour the lemon juice over the mixture.
Step Seven. Drain the spinach mixture in a colander set over a bowl to catch the drippings.
Step Eight. In a large bowl, add two cups of all-purpose flour. Make a well and pour the sponge mixture into the well.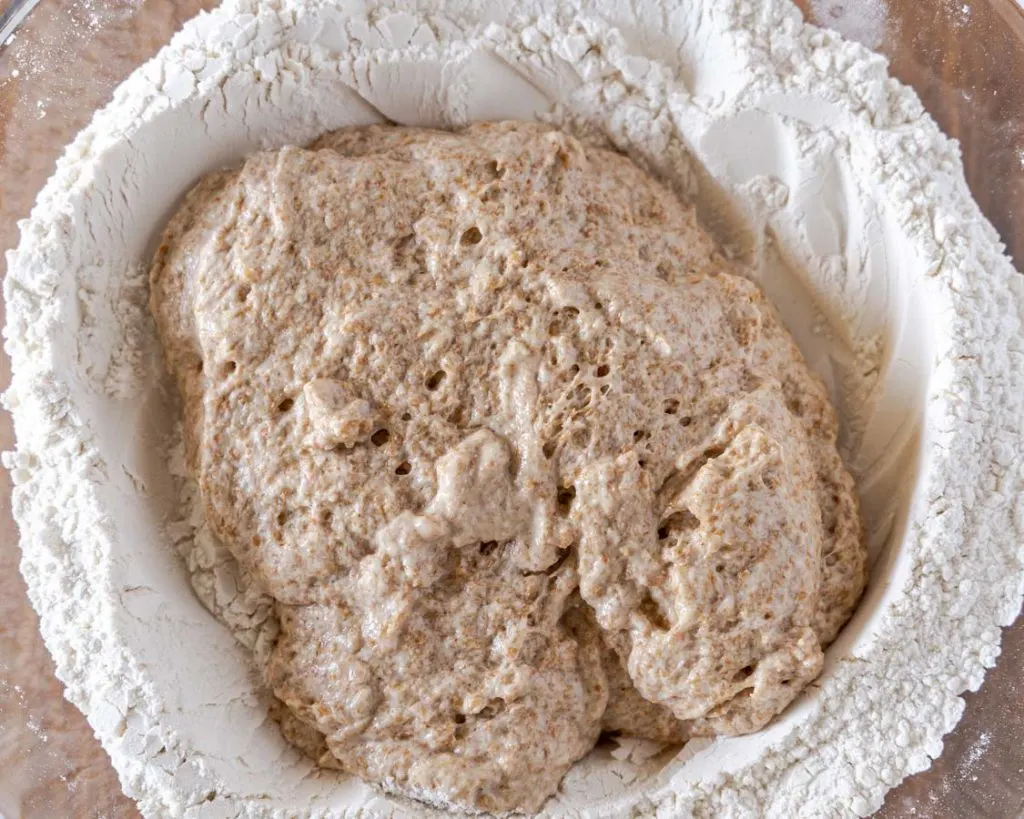 Step Nine. Knead for 10 minutes, adding enough of the cooking liquid to make it pliable yet firm (see notes). The dough will be very stiff but not craggy.
Step Ten. Transfer to a large oiled bowl and cover with plastic wrap. Let rise for 2 hours. The dough doesn't rise substantially at this phase.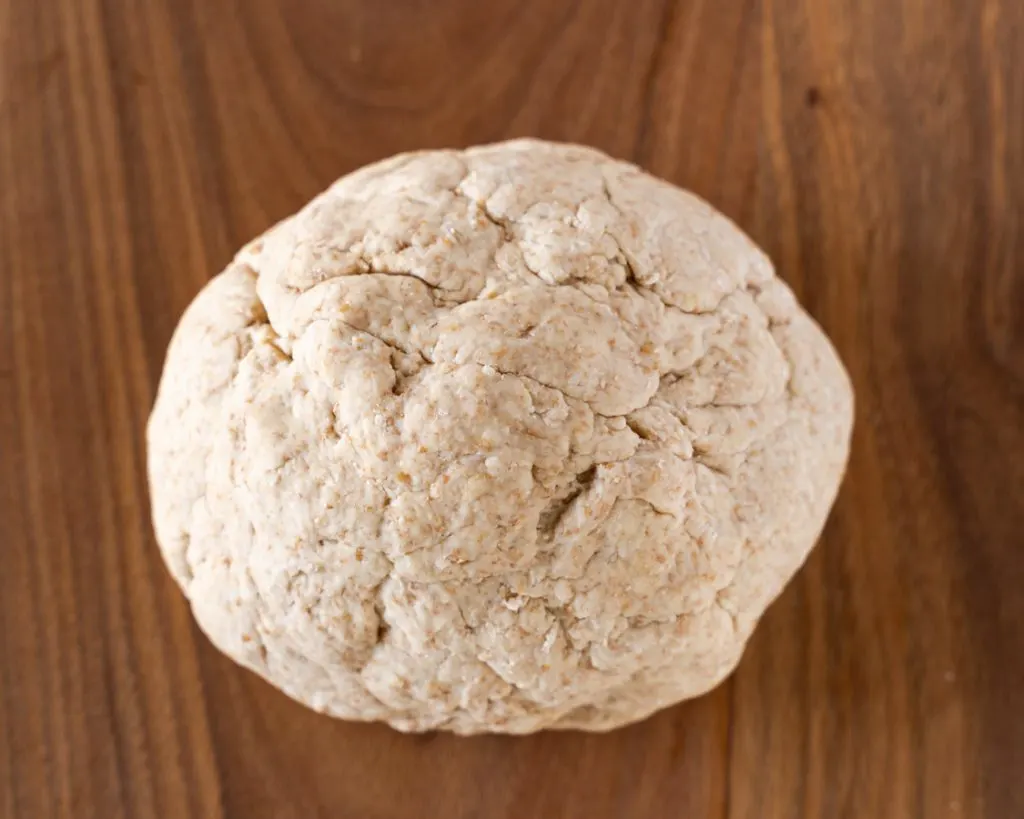 Step Eleven. Add the diced cheddar cheese and spinach mixture together. The drippings from the sauteed vegetables and spinach are added here. I needed about 1/4 cup so added water to the drippings to get that amount and added it slowly until the dough was workable.
The dough is still stiff and I found that pressing my fingers into the dough as you would with Foccacia (or playing a piano) was helpful.
Step Twelve. Sprinkle with the remaining 1/2 cup of all-purpose flour. Mix together quickly. Do not knead the dough again.
Step Thirteen. Form into an oblong loaf and place the dough on a well-oiled or parchment paper-lined baking sheet.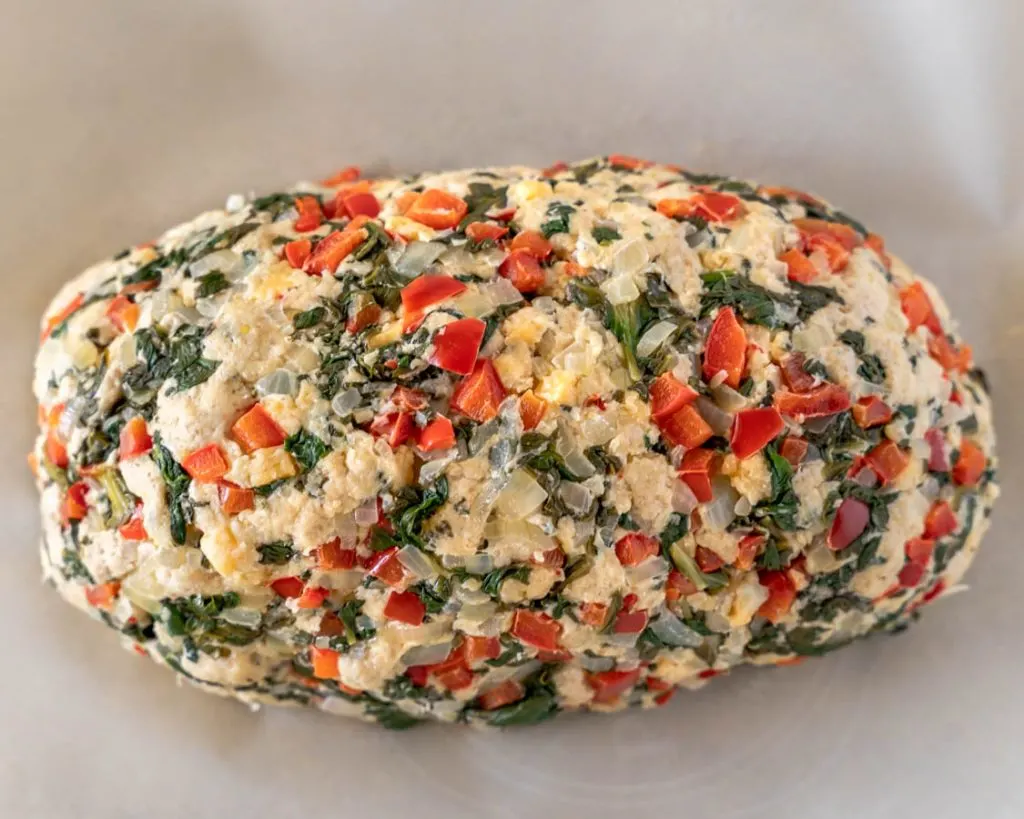 Step Fourteen. Cover lightly with plastic wrap and let proof for 1 hour.
Step Fifteen. Preheat oven to 375 degrees F.
Step Sixteen. Bake the bread for 20 minutes. Reduce oven temperature to 350 degrees F and bake for another 30 minutes. Cover the last 10 minutes with aluminum foil if the bread gets too brown.
Step Seventeen. Cool the bread on the pan for 10 minutes and then remove it to a cooling rack. This bread cuts best once cooled.
How to Serve Spinach Bread
This amazing savory bread recipe is perfect on a cheese tray or charcuterie board. It will also work great with any meal that is crying out for amazing bread and pairs especially well with a salad.
Spinach bread makes amazing croutons or stuffing – Once the bread is beyond its prime, I'll put it in the freezer to make homemade croutons.
Substitutions and Additions
Replace the onion with fennel or leek.
Cheddar cheese can be replaced with another semi-hard cheese. Swiss, Asiago, or Havarti would be amazing.
Change up the spices. Replace the thyme with dill or a Mediterranean spice blend would be delicious.
Pin this amazing Spinach Bread Recipe!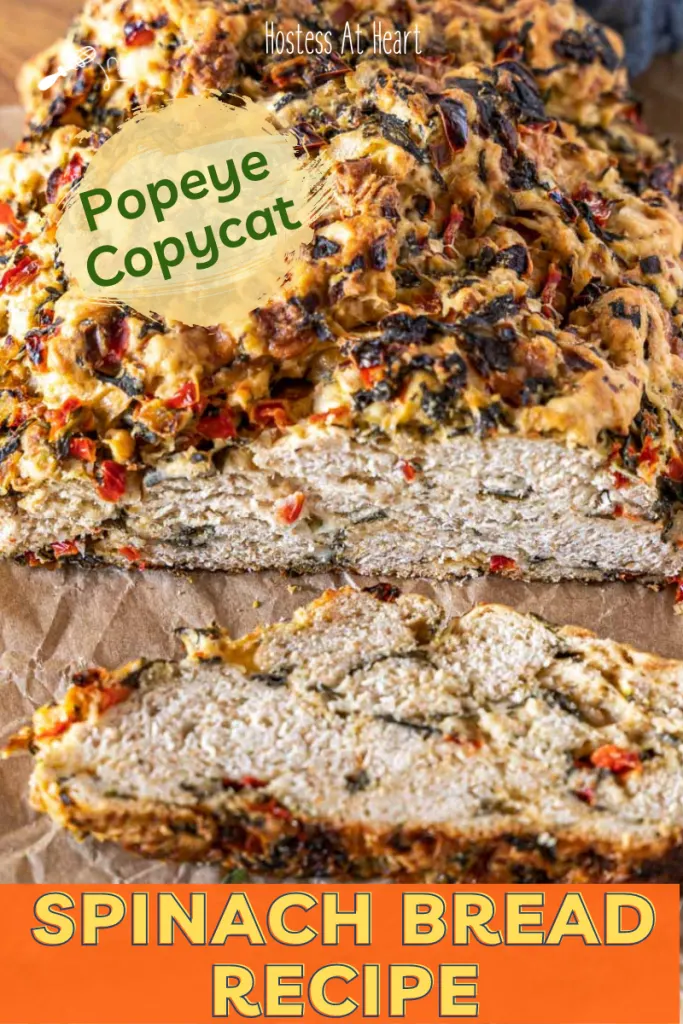 How to Store Leftover Spinach Bread
Best Way to Store Popeye Bread.
Once the bread is completely cool place it in an airtight plastic bag and store it at room temperature. If you bag your bread before it's cool, it will create condensation and make your bread soggy.
How Long will Spinach Bread last?
Even thorough there are NO preservatives in this bread, it can last up to a week.
Can I freeze savory homemade bread?
Yes! This bread freezes great. Make sure the bread is thoroughly cooled. I double bag it or bag it and then wrap
the loaf in foil. Make sure you label it before putting it in the freezer.
How to Thaw Spinach Bread
I thaw the bread on my counter at room temperature.
To reheat, wrap the loaf in foil and put it in a 350°F oven for 15 minutes. This bread is also great toasted. I don't recommend heating it in a microwave. Microwaving bread can make it gummy.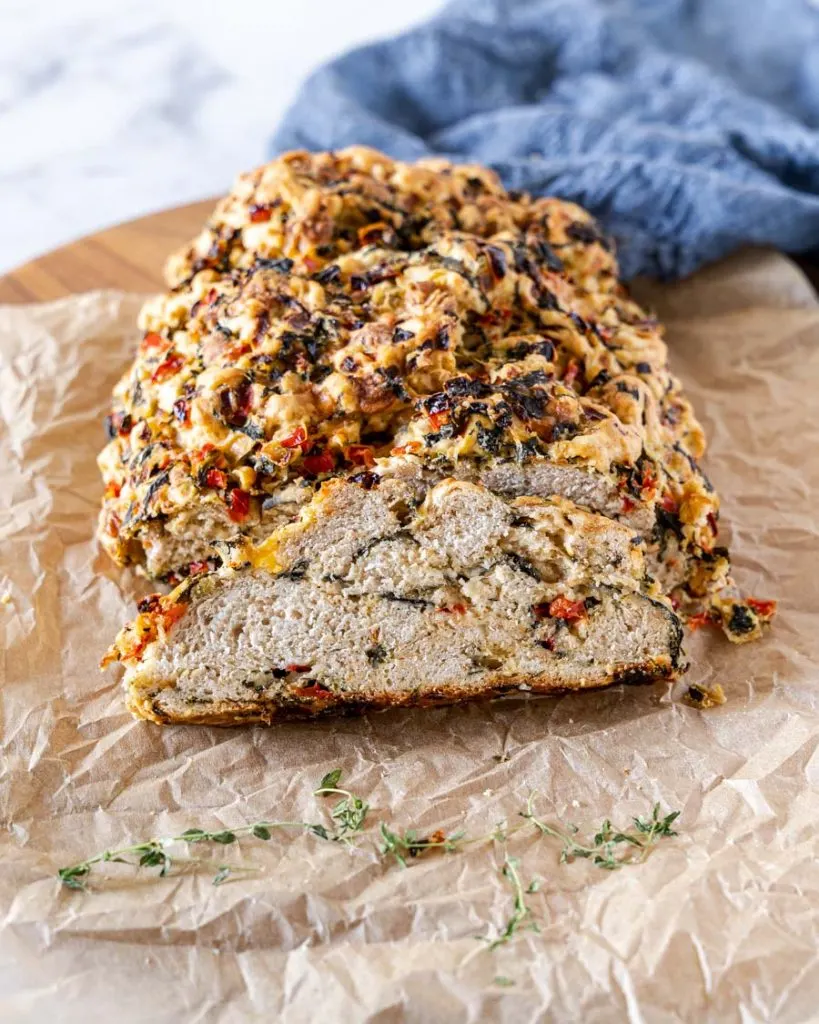 Spinach Bread Recipe FAQ
Can spinach bread be refrigerated?
No, I don't recommend it. The additional moisture created will make it
gummy.
Can I use frozen spinach in this spinach bread recipe?
No, I don't recommend it. This is a moist bread and the additional moisture
will make this bread fall apart.
Do I have to use wheat flour?
No, but it works well in this recipe because wheat flour absorbs moisture and adds a nutty flavor.
Tips for Making the Best Popeye Bread
You can successfully replace or eliminate some of the ingredients in the spinach bread recipe. However, follow the same method of reducing the liquid the ingredient creates in the recipe.
I recommend "free-form" (without a pan) baking this loaf on a baking sheet. Let it cool for at least 10 minutes on the sheet which helps this bread set.
Make sure your yeast is fresh. When activating it if it doesn't bubble, you need to replace your yeast or this bread will not rise.
You may use up to 1/4 cup of liquid to get the dough pliable. I added water to the spinach mixture drippings to get 1/4 cup.
More Great Bread Recipes You Will Love
Multigrain Wheat Bread Recipe with Sourdough Starter
Sweet Molasses Brown Bread Rolls Recipe
Crack Bread from An Affair from the Heart.
We LOVE baking bread! You can find all of our bread recipes here!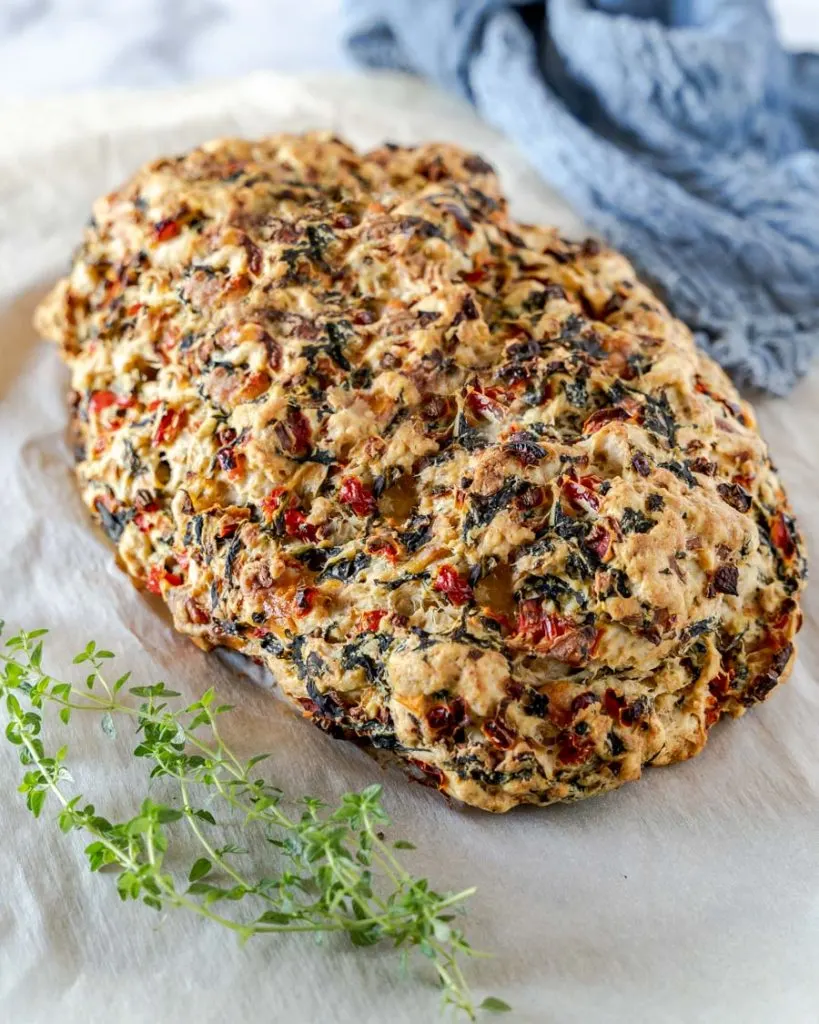 Related Recipes I think you'll like.
Don't Forget To Come Back And Let Me Know How Your Popeye Bread Turned Out!
Want more delicious recipes? Follow Hostess At Heart on Pinterest!