Soft and tender Apple Spice Cake with Caramel Icing is full of warm cinnamon and chunks of apples. This homemade cake just makes you want to curl up with a warm blanket and a cup of hot apple cider in front of a fire.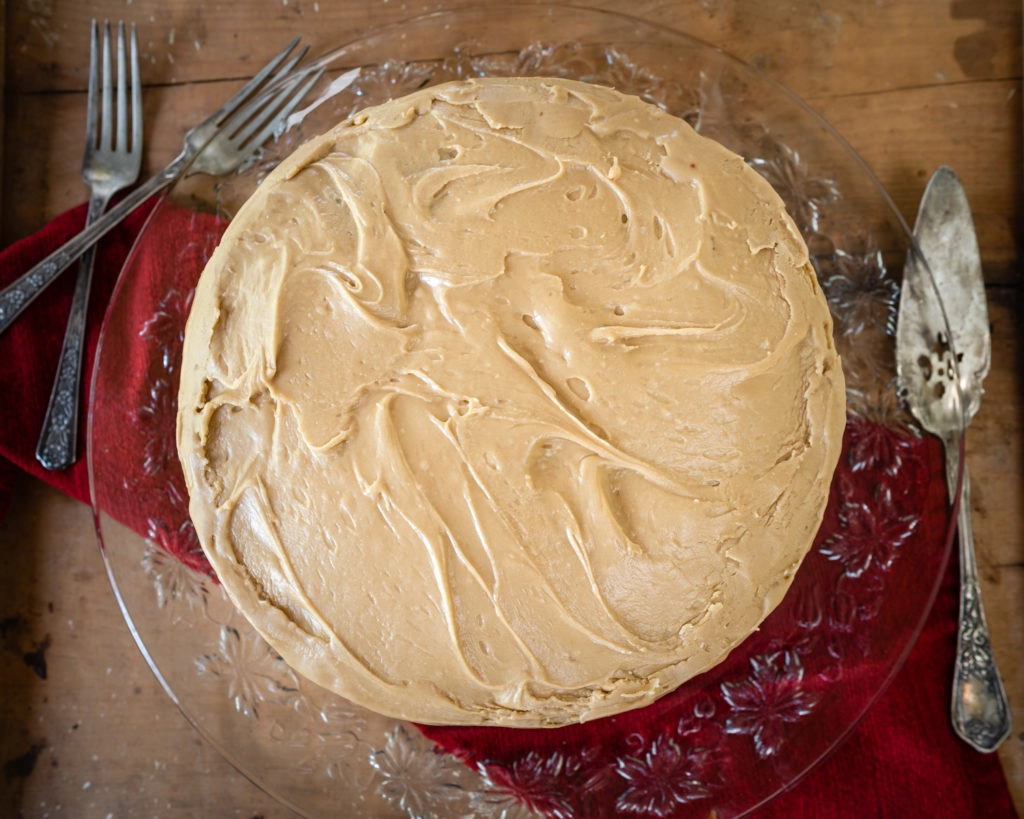 Caramel Apple Cake is an easy fall dessert to make. This fresh apple cake is made from scratch and features a video showing both an apple spice layered cake, a 9×13 cake, and two recipes for caramel icing and frosting. Whew!
I can totally get obsessed with an ingredient. The lack of sunlight affects people and their mood. For me, it makes me want to hunker down in my warm kitchen and bake, bake, and bake! It's my happy place!
This is exactly what I did when this Apple Spice Cake recipe popped into my brain.
I made this easy Apple Spice Cake twice. The first time around I couldn't decide on what pan I wanted to bake it in. I made the mistake of giving John an opinion. I know what his opinion is. Layer cake because there's more frosting!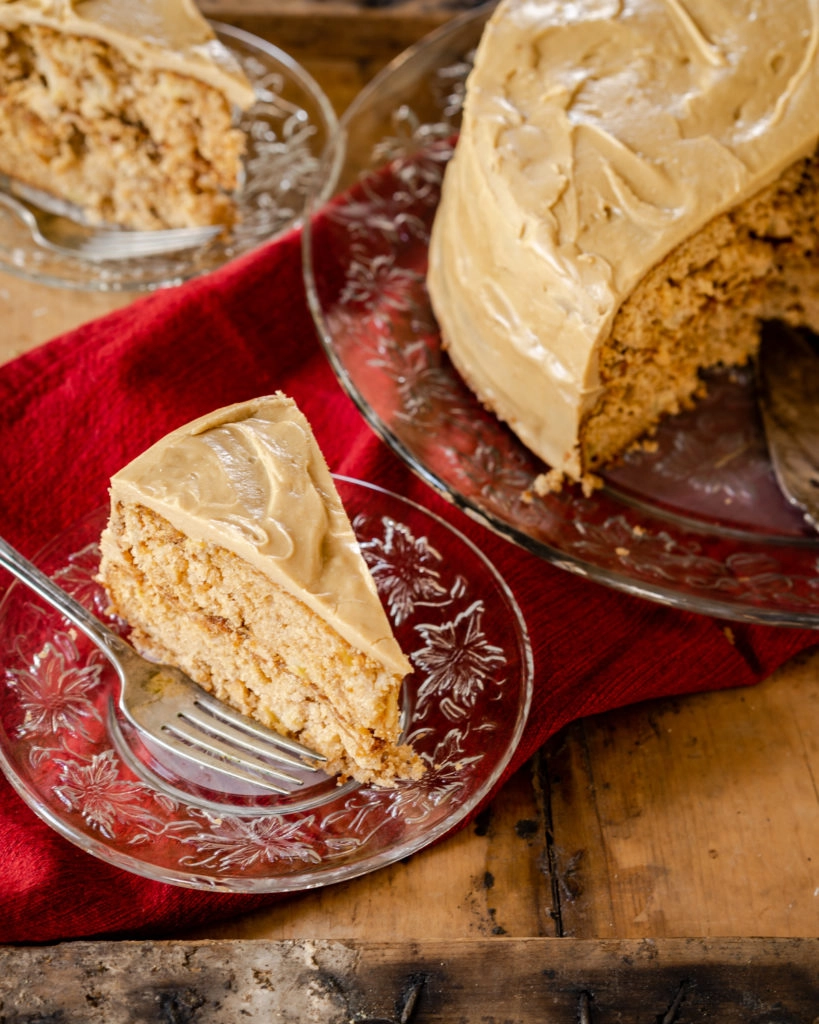 When I made the Apple Spice Cake layer version, I made a caramel frosting to keep my honey happy (with lots of frosting). I have to be honest though. With all those chunks of apples, it's a little harder to get a beautiful slice.
With my easy apple cake 9×13 pan version, I actually tweaked the recipe by adding buttermilk and applesauce to make it moister. In the earlier version, I used yogurt and no applesauce.
I also used an old-fashioned caramel icing that was perfect with this cake. You know, the one that sets up with a slight crunch to it? It would be amazing over these Double Chocolate Caramel Brownies too!
What's the difference between icing and frosting?
Most resources state that "icing is generally thinner, glossier and sugary, while frosting is a thick and fluffy mixture used to coat the outside of a cake. Then there are glaze, fillings, dessert toppings…Imperial sugar has a great article for inquiring minds.
For the frosting recipe, I made the caramel icing recipe and once it's cooled, whipped powdered sugar into it until it was fluffy. You can make this frosting ahead of time, cover it and store it in the refrigerator until you're ready to use it.
As you may have noticed, the caramel frosting is lighter in color than the caramel icing due to the additional powdered sugar in the frosting.
Ingredients for this Apple Spice Cake recipe:
Cake flour – this flour creates a tender crumb.
Sugar – white granulated
Brown sugar – I use dark because I like more of the molasses flavor. You can use light if that's what you prefer.
Baking powder – serves as the leavening agent (what makes the cake rise).
Spices – ground cinnamon and nutmeg
Butter – I used unsalted. If you use salted omit the salt from the recipe.
Salt
Eggs – large eggs
Buttermilk – full-fat
Applesauce – I use unsweetened. You can use sweetened if that's what you have.
Vanilla Extract – I use pure vanilla but imitation is fine for baking.
Powdered Sugar – same as confectioners sugar and used in both the Caramel Icing and the Caramel frosting.
Tips for the perfect Fresh Apple Cake recipe:
Cake pans – you can use a 9×13 cake pan or two round cake pans. If using round cake pans, 8″ will have slightly taller layers but 9″ will work too.
Remove your eggs and butter so they're at room temperature when you use them. They'll blend easier. Don't worry if your butter doesn't totally whip into your liquid ingredients. It will blend when you combine the wet and dry together.

You can also melt the butter and let it cool before using it as well.

Vanilla extract – you can use imitation in baking and you will not detect a notable difference. I use pure vanilla. BHG has a good tutorial on the differences and when to use each.
Sift cake flour before measuring it. Sifting aerates and increases the volume so if you measured and then sifted you would be using more than what this apple cake recipe needs.

To make your own cake flour, measure out 1 cup of all-purpose flour. Remove 2 tablespoons of the flour and replace it with 2 tablespoons of cornstarch. Sift as directed.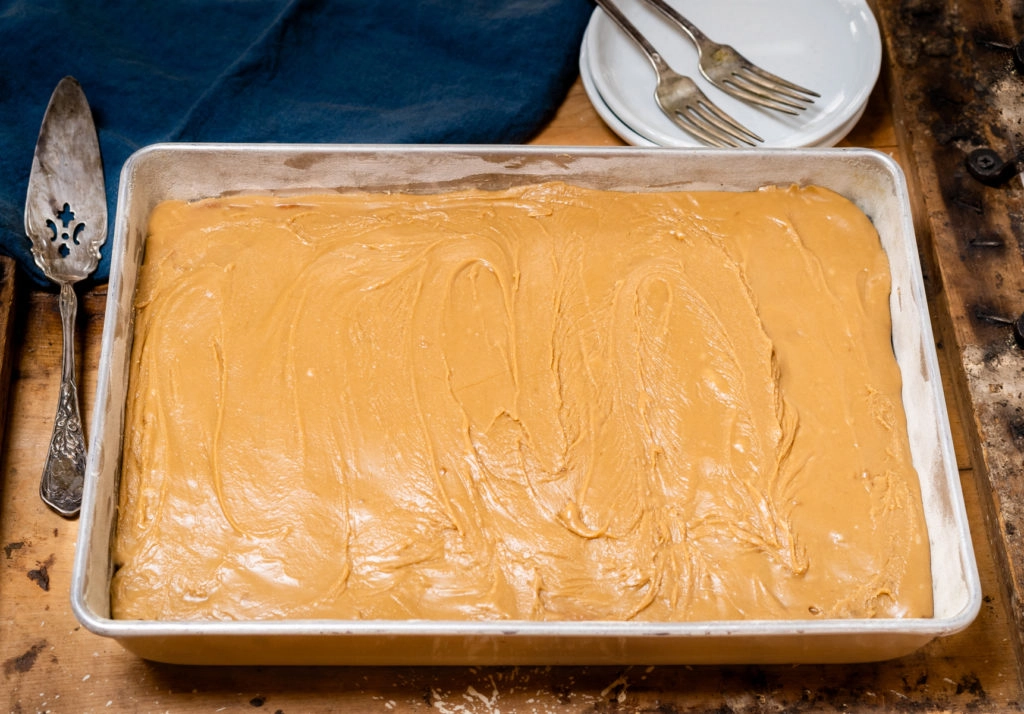 Tips for Caramel Icing and Frosting:
Sift your powdered sugar – it will blend into your frosting so much easier.
The Caramel Icing is a boiled recipe – this is a quick recipe that requires continuous stirring. Remove it from the heat to stir in the powdered sugar. Using a mixer isn't necessary.
Make your caramel icing as soon as the cake is removed from the oven. By the time the cake is cooled enough to ice it, the icing will be cool enough to use, about 15 to 20 minutes. You can also lightly warm the icing if it cools too much to spread.
Caramel frosting can be made ahead of time, covered and refrigerated until you're ready to make.
Frosting or Icing is suitable for either cake shape. If your icing gets thick it can be warmed slightly and then poured over the round cake or onto the 9×13 sized cake.
How to store leftover easy Apple Spice Cake
Keep the leftover apple spice cake covered in the refrigerator for 3 to 5 days.
You can also freeze individual slices by wrapping each piece in parchment paper like you would a present, and then putting it into a freezer-safe baggy. Thaw for thirty seconds or so in the microwave if not frosted. If it is frosted, let it thaw either in the refrigerator or at room temperature.
If you are making this cake ahead of time, you can freeze it unfrosted and then frost it the day before or the day that you're serving it.
A few items you may need to make this easy apple spice cake.
Hostess At Heart participates in affiliate programs. As an Amazon Associate, I earn a commission from qualifying purchases. Please refer to my disclosure page for more information about these affiliate programs.
Cake pan with lid – I really like this cake pan. The lid allows me to store or take what I make so much easier too!
Round cake pans – I use this brand. The great thing about using round cake pans is "more frosting" according to John.
Angled Icing Spatulas – These angled icing spatulas work great when frosting cookies, cakes, or adding filling to recipes.
So, which pan are you getting out to make this fresh apple spice cake? Are you going with the caramel icing or the frosting? Please share in the comments below! I always love hearing what you have to say.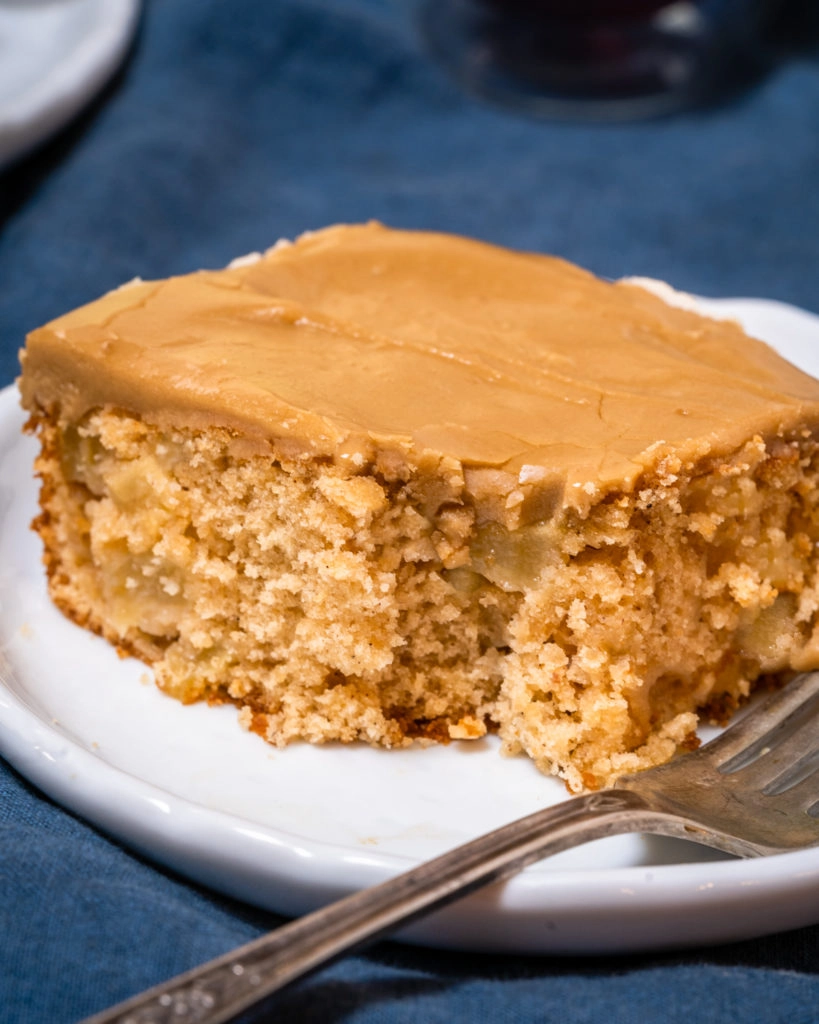 If you like this recipe, we would appreciate your comment and a 5-star ⭐️⭐️⭐️⭐️⭐️ review!
Some of our BEST cake recipes!
Pin it now!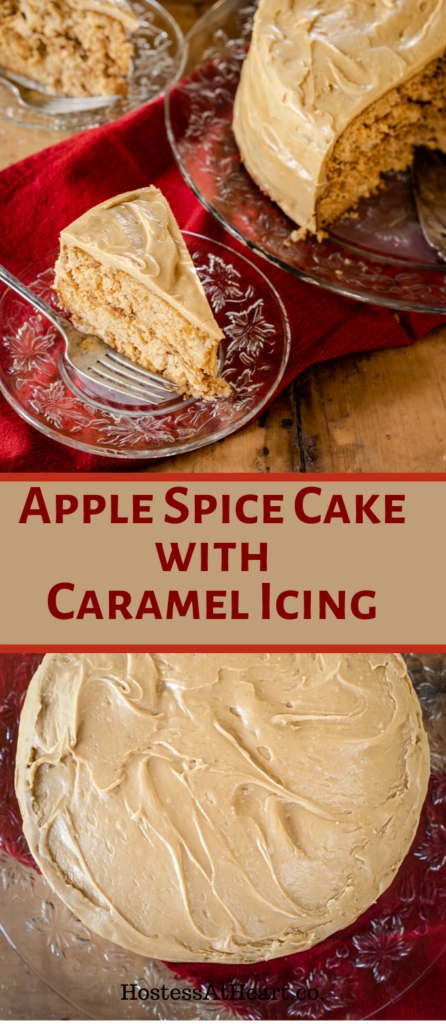 I hope you enjoyed this Apple Spice Cake recipe with the variations, tips, and icing options.
What is your favorite cake or is there a cake you're dreaming of that I can feature on Hostess At Heart? Leave me a comment!
More Delicious Recipes