This Chipotle Grilled Chicken Salad Recipe is a delicious and healthy meal option that combines juicy grilled chicken with fresh greens and a sweet and spicy jalapeno dressing. Perfect for a quick and easy lunch or dinner!
We love Southwest-inspired recipes. This hearty salad is a great example just like my Chipotle Chicken Tacos.
This Chipotle Chicken Salad post has been updated from 2018 to improve your reading experience. No changes were made to the recipe.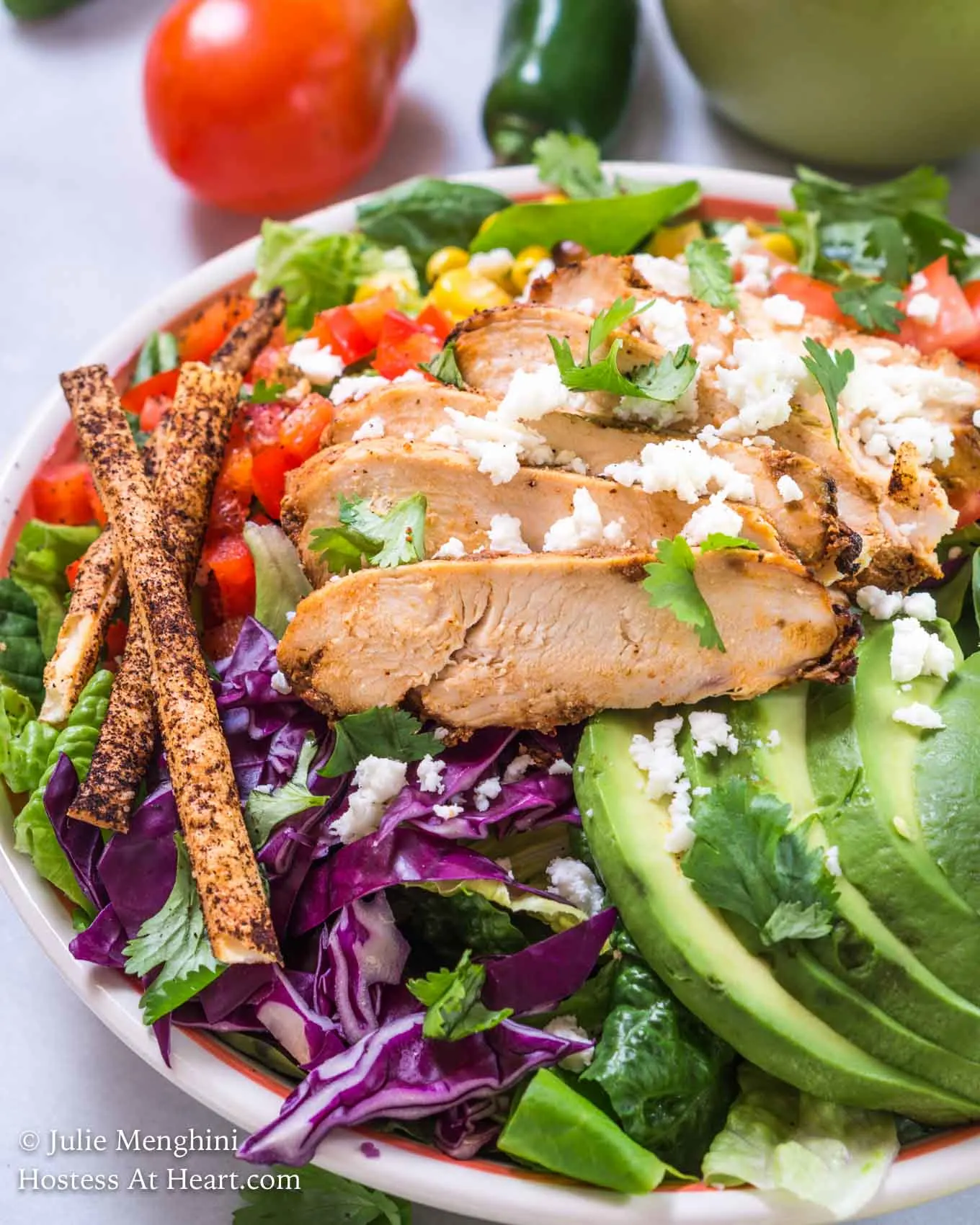 Taste the Perfection. Enjoy the flavors of our perfect Chipotle Grilled Chicken Salad Recipe! In about 30 minutes, you can have a delicious, healthy meal!
Why You'll Love This Chipotle Chicken Salad
Full of flavor. The adobo sauce marinade adds incredible depth of flavor to the chicken in this salad and I like to get a little chicken in every bite. It's so tasty! The honey jalapeno dressing adds the perfect contrast. The flavors of this salad are crave-worthy.
A complete, one-dish meal. You won't need anything else to complete this hearty salad, the grilled chicken salad recipe stands alone, fills you up, and hits all the right flavor notes for a one-dish meal.
This salad is perfect for dinner or a delicious lunch.
Guilt-Free Eating. Beautiful, fresh greens, crunchy vegetables, and protein make this a guilt-free meal with all the right ingredients for healthy eating.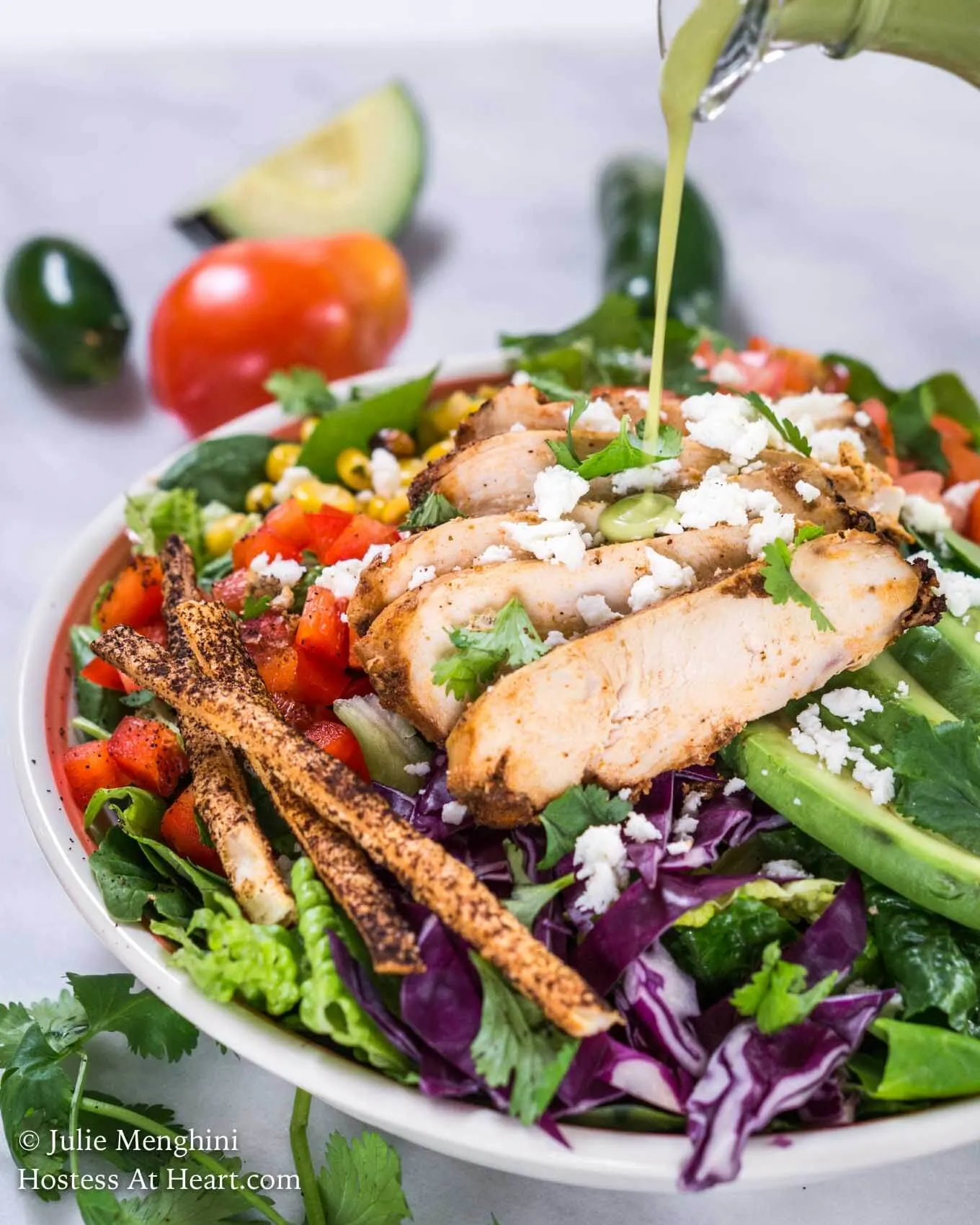 Equipment Needed to Make Chipotle Grilled Chicken Salad
Hostess At Heart participates in affiliate programs. As an Amazon Associate, I earn a commission from qualifying purchases. Please refer to my disclosure page for more information about these affiliate programs.
Ingredients for your Grilled Chicken Salad Recipe
Boneless Skinless Chicken Breasts.
Lettuce Greens. I like a variety of lettuce varieties. Since this salad is topped with chipotle chicken, I use sturdier lettuce including Romaine, Ice Berg, and Green Leaf.
Fire Roasted Corn. I use frozen corn. If you use canned, be sure to drain it.
Red Cabbage. Besides adding a beautiful color, fresh cabbage adds a great crunch.
Red Pepper.
Avocado. A creamy sliced avocado has health benefits in addition to an amazing flavor.
Tomato. You can also use salsa or pico. I prefer freshly chopped tomatoes.
Cilantro. Buy a bundle of fresh herbs at your grocery store, rinse the leaves and break them off of the stems. Use the stems for the paste.
Chipotle Paste. Ingredients for this homemade paste are listed below.
Honey Jalapeno Dressing. Ingredients for this homemade salad dressing are listed below.
Tortilla Straws. Make homemade tortilla straws using raw tortillas, or crush tortilla chips to top your salad.
Chipotle Paste Ingredients
Chipotle Chilies in Adobo is available in the Mexican food section of my grocery store.
Olive Oil. Vegetable oil or canola is fine too.
Honey.
Onion.
Fresh Cilantro. I use the stems for the paste and the leaves for the salad
Chili Powder.
Ground Cumin.
Paprika.
Cayenne Pepper.
Mexican Oregano.
Garlic Powder.
Salt.
Ground Black Pepper.
Zest of 1 Lime. Optional.
Honey Jalepeno Dressing Ingredients
Lime Juice and Zest. The acid pairs beautifully with the cilantro.
Canola or vegetable oil. The fat.
Salt.
Fresh Cilantro Leaves and Stems. Flavor.
Honey. Sweetness.
Dijon Mustard. Tanginess and Flavor.
Jalapeno. A little heat.
Avocado. More fat and flavor.
Please note, that the printable recipe card has ingredient quantities, complete instructions, and nutritional information. The following is a quick overview of the recipe.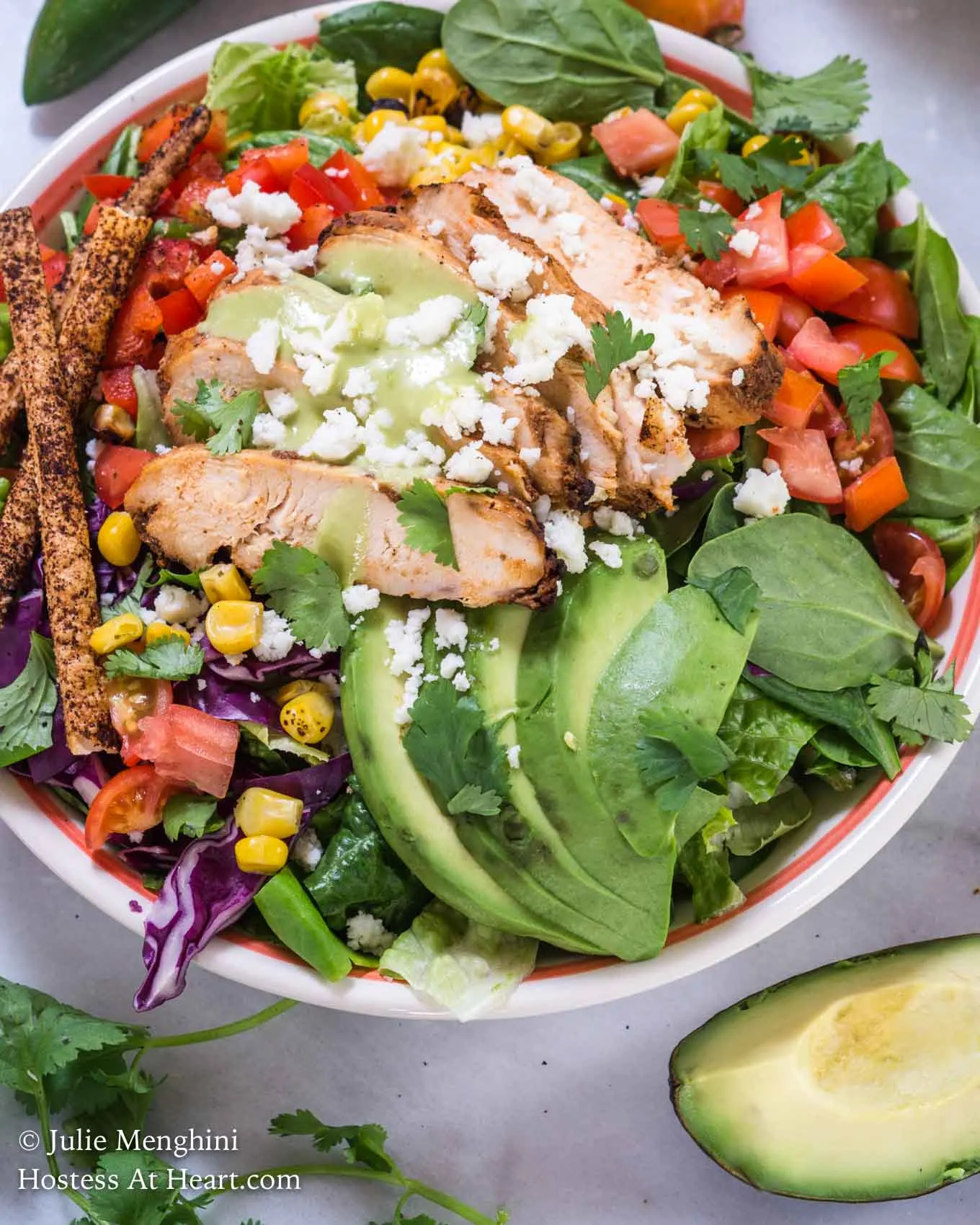 How to Make Chipotle Grilled Chicken Salad Recipe
Step 1: First, use a food processor to combine the ingredients in the chipotle paste. Rub it all over your chicken and marinate it for at least thirty minutes. Keep it in the refrigerator to marinate until you are ready to grill it.
Step 2: Next, combine the ingredients of the homemade dressing in a food processor, and refrigerate until you are ready to serve the salad. Brush the tortillas with oil or spray them with looking spray. Season them and then cut them into tortilla strips using a pizza cutter. Bake them until crisp. Once they are finished baking, grill your chicken. We use an outdoor grill but you can bake them on a grill pan.
Step 3: Assemble the various salad ingredients, rinsing the vegetables and chopping as needed. Toss to combine in a mixing bowl. Add chicken, dressing, and tortilla straws on top.
What to Serve with your Chipotle Grilled Chicken Salad
Crusty bread or fresh, homemade flour tortillas would go great with this delicious salad. You can also pair this chicken chipotle salad with a bowl of Chili Con Carne or some juicy strawberries.
Substitutions and Additions
If you don't have the ingredients for this amazing Honey Jalapeno Dressing, use any dressing you like that works with Chipotle flavors.

Salmon or shrimp can work in place of the chicken in this recipe, or you can even marinate rotisserie chicken, use leftover baked chicken breasts, and shredded chicken breasts.
Use your favorite vegetables. I often decide on my ingredients when I'm in the produce section of my grocery store.
Toppings may include black beans, sliced green onions, sour cream, and crispy bacon. We have onion in the adobe sauce, but finely diced red onion or pickled red onions would be delicious on this salad too.
As much as I love these tortilla strips, you can substitute them with croutons or how about baking up a Mexican Concha? Chopped cilantro or lime wedges can also be used as a garnish.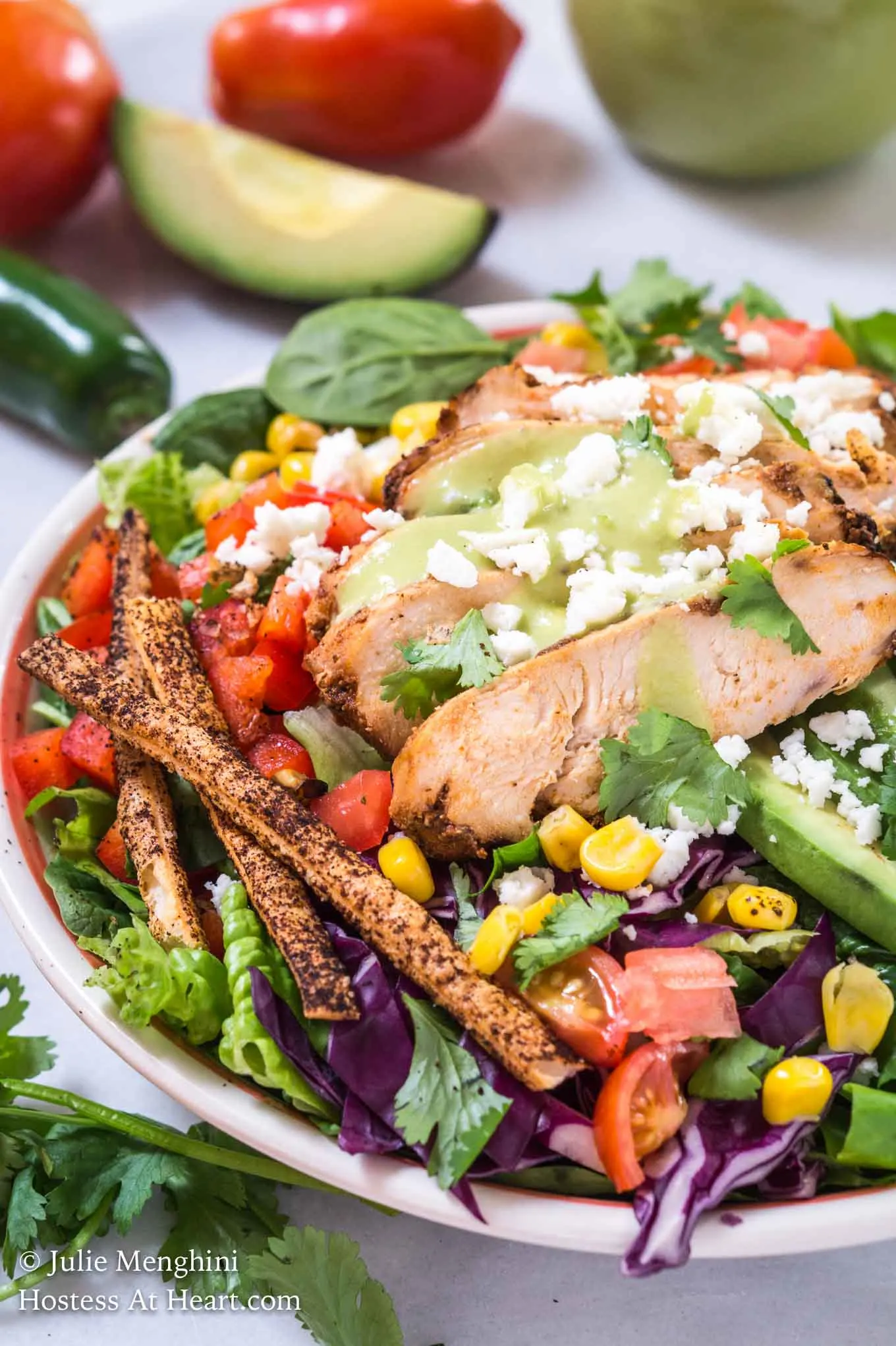 How to Store Grilled Chicken Salad Recipe
Best Way to Store Chipotle Grilled Chicken Salad.
This salad should be stored in a covered container in the refrigerator.
How Long Will the Grilled Chicken Salad Recipe Last in the Fridge?
Covered, this salad will last for up to a week in the refrigerator.
Can I Freeze and Thaw the Chipotle Chicken Salad
You can grill and freeze the adobo chicken in bulk, and thaw it as needed to toss in a salad.
Chipotle Chicken Salad FAQ
Should I put the chicken on the grilled chicken salad recipe cold or hot?
This is really a matter of preference. If you prefer to have cold chicken on your salad, you can make and refrigerate the chicken the day before or at least a few hours before you want to eat it.
Can I add cheese to the chipotle chicken salad?
Yes. It would be lovely with cotija cheese, feta, or even a taco cheese blend. Just note, the more goodies you add the higher the calories.
Tips to Make the Perfect Grilled Chicken Salad Recipe
Plan ahead. When I make a recipe, I try and repurpose extra ingredients in other recipes. So when I made my Chipotle Chicken Tacos, I created this Adobe paste that adds smoky heat to the dressing.
This recipe only has 2 to 3 chipotle peppers in it. However, the little can of chipotle peppers that I use has about 12 peppers in it, so I make more of the adobo paste and freeze it in small containers to use on a salad or in other dishes later.
Don't skip the Chipotle marinade. When I needed to add flavor to this chicken, I pulled one of my containers of chipotle paste out of the freezer and slathered it all over the chicken, and just left it in the refrigerator until we were ready to grill it. The first bite of this salad said I'd found exactly what this salad needed.
Chop the lettuce into bite-sized pieces. Chopped lettuce is so much easier to eat. I like using a sturdier lettuce variety so it doesn't get weighed down by the ingredients. Iceberg, Romaine, Green Leaf, or a salad mix are good choices. Use your favorite salad greens.
Store the extra dressing in the fridge. This creamy dressing recipe yields more than what you need for 4 salads so make plenty. It's delicious and would even make a great sauce for seafood!
I prefer to make tortilla straws with uncooked tortillas. The seasoning sticks to them and they bake up light and crispy.
Use fresh ingredients. Frozen peppers or other frozen veggies don't provide that amazing crunch in this salad.
If you enjoy this recipe, you may like these too.
If you tried this delicious recipe, don't forget to rate it and leave me a comment telling me what you think. I love hearing from you!
Years ago salads served as entrees were rare if nonexistent. If only they had known about this grilled chicken salad recipe back then, we would all have been eating differently.
Boy, have times changed. I had no problem eating this beautiful salad for dinner. There are so many colorful veggies that kept me noshing until I couldn't shove in another bite. I made a honey jalapeno dressing that had a sweet kick and it paired perfectly with the tender grilled chipotle chicken.
Nothing is missing in this salad except for guilt. I actually crave this salad and when I have a batch of the jalapeno dressing made I'll eat this salad every day until it's gone.
Want more delicious recipes? Follow Hostess At Heart on Pinterest!